Since opening last fall, Catbird Seat has been one of the hottest acts on Nashville's dining scene. (See: 21 Things To Eat And Drink In Nashville). And by acts, we mean it. Eschewing conventions upheld at most restaurants turning out high-end cusine, chefs Erik Anderson and Josh Habiger (read our interview) built a 32-seat dining space where the seats are perched around an intimate open kitchen. It makes for exciting dinner theater, all built around the night's memorable seven-course menu.
Before your very eyes, Anderson and Habiger, whose résumés collectively count stints in some of the world's best kitchens — French Laundry, Fat Duck, Alinea and Noma — effortlessly present daring, modernist dishes anchored by seasonal ingredients and rooted in familiar soulful flavors.
Very rarely is anything what it seems at first glance. Take their wagyu beef short ribs, for example. The dish requires 72 hours of cooking time, enhanced with the surprising smokiness of kale ash nestled in a thick velouté of potatoes and horseradish, encircled by a sweet and earthy mushroom syrup. Even the peppery nasturtium flowers have a flavorful purpose. Read on for a full breakdown.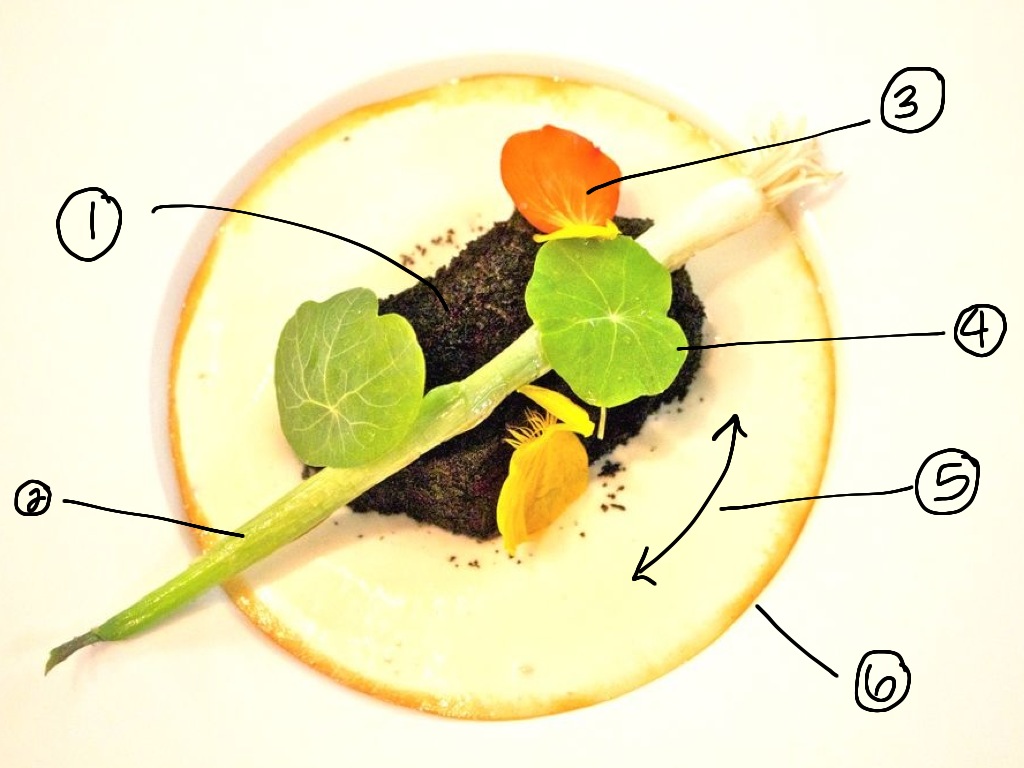 1. Wagyu Short Rib | Wagyu short rib is cured in a salt-sugar mixture for an hour, then slow-cooked for 72 hours sous-vide, while kale is baked in the oven until blackened. Once the ashes cool, they're blended with salt and pepper and dusted over the short ribs. "We think the burnt kale imparts a smoky, barbecue-esque flavor to the sous-vide cooked short ribs," says Anderson.
2. Green onion | The onion is quickly charred, then steamed in a box with thyme oil.
3. Nasturtium flowers | "The nasturtiums provide a floral peppery punch similar to watercress while also adding a hint of color," says Anderson.
4. Nasturtium leaves | "As with the flowers, nasturtium leaves provide a peppery flavor to the dish."
5. Horseradish and potatoes | This rich and flavorful sauce is made by heating cream and butter, which is then blended with cooked Yukon gold potatoes and fresh horseradish juice. A bit of gelatin gets added before the sauce is charged and dispensed with a ISI cannister (a common restaurant kitchen tool used to make fresh whipped cream and foams).
6. Mushroom and beer syrup | After caramelizing mushrooms, the rondeau pan is deglazed with a Russian Imperial Stout. As the liquid reduces to a syrup, fresh thyme is added, along with shallots and glucose. To achieve that perfect brown ring, the syrup is spooned onto the dish first, then the potato sauce is siphoned out.
Catbird Seat, 1171 Division St., Nashville, TN, thecatbirdseatrestaurant.com
---
Read More Plate Deconstructions on Food Republic: