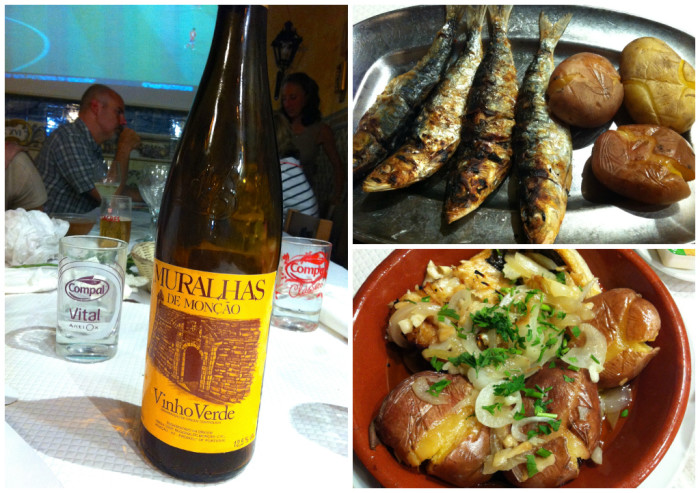 R.E.M. was being blasted out of one of the bars, a cry of heartbreaking sorrow. "Everybody hurts," indeed. I just witnessed Portugal lose to Spain in the 2012 Euro Cup — in penalty kicks, no less — a game I watched in a no-frills eatery not far from the Praça do Comércio in Lisbon. Cristiano Ronaldo, the Portuguese captain and top scorer, didn't even get his turn. The city laments the loss.
I keep flashing back to the guy they showed for too long on the screen once the match was over, a fan in full makeup and a rooster wig weeping so inconsolably that his green and red face paint were running together, a muddy brown. I had wanted to watch the game in one of the open-air bars that set up screens along the grand Avenida da Liberdade. But my host insisted we go somewhere where we could have a meal. The game could go long. It did.
Luckily, there were many good things to keep us sated as we chewed our nails and prayed for a goal. Deep-fried salty cod fritters, garlic-salty miniature snails sprinkled with fresh parsley, crispy grilled sardines served with smashed potatoes, the Alentajo specialty of clams with pork, and — of course, always here — bacalhau. Meaty white cod can stand up to red wine, and that's how many Portuguese enjoy it. We paired ours with light beers and crisp Vinho Verde wines. The amounts were copious, but the alcohol levels low enough that we could keep drinking as the minutes crawled up into triple digits. And overtime went to penalty kicks.
The Portuguese in the restaurant didn't take the loss as hard as the fan in Kiev did. Spain was lucky, they said. They always are. After the game was over, most people filtered out into the streets, many in search of a bar, but others headed straight for the solace of their own homes. My host handled it best of all: he poured us all a glass of Moscatel Roxo, a rare sweet wine from Setubal that gives tawny port a run for its money. We sipped solemnly before going out into the night to commiserate with the locals.
Today, Italy will play Germany and the winner will play Spain. I'll no longer be in Portugal so I will have no reason to hope for Spain's demise. But then, there may be a part of me that does. That same part will hanker for meaty white fish and crisp white wine and a little R.E.M. in the background.
---
More soccer coverage on Food Republic: