What The Hell Is Coronation Chicken?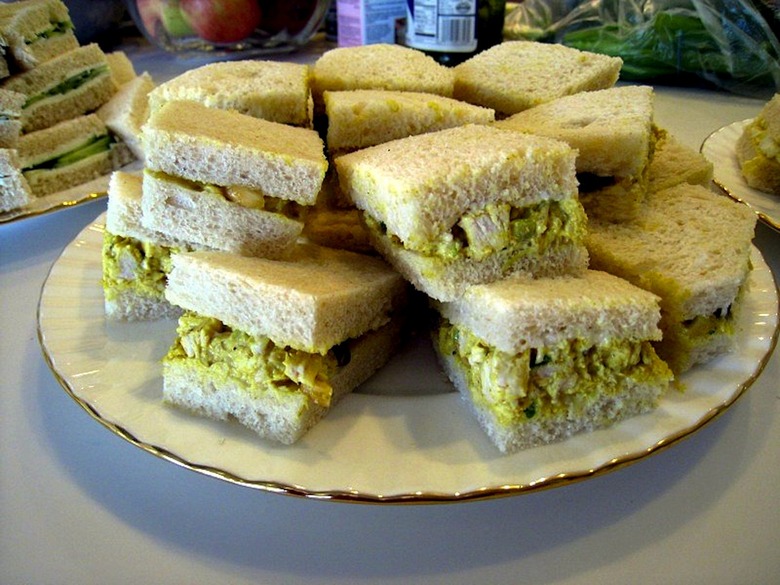 coronation chicken
60 years ago, Elizabeth II ascended the throne. Not bad. The Queen's Diamond Jubilee weekend in London may have just wrapped, but the question on my mind isn't so much "how does she do it" as "who thought curried chicken salad would suffice to mark the historic event of her coronation and why do they keep making it?" You'd think a dish called Coronation Chicken would be more, well, regal.
When the Queen was first crowned in 1952, the kitchens of Buckingham Palace were hard-pressed to invent a dish that would satisfy the foreign dignitaries and guests in attendance. Not that bangers and mash isn't delicious, but the thoughtful chefs (along with the Queen's florist), perhaps borrowing a leaf out of newly-independent India's cookbook, put together the following: cooked chicken, curry powder and heavy cream, served chilled with rice and vegetables. Sound anything like chicken tikka masala, national dish of England? In any case, Coronation Chicken was a hit, and now it's fashionably retro and Jubilee-appropriate, so of course it's what's for lunch.
If you ever felt the need to make tea sandwiches, those precious little triangles of white bread insufficiently stuffed with insufficient sandwich ingredients like watercress, Coronation Chicken is the way to go.
Here's a recipe that requires no wracking of one's brain, since no foreign delegates will be in attendance at lunch today: take a cup of cooked, shredded chicken (white or dark meat, or both) and toss with 1/4 cup of mayonnaise and a little melted butter. Hey, it's England. Butter happens. Add several healthy shakes of curry powder, salt and pepper to taste, and any or all of the following:
Chopped cilantro
Raisins
Minced red chili
Chopped shallots
Diced mango
Sliced almonds or cashews
Squeeze of lemon juice
And believe it or not, this mixture does as well in a wrap as it does in those fluffy, dainty, tiny ones.
I think for the Queen's Platinum Jubilee (that's what comes next, right?) I'll invent Platinum Chicken. Also known as beer can chicken. But with the most expensive canned beer available.
---
More eating and drinking in England on Food Republic: