The Ultimate Oscars Drinking Game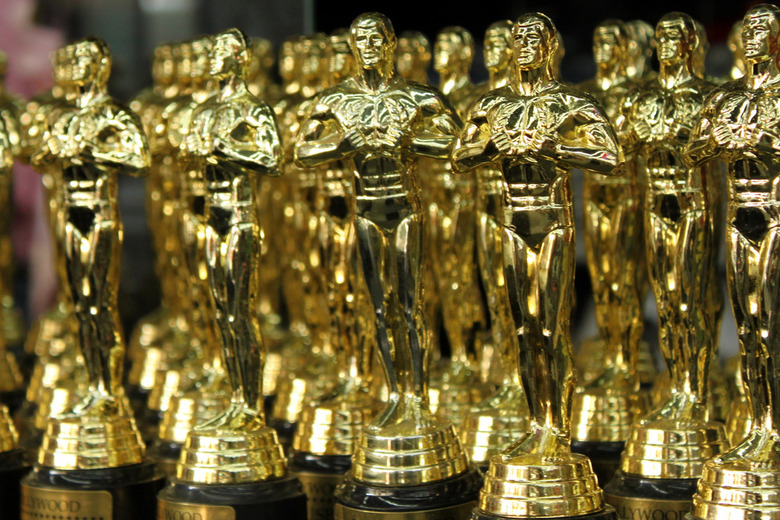 oscars drinking game
The Oscars: every year it seems the ceremony goes longer and longer, and George Clooney's girlfriend gets younger and younger. We understand that our cinephile readers might want some suggestions for drinks to match Best Picture picks. (However, if you think Melancholia was snubbed, we suggest sunshine and lots of therapy). First, we suggest movie-themed drinks. But scroll down for the real payoff: A can't-miss Oscars drinking game that'll liven up even the most moribund gathering.
Of course, you could always "make things interesting" with a high-stakes Oscars pool (not that we'd endorse such a thing. Ha.). Or better yet, pick your movie, make the drink suggested below, and play along with our game—guaranteed to take the edge off when host Billy Crystal's wisecracks become more grating than a Justin Timberlake romantic comedy.
Midnight in Paris
When the clock strikes midnight, Owen Wilson magically appears in the Paris of the 1920s. Ex-pat Ernest Hemingway completely steals the movie, so honor him by drinking one of his (many) favorite cocktails: the mojito.
The Descendants
George Clooney dons sandals and Hawaiian shirts, a far cry from his dapper GQ-cover ready style. Go with the Polynesian vibe and make yourself a mai tai or other tropically themed cocktail.
Moneyball
This movie is based on Michael Lewis's sobering take on how sabermetrics influenced Major League Baseball. Go with a craft beer that you feel represents your home team. If that's not the Yankees, make disparaging comments about their payroll throughout the evening.
The Artist
Hard to believe it's 2012 and the talk of Tinseltown is a black-and-white silent movie. But hey, who says American audiences aren't sophisticated enough to enjoy a throwback-style romp. Get all sophisticated with a dry martini.
Hugo
Another nominee about the joys of a bygone era in cinema, Martin Scorsese's first family-friendly movie is anchored by a stirring performance from Sir Ben Kingsley as French film pioneer George Méliès. A Trip to the Moon is Méliès most famous and iconic contribution to cinema. Moonshine might be a stretch to get before Sunday, so stick with rye.
War Horse
The soaring cinematography and score are probably the biggest selling points to Spielberg's World War I drama about a boy and his beloved horse, Joey. If you sat through this, you'll need a drink, and some medicine to ease the sting. We suggest a gin and tonic with a dose of borage.
The Help
Set in the backdrop of Mississippi in the 1960's, The Help follows journalist-in-training Skeeter as she sets to write a novel about life from a maid's point of view. It's a stirring tale of women fighting back against racism in the '60s, and while The Help is every bit a chick flick, don't risk the ire of the gals in the room by making snarky comments. Instead, offer to stir up a spiked lemonade.
Extremely Loud and Incredibly Close
Probably the most controversial of the Best Picture nominees, but we imagine somebody out there likes saccharine-sweet movies. If that's you, enjoy a glass of sparkling wine.
Tree of Life
Did you understand this Terrence Malick movie? If so, we need to talk immediately. We left the theater confused. Very confused. Did all that just happen? Did someone slip absinthe into our drink? Come to think of it... maybe that's not a bad idea. Sazerac anyone?
Now, the Oscars drinking game.
Take one sip if:
Someone thanks God, Harvey Weinstein.
Anyone correctly pronounces "Hazanavicius," the director of The Artist.
A dog (preferably Uggie) makes it on stage.
Billy Crystal makes a joke about the Republican presidential field.
One of the ladies from Bridesmaids says or does something raunchy.
Take two sips if:
Billy Crystal makes a joke about how he is a back-up choice host.
The camera pans to a scowling David Fincher.

Extremely Loud and Incredibly Close wins anything.
A song or dance number goes over seven minutes.
Someone pulls an Adrien Brody and makes out with the presenter (please see the addendum below).
Finish your drink if:
Someone pulls an Adrien Brody and makes out with the presenter, Halle Berry.
James Franco and Anne Hathaway appear on stage at any time.
Chris Rock, a presenter this year, continues his train of thought from hosting in 2005 and asks again (we paraphrase), "Who the hell is Jude Law?"