Craigie On Main Burger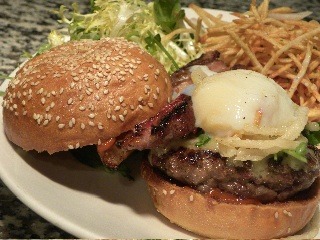 If there is one thing that we can respect here at Food Republic, it's an obsessive approach to burger making. It took six months for James Beard–nominated Chef Tony Maws to finalize his ultimate burger recipe for Craigie on Main's bar menu. For a chef so committed to local and seasonal eating that the menu in his Cambridge, Massachusetts restaurant proclaims, "sorry, no tomatoes til August," finding good local beef wasn't the problem; it was that the grass-fed beef from nearby Hardwick was, in a way, too good.
Grass-fed beef has a stronger, more beefy taste than conventionally corn-fed beef, which is a benefit to burger-ness, but it's also a leaner meat. Fat is what makes burgers taste good, and the local beef lacked the desired degree of marbling.
Maws designed the perfect meat blend—equal parts of flavorful short rib, flap meat, and brisket, and then solved the fat-content dilemma by adding extra beef fat—a 2:1 combination of suet and marrow.
He also ups the umami of his burger with dehydrated miso mixed into the ground meat mixture.
Kitchen geeks will appreciate the cooking techniques used here. Maws skips the grill in favor of a high-tech steam-injected, pressure, and temperature controlled C-vap oven. Often compared to sous-vide, the C-vap slow cooks the burger to perfection; the burgers are then browned up on a steel plancha set into the stove to create a satisfying char.
The burger is topped with aged cheddar from across the border in Vermont, crispy fried onions, some watercress for a bite, nutmeg-laced housemade ketchup, and then it is all nestled into a bun that is made in-house with brown butter (to be substantial enough to stand up to the juicy patty). All of this says Burger of the Week to us.
---
Got a candidate for burger of the week? Let us know in the comments.
---