What The Duck Is In My Burger?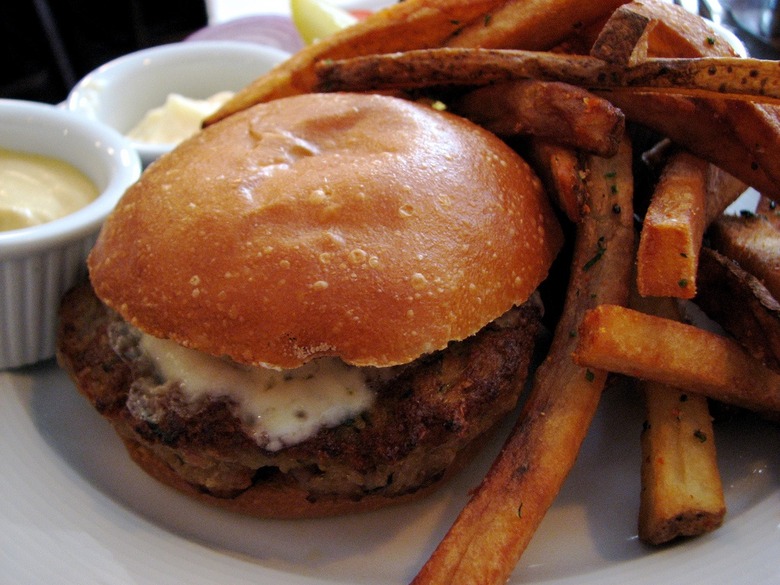 Photo: Chinkerfly on Flickr
Everyone has a burger they dream about. Maybe it's the melting cheese, the juicy meat, or the toasted, buttery buns that make your mouth water. For years, New York City's Café Joul had been home to the burger of my dreams: a traditional beef burger, with a thick, flavorful, strip steak-like patty topped with Gruyère, and a roasted tomato and sweet onion marmalade, cushioned between a fluffy brioche bun. Consistently, it's a damn good burger, and that's why for years it remained at the top of my list. That was until I went to Paris. The burger that bumped it was no ordinary patty.
The duck burger, while not yet ubiquitous, is growing in popularity in the City of Light. You've seen the burger-boom stateside and now it has hit Europe, too. Haute burgers are hot. Chefs are moving beyond boeuf, and the French have called on canard for this latest culinary feat. Canard, aka duck, is a staple of the French diet, so it's no wonder this bird has found itself sandwiched between a burger bun. The high fat content of duck meat makes for a particularly juicy burger.
The best duck burger resides at a small boîte near the Louvre, called H.A.N.D. (an acronym for Have A Nice Day). H.A.N.D.'s menu celebrates the burger: beef, fish, and veggie, to name a few. The "Super Duck" reigns supreme though. The artfully composed patty is made from ground duck breast that's seasoned with salt, pepper, and sautéed onions. Then it's topped with a slice of goat cheese and sautéed mushrooms. Served on a brioche bun, with a bit of lettuce and mayo, this burger left me speechless: the richness of the duck and the creamy tartness of the goat cheese are a super match, while the mushrooms add a savory depth.
You can taste a duck burger in the States. Out in Cali, chef Cindy Pawlcyn serves a Chinatown Duck Burger at Cindy's Backstreet Kitchen topped with shiitake ketchup. Another worthy contender is the spicy duck burger served during weekend brunch at New York's Perilla. Chef Harold Dieterle grinds the duck meat with a blend of garlic and sriracha and tops the silken patty with jack cheese and avocado. Or you can duck up your traditional burger by simply adding a spoonful or two of duck fat to your ground beef before grilling. And here at Food Republic, we've got your back, so try making a duck burger yourself with our delicious, kitchen-tested duck burger recipe.
---
Ever had a duck burger? Let us know your thought on this trend in comments.
If you liked this story, we think you'd also enjoy: