Combine Deviled Eggs And Potato Salad For The Ultimate Creamy Side Dish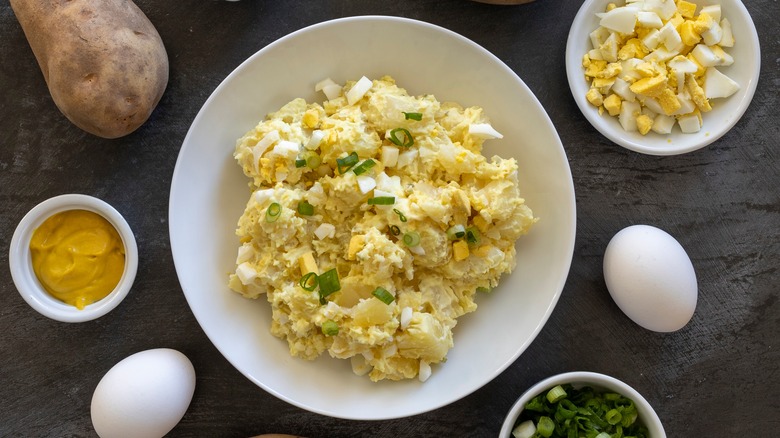 JJava Designs/Shutterstock
Although holiday meals are all about abundance, sometimes you simply can't fit all that delicious food on the table. That being said, you can save a little room by combining dishes, particularly when the recipes are as complementary as deviled eggs and potato salad. These two sides already share a few common ingredients, namely mayo, mustard, and the eggs themselves, so why not combine them into an eggier-than-average potato salad?
Preparation isn't too different from that of a regular potato salad recipe, being that you start by boiling the eggs and potatoes. Start by chopping the potatoes and eggs into bite-sized pieces. Set some chunks of hard-boiled egg yolk aside for the dressing and toss the rest of the yolk in with your chopped potatoes and egg whites. As you might expect, you can then mix together your potato salad dressing, making sure to add those yolks for additional flavor and texture. Fold the dressing and chopped ingredients together, top with a dash of paprika to pay homage to deviled eggs, and you're ready to refrigerate or serve.
Use the best ingredients for your eggy potato salad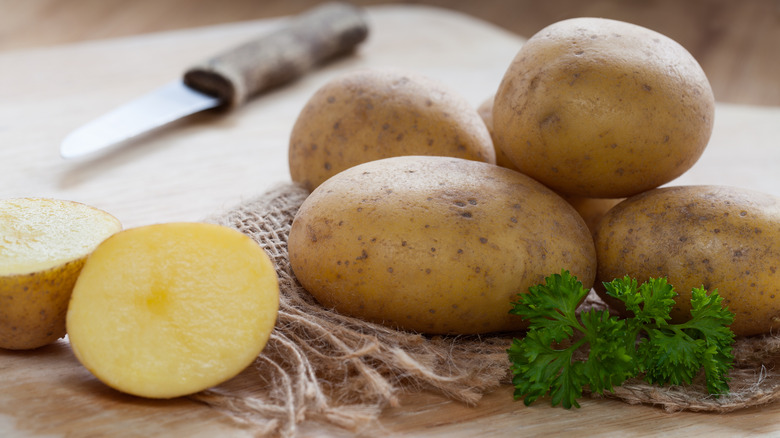 Astrid AC/Shutterstock
For the best results, you want to optimize the ingredients you use in any dish, and eggy potato salad is no different. For instance, you should ideally use a waxy potato, such as Yukon golds or reds. As the best kind of potatoes for boiling, waxy varieties will hold their shape during and after cooking –- a quality we can all appreciate in a chunky dish like potato salad.
On a similar note, most potato or egg salad recipes call for regular mustard, but you can easily upgrade your dish with an elevated mustard. For instance, you could use dijon mustard, as its creamy texture and sweet taste will complement the waxy potatoes. Alternatively, you could use a spicy brown mustard to add heat. When it comes to the other key ingredients, you want to be sure to choose a tangy mayo to contrast the sweet flavor notes. For even more tang, you can substitute sour cream for Greek yogurt, but be careful not to upset the balance of flavors in your dish.
Take your deviled egg potato salad over the top with extra mix-ins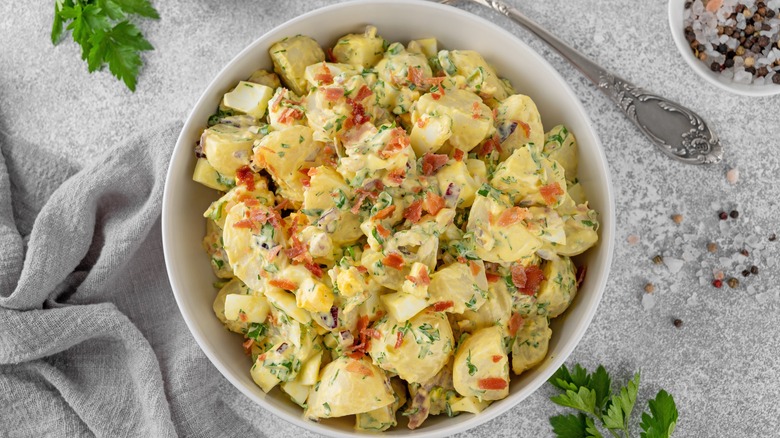 irina2511/Shutterstock
Just as you can add extra ingredients to deviled eggs or potato salad, you can do so with the combined dish. For instance, you might add diced green onions or celery for freshness. Sweet pickle or dill pickle relishes could also work well, depending on the flavor profile you're going for. Larger pieces of pickle could offer more crunch, but keep in mind that the flavors run the risk of becoming overbearing.
Another way to add a little textural contrast to an otherwise soft dish is the inclusion of crispy bacon. Better yet, save the grease from the bacon and mix it into your salad dressing to tie the flavors all together. That's two upgrades accomplished with a single ingredient! Of course, all that matters at the end of the day is that eggy potato salad is meant to be a comfort food. Feel free to zhuzh it up and experiment with different ingredients, but it's also okay to stick with a more traditional recipe.