The Game-Changing Ingredient You Should Add To Guacamole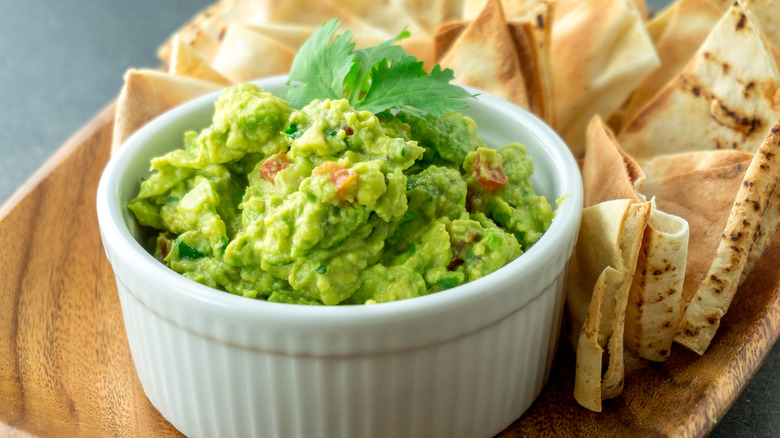 Louno Morose/Shutterstock
The guac may be extra when eating out, but it's always worth it, and homemade guacamole is the same way. It's deliciously complex yet surprisingly easy to make because it features only a handful of ingredients, like cilantro, onion, lime juice, salt, and, of course, ripe avocados. This classic avocado dip is undeniably tasty as is, but you can easily elevate a basic guacamole recipe at home using one simple ingredient: chili crisp.
The crunchy condiment hails from China and is equal parts savory, salty, and spicy with the occasional dash of sweetness, depending on how it's made. Recipes do vary, but its harmonious blend of umami-rich ingredients typically includes dried red chiles and oil as well as other fragrant flavor boosters like dried shallots, garlic, ginger, Sichuan pepper, and sesame seeds. 
Although it's traditionally used on noodle dishes and dumplings, chili crisp is great on just about everything, similar to other spicy condiments like hot sauce or sriracha. You can add it to fried eggs, sandwiches, avocado toast, and everything in between — but it's especially great for kicking up the heat of your favorite creamy dip.
Chili crisp adds a spicy kick to guacamole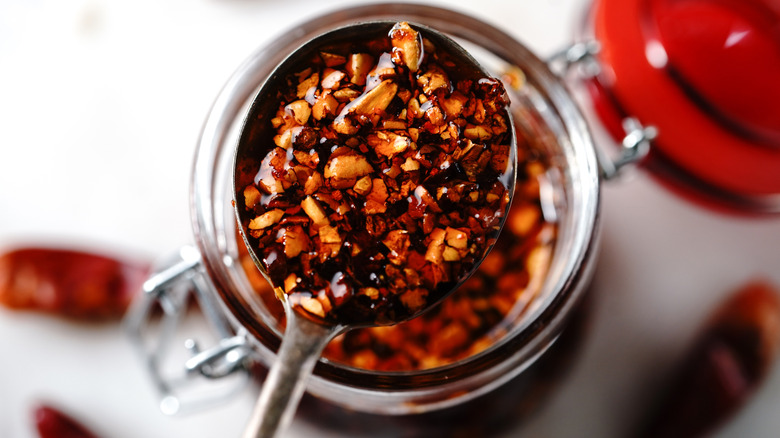 Vm2002/Getty Images
Traditionally, guacamole features jalapeño or serrano peppers for a fiery burst of flavor. However, you can forgo these ingredients in favor of the chili crisp because it'll also deliver on heat. So, grab your avocados and get ready to whip up the best-tasting guac you'll probably ever sink your tortilla chips into. The best part is that adding the chili crisp is as easy as stirring a spoonful into the guacamole and adding more to taste.
You can make a simple DIY chili crisp recipe at home or purchase any of the many brands available in-store, such as Fly By Jing or Lao Gan Ma. However, it's important to note that chili crisp products can feature varying degrees of spiciness, so it's best to add in small amounts of the crunchy sauce into your guac at a time. A good rule of thumb is to aim for about 1 tablespoon for every two avocados used.
Other ways to make guac even tastier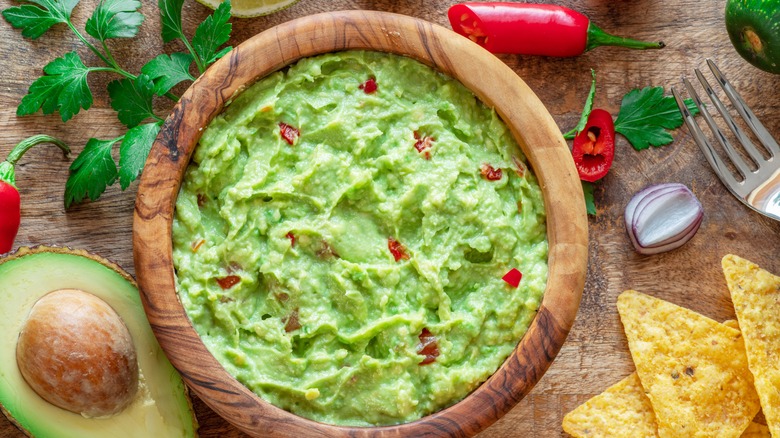 Valentyn Volkov/Shutterstock
Aside from chopped jalapeños and a spoonful of chili crisp, there's a variety of other hot ingredients you can use to send your guac soaring up the Scoville scale. Sprinkle in a teaspoon of cayenne pepper or a couple of teaspoons of red pepper flakes. You could even add a few splashes of hot sauce to taste, or opt for diced green chiles or poblano peppers for a milder chili pepper option.
Not a fan of the heat? There's a variety of other game-changing ingredients that can take a bowl of guac to the next level. Give your guacamole a sensational smoky flavor by adding in some fire-roasted corn or roasted tomatoes. For a recipe that's as sweet as it is savory, add in fruits like diced strawberries, mango, or even grilled peaches. Or, try a cheesy twist by topping your guac with crumbles of queso fresco  or stirring the cheese in directly for a delicious dip that's sure to keep you coming back for more.