Put Fresh Cranberries To Use In Your Apple Pie Filling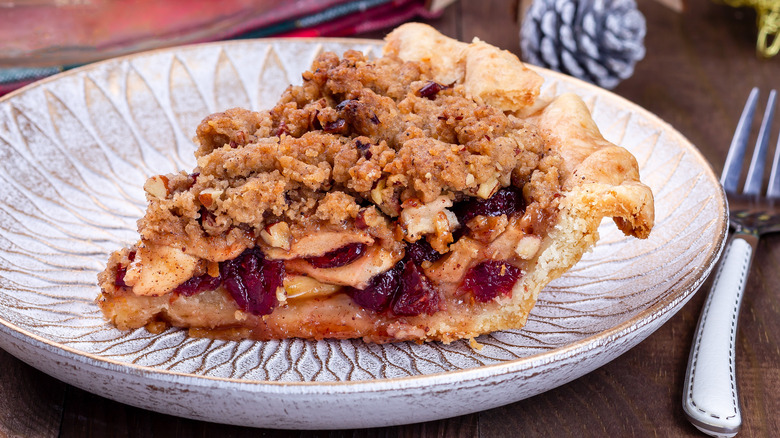 Iuliia_n/Getty Images
If you're the type who goes all out for Thanksgiving, you might prepare a batch of homemade cranberry sauce. This sauce is the perfect complement to your glistening turkey and golden dressing, making the most of fresh cranberries during their peak harvest season in the U.S., from mid-September to mid-November. But what to do with any leftovers? After all, there's only so much cranberry sauce that can be used in a Thanksgiving meal.
Enter an autumn staple: the bright and juicy apple pie. A classic dessert that aligns well with the fall theme, this fruit pie benefits from the sweet-tart acidity of cranberries and their vibrant red color. Add a handful to your favorite apple pie filling recipe for an added tangy sophistication. This approach also works with other apple-rich desserts, like jammy bars and crispy crumbles. If you have even more cranberries left, there are tips for turning them into sparkling cake decorations, delicious cocktails, and more.
The perfect tart addition to your apple pie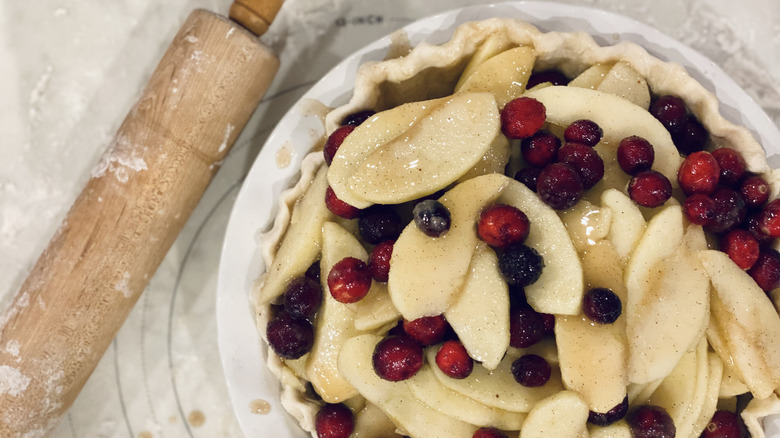 Brooke Boyer/Getty Images
First, let's explore how fresh cranberries can enhance your apple-based desserts. Modify an easy apple pie recipe by replacing about one cup of sliced apples with one cup of fresh cranberries. These tart cranberries complement the warm spices in the pie just as well as apples do. The baking time and measurements should remain roughly the same, but you'll notice bright red hues popping in the filling. Beyond pies, consider adding cranberries to other apple-focused desserts, such as apple galettes, apple butter bars, or apple crumbles, for a similar tangy upgrade.
Keep in mind that cranberries add considerable acidity and tartness to apple desserts. As such, you might want to reduce the amount of lemon juice specified in the recipe, or even opt for sweeter apple varieties to balance out the flavors. Suitable, sweet baking apples include Honeycrisp, Jonagold, Pink Lady, and Fuji varieties.
Other uses for your leftover cranberries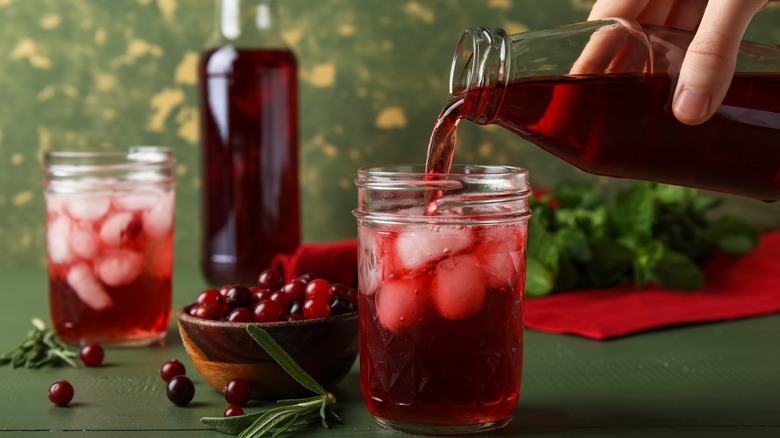 Pixel-Shot/Shutterstock
Of course, the usefulness of cranberries extends beyond apple pie. In the realm of desserts, cranberries can help dress up your cakes. Sugared cranberries, for instance, add some glitzy glamour to your unadorned vanilla cheesecake or red velvet cake. Even a simple cranberry syrup could be a delightful addition to a scoop of ice cream.
Taking a more spirited turn, the same cranberry syrup can serve as a base for holiday-themed cocktails, such as a cranberry twist on a margarita. If you find yourself with an excess of cranberries, consider making cranberry liqueur; it's surprisingly straightforward.
Savory dishes can also benefit from cranberries. If you have brie or camembert in your cheese drawer, try warming it and sprinkling a few cranberries on top (this also works well with leftover cranberry sauce). Alternatively, take a page from the classic Swedish lingonberry-meatball pairing, and add some cranberries to your next meatball dish. A surplus of fresh cranberries can indeed be a gift, not a burden.