The Best Orange Liqueur For Lemon Drop Martinis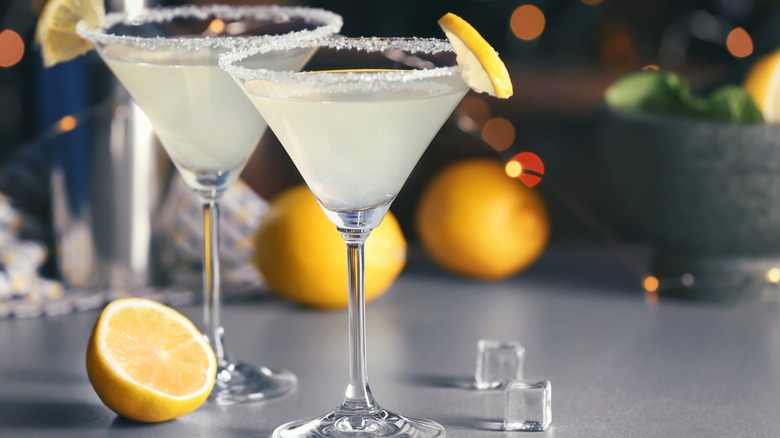 Africa Studio/Shutterstock
It may surprise some people to know that a classic Lemon Drop cocktail is actually made with orange liqueur. In addition to vodka, simple syrup, and fresh lemon juice, a touch of orange liqueur is added, not so much for the orange flavor, but for citrus depth and a lovely aroma. The go-to orange accent for several drinks, including the Lemon Drop, is Triple Sec but if you are going for a memorable cocktail, make it with Cointreau.
Cointreau is actually a brand of Triple Sec, a distilled liquor made in France using both sweet and bitter oranges. The result is a spirit that smells and tastes like orange but maintains a clean finish, which makes it perfect for using in a Lemon Drop martini as it enhances the flavor of the cocktail without changing it. Cointreau can also be described as having light but warm spice notes whereas Triple Secs are pretty uncomplicated with their single flavor note of orange. Any cocktail that calls for Triple Sec, like Margaritas, Cosmopolitans, and Sangria, would be noticeably elevated by swapping the orange spirit with Cointreau,
There are a lot of orange liqueurs to choose from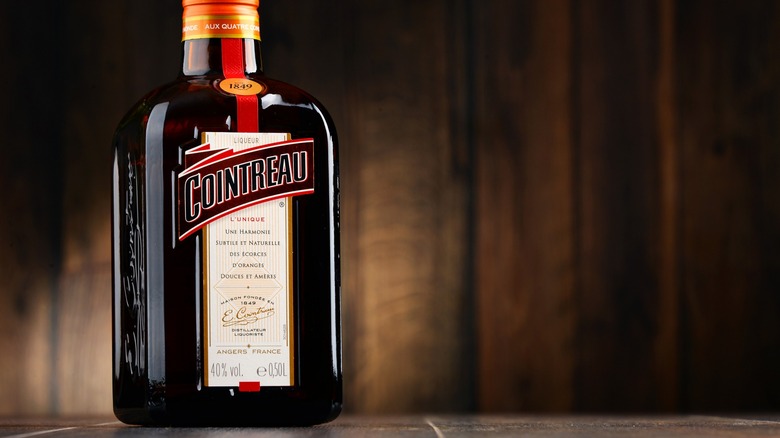 Monticelllo/Getty Images
You might be wondering if you should step up your Lemon Drop martini even more by using the grand dame of orange liqueurs, Grand Marnier. Also made in France from bitter oranges, Grand Marnier is made with cognac and sugar. It's delicious, if not very forward in its orange flavor, sweeter than Cointreau, with a deep caramelized flavor. Using it in a Lemon Drop cocktail will surely change the flavor of the drink, giving you more of an orange essence and possibly taking away from the tart lemon flavor. That said, your perfect citrusy martini may very well include this fancy orange spirit, or something else altogether.
Part of the fun of being a grownup who likes cocktails is playing around with different flavors and ingredients. Despite having a reputation of being a mere coloring agent in some sickly sweet drinks, blue Curaçao is really just a hued orange liquor. Combined with the yellow lemon juice, it would give a Lemon Drop martini a festive green color. Blood orange liqueur would work as well, imparting a distinct flavor of bitter but bright blood orange to your drink. Aperol will impart a pretty sunset color and a light orange flavor to a Lemon Drop but it is also much more bitter than Cointreau, so you may need to bump up the simple syrup a bit to suit your taste if trying that spirit.
More tips for making the perfect Lemon Drop martini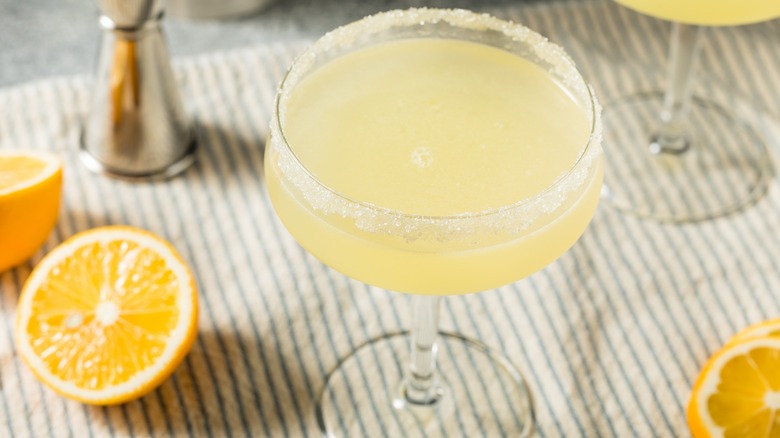 Brent Hofacker/Shutterstock
Lemon Drop martinis are pretty straightforward, in that they come together using just four ingredients that are shaken over ice and strained into a glass. Using Cointreau instead of Triple Sec will definitely enhance the drink but so will mixing up the other ingredients. There are dozens of varieties of lemons around the world, so no matter which corner of it you call home, there's likely a unique lemon there, one worth juicing for a tasty drink. For example, using Meyer lemon juice (which is not as tart as standard lemons) would make a lovely, softer rendition of this drink.
Also, your simple syrup doesn't need to be so simple if you don't want it to be. The syrup is typically made by boiling equal parts sugar and water until the sugar has dissolved, but for an extra citrus kick, add some lemon zest to the mixture. Since there are so few ingredients in a Lemon Drop martini, always use a good vodka, one that you wouldn't mind sipping on the rocks or straight up because the flavor will come through. However you make it, stick to the basic four ingredients, and know you'll always get a better result by using Cointreau for the orange liquer.