Bacon Strips Are A Seriously Underrated Cocktail Garnish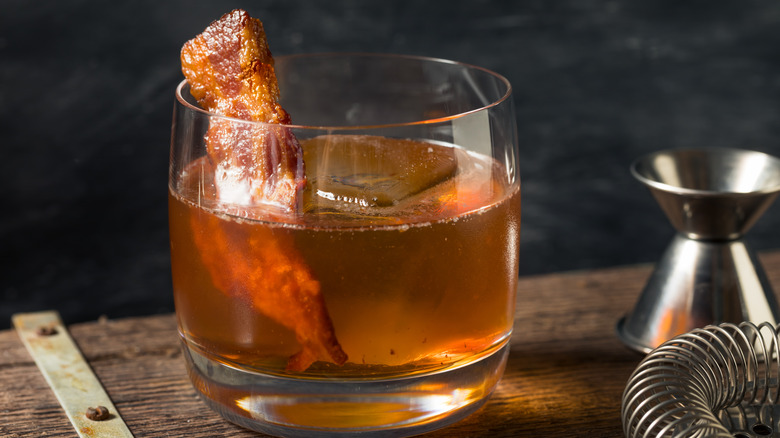 Brent Hofacker/Shutterstock
Is there anything bacon can't do? Not only is it the star of breakfast and brunch, but the smoked and salted pork product also enhances various beverages, from the savory depth of a bloody mary to the subtle sweetness of a Manhattan cocktail.
When paired with complementary sweet flavors like maple or apple, a bacon strip can act as a uniquely savory swizzle stick. If paired with umami-rich ingredients such as tomatoes or Worcestershire sauce, bacon serves to add some additional welcomed saltiness to the beverage. Submerged in a cocktail, bacon soaks up the drink's flavors while infusing the mix with its distinct taste. And that's just the beginning, using only a single strip as garnish. This versatile ingredient can also be transformed into a smoky simple syrup or a rich salt, perfect for rimming a margarita glass. Whichever way you choose to incorporate bacon into your boozy endeavors, success seems all but assured.   
Using the whole strip for garnish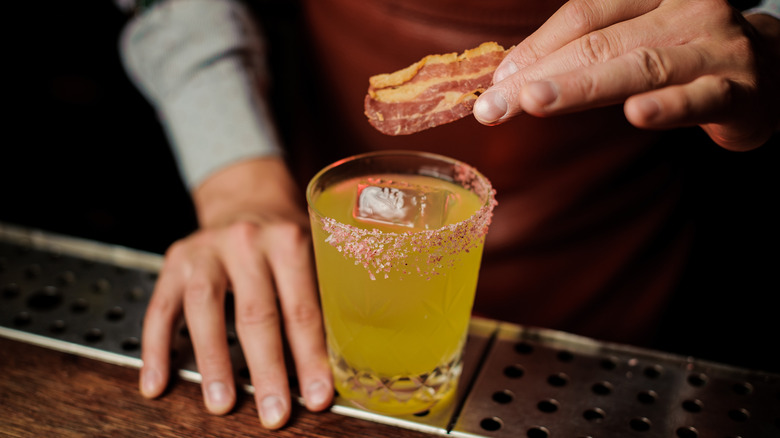 Maximfesenko/Getty Images
Let's explore the full potential of bacon in your bar setup. First, consider which spirits pair best with this porky treat. Bourbon and whiskey embrace the smoky qualities of bacon with delicious aplomb, as demonstrated in this recipe for maple bacon bourbon pops. This idea opens the door to adding a bacon strip garnish to classic cocktails like whiskey sours, Manhattans, brown derbies, and even hot toddies. Warm, spiced dark rum can benefit from a bit of bacon as a salty contrast, a great addition to a traditional buttered rum or a dark and stormy cocktail. Clear spirits like vodka and tequila also complement bacon's robust flavor, especially in tomato juice or Clamato-based cocktails, evident in bacon-enhanced bloody marys.
Certain flavored liqueurs also pair well with bacon, such as butterscotch schnapps or nutty amaretto. Consider adding a strip of bacon to liqueur-accented favorites, like a maple cream martini. Typically, the sweeter, richer cocktails welcome bacon as a savory counterbalance. So, bring on the eggnog or RumChata as well.
Making a bacon strip syrup and salt rim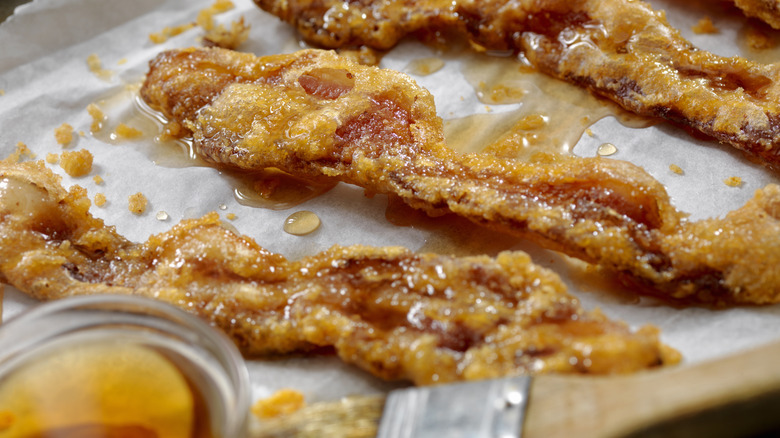 Lauripatterson/Getty Images
If you're eager to break your bacon out of its straight strip confines, consider transforming it into either a grainy rim garnish or a sweet syrup. The garnish is perfect for rimming a daiquiri that could use a touch of bacon, or a luxurious espresso martini. This savory and salty combination also pairs exceptionally well with your favorite bloody mary mixer or a smoky, mezcal-spiked margarita.
If you choose the simple syrup route, first prepare your syrup as usual; here's everything you need to know about simple syrup to get you started. Once off the stove, infuse your syrup using either the hot or cold method with a few slices of cooked bacon. This syrup would be a versatile addition to almost any cocktail, but it would particularly shine in drinks with a warm bourbon base, like in this apple-ginger whiskey sour.