Duff Goldman's Easy Advice For Elevating Box Cake Mix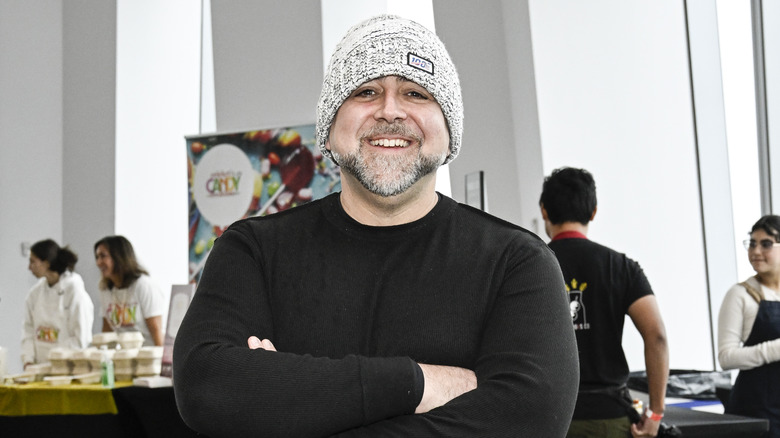 Daniel Zuchnik/Getty Images
Boxed cake mixes often get a bad rap for being an easy but bland way to make dessert. But that's selling them way short. In reality, the pre-made cake mix should be treated as a culinary tool. Look at it as a blank canvas for home bakers to play around with while avoiding the fussier side of baking (i.e. chemistry).   
Even celebrity baker Duff Goldman recognizes the boxed cake mix as a well of untapped potential. To him, it's a particularly useful medium for new bakers to experiment with revolutionary flavor combos without getting into the nitty-gritty science. Goldman's top tip? Head to your pantry and pick your favorite spices to create a simple yet satisfying upgrade to a classic boxed cake mix. You can even tip into more adventurous adaptations — like mixing in nuts or a canned puree — if you're ready to make a more daring plunge. So how should you go about bringing a bit of razzle-dazzle to your cake mixes? It's all about balance — think complementary flavors and compensating for added liquids by reducing them elsewhere.
Add in your favorite pantry items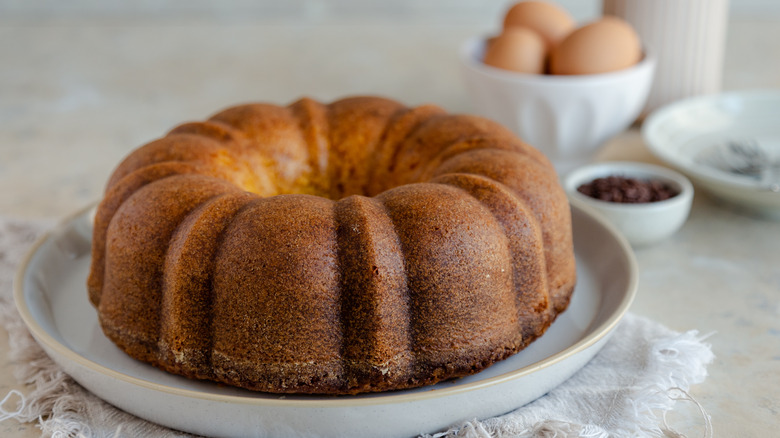 Marielen Cestari Baldino/Shutterstock
The wonderful benefit of adding spices to your pre-made cake mixes is that it won't affect the texture or rise of the cake. Instead, a bit of spice, extract, or citrus zest can transform the flavor of a baked good without actually changing the basic building blocks. To take advantage of this hack, start with a relatively plain box mix, like a classic yellow cake or vanilla white cake recipe. 
If you want to create a classic spice cake, try adding a teaspoon or two of pumpkin pie spice, masala chai spice, or Chinese five-spice. If you'd like for a single spice to stand on its own, select a strong one like nutmeg, cinnamon, or cardamom. A teaspoon of lemon zest will impart a welcome zip of citrus, and for an even stronger flavor, you can use a tablespoon of mixed citrus zest (orange, lemon, and lime work particularly well together). As for extracts, consider what dominant flavors already exist in the mix. If vanilla is already present, try tempering it with ½ a teaspoon of almond, maple, or rum extract. You'll have created a cake that's a significant departure from the humdrum standard mix. 
Supercharging your box mix cake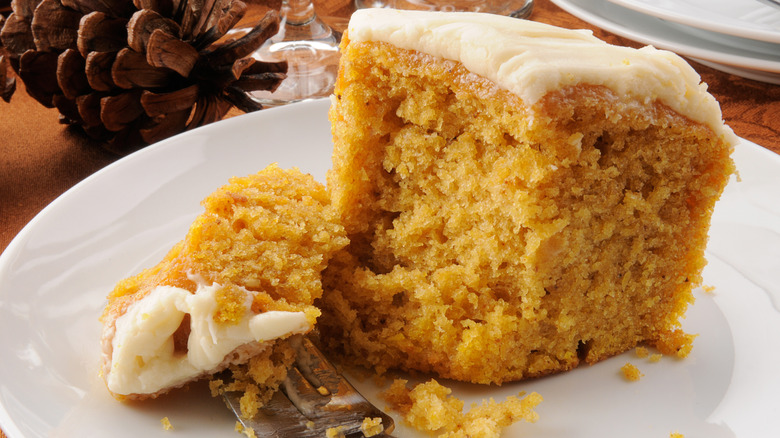 Msphotographic/Getty Images
Next, you can take it a bit further by reaching for bulkier mix-ins. Most boxed cake mixes can handle about ½ cup of solid mix-ins without affecting bake time or consistency. This opens the door to all kinds of nuts and legumes, be it pecans, walnuts, peanuts, or almonds. These are a nice addition to pre-made spice, chocolate, or even carrot cake mixes. For the best flavor, make sure to pre-toast your chopped nuts before mixing them into the batter. A ½ cup of chopped chocolate, raisins, or toffee bits could be incorporated just as well.
As for the more dense mix-ins, like adding creamy squash puree, a common hack is to mix one 15-ounce can of pumpkin puree into one box of cake mix. Baked as a pumpkin upside-down cake, this dessert is about as simple and tasty as it gets. Just make sure you nix all the other wet ingredients, or your cake won't set.
If you'd like to take it in a more fruity direction, you can imitate this hack by adding a cup of applesauce to a box cake mix. The texture will change a bit in the cake, but it'll still be a moist and flavorful dessert.