2-Ingredient Fake Snow Is Fundamental For Holiday Whimsy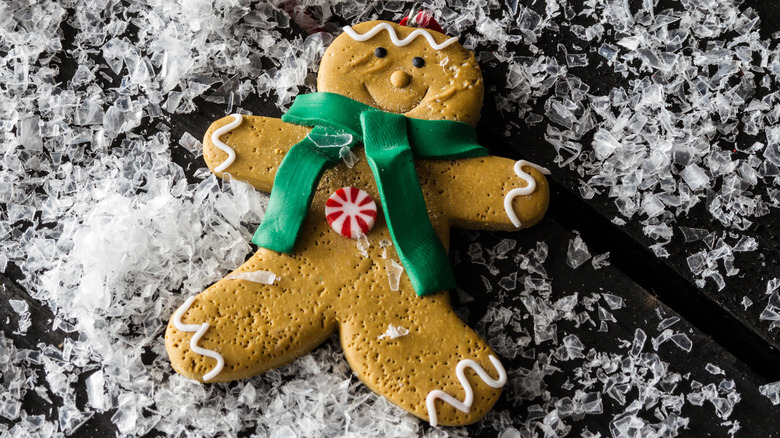 Longfin Media/Shutterstock
No matter where you live in the world, the holidays don't feel complete without at least a dusting of snow. For some, real snow will arrive soon, blanketing everything that was once green. However, in warmer climates, snowfall may be confined to the kitchen.
With just two staple pantry ingredients, you can make fake snow that's safe for kids to play with and perfect for adding the finishing touches to your whimsical holiday decorations. Just mix a one-to-one ratio of cornstarch and baking soda in a large bowl. Gradually add a bit of water to the mixture while stirring with your hands, until it can hold its shape like a snowball. For approximately three cups of cornstarch and baking soda, you'll need about 1½ tablespoons of water. You might need a bit more water for the right consistency if your house is dry.
For a sparkling effect, add glitter to the snow; essential oils, such as peppermint or cedar, could also be added to bring in the scents of the season. Although cornstarch and baking soda are safe for consumption, they have a bitter taste and are not appetizing, so it's best to avoid sprinkling this mixture directly on any food you intend to eat.
How to decorate with fake snow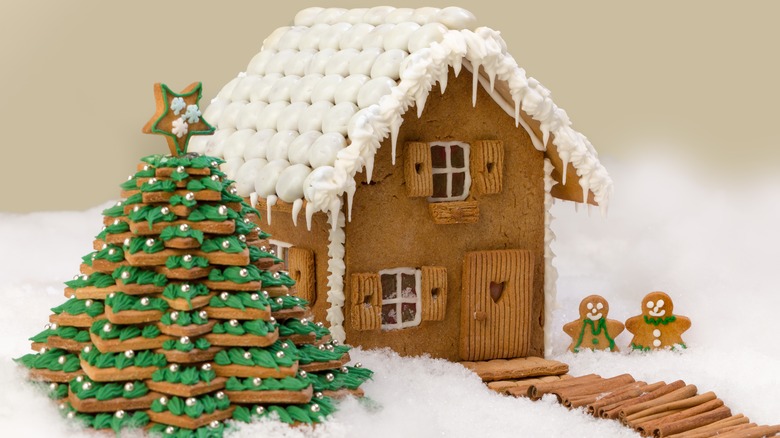 Anneka/Shutterstock
Fake snow can be utilized in as many creative ways as your imagination allows. Kids will have fun molding it into snowmen, which can be decorated with miniature items from around the kitchen. Use mini chocolate chips for the eyes and buttons, candy corn or an orange sprinkle for the nose, and broken pretzels for adorable arms. Create a red scarf from a fruit roll-up or a sour candy belt, and top off the never-melting snowman with a hat made from a chocolate-coated mini marshmallow placed on a candy melt.
For younger children, bring out the holiday cookie cutters and use them to stamp out shapes in the snow. You can spell out a word or name with letter cookie cutters, or use them as molds to fill with packed snow, then lift the cutter to reveal the festive shape. If the snow starts to dry out, just add a few drops of water to refresh it.
Around the house, fake snow can provide the perfect finishing touch to all your holiday decorations. Fill terrariums and shallow glass bowls with snow, then add small holiday items like bottle brush trees and ornaments to create a whimsical scene.
Construct a gingerbread house on a platter or flat cookie sheet, then blanket the surface with fake snow to complete the wintry landscape. Fake snow can also add charm to holiday wreaths, both inside the house and in protected outdoor areas.
Additional whimsical holiday decorations from the kitchen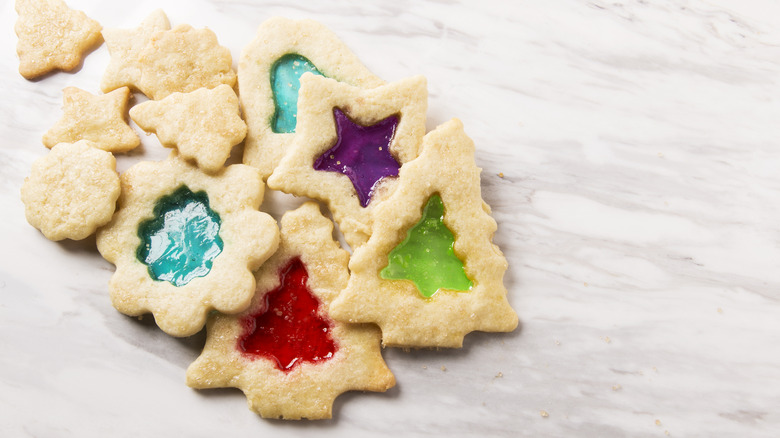 Toddtaulman/Getty Images
There are many holiday crafts that can be made in the kitchen, with garlands being particularly lovely for decorating the tree, mantel, or banister. In addition to the traditional popcorn and cranberry garland, dehydrated citrus slices create a stained glass effect when they catch the light and can be preserved — just make sure to use a toothpick to poke a hole through each slice if you plan to string them.
Stained glass cookies serve a dual purpose when made for a cookie swap and used as ornaments. Prepare a batch of cookies — consider using Alton Brown's countertop hack for sweeter sugar cookies — and then cut out the center of each one, filling it with crushed Jolly Rancher candies, which will melt when baked. To use the cookies as ornaments, create a small hole in the dough using a toothpick or straw before baking. After baking, make sure the hole remains clear so that it's easy to string the cookie once it cools.
In a similar vein, create colorful sugar charms by melting the same hard candies in a saucepan, separating them by color. Quickly drizzle the liquid candy into circles on a lightly greased baking tray using a metal spoon. Once the candy hardens, tie a ribbon through the circles and hang them on the tree. If you're quick, beads and baubles can be added before the candy sets again.