What Is Opera Cake And How Is It Different From Tiramisu?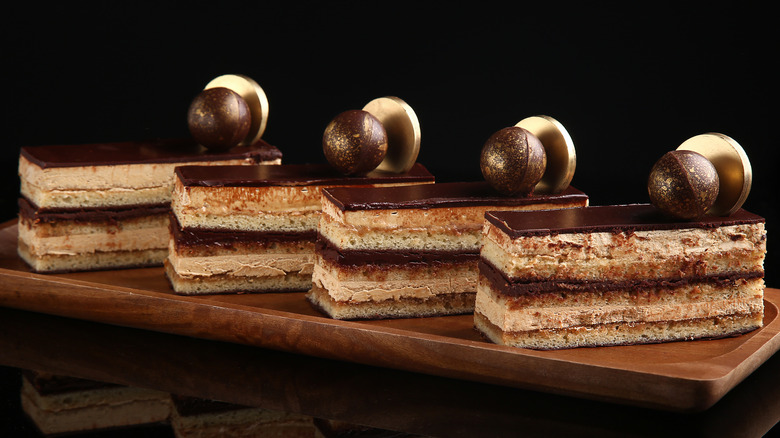 Edwardshtern/Getty Images
Opera cake and tiramisu might initially sound pretty similar, with both being layered desserts, served cold, and equally incorporating rich chocolate and coffee flavors alongside delectable cream. But these two delectable desserts are quite distinct, both in terms of their history and in the way in which each is prepared.
Opera cake is a classic French dessert, and while its origins are disputed, it was popularized by the Dalloyau shop in Paris in the 1950s. Taking its name from its resemblance to the Paris Opera House, Palais Garnier, the sophisticated cake is made up of six layers, alternating with almond sponge cake, a smooth buttercream flavored with coffee, rich chocolate ganache, and then topped by a glossy chocolate glaze.
The arguably more famous dessert, tiramisu, meanwhile is Italian, with a name translating as "pick-me-up" — presumably what a portion of the caffeinated cake aims to do. It also has disputed origins, although it's said by some to have been invented in a "house of pleasure" in Treviso in 1800 (via Academia Del Tiramisu). The dessert, which sandwiches coffee-soaked sponge fingers with sweet, creamy mascarpone is finished with a dusting of cocoa powder on top.
The two treats feature different cake and cream layers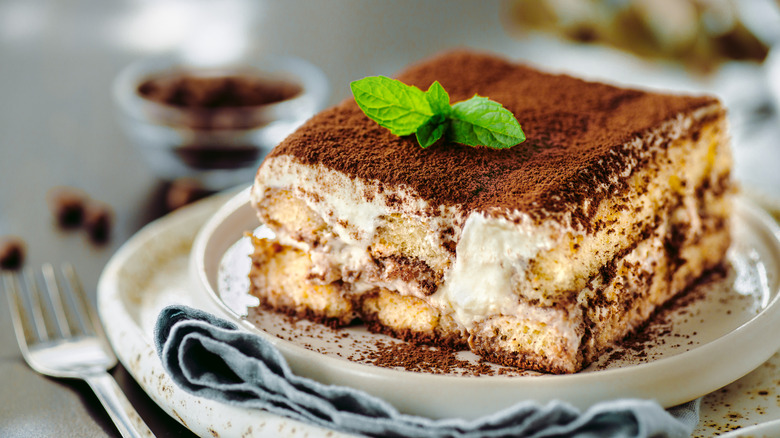 Fascinadora/Shutterstock
The cake layer in opera cake is a light spongey texture flavored with ground almonds, known as joconde, that are baked from scratch before the dessert is assembled. The cake layers required to make tiramisu, however, consist of ladyfingers, basically sponge fingers or cookies also known as savoiardi (hailing from Savoie in Piedmont, Italy) that are soaked in strong coffee. Unlike opera cake, the preparation of tiramisu does not involve any baking since the cake layer is already pre-baked (unless, of course, you decide to make your own sponge fingers).
The creamy layers in the two desserts are also made in different ways. Opera cake features a buttercream, made from eggs, butter, and sugar and then flavored with strong coffee. Tiramisu's creamy component is traditionally made by mixing mascarpone with whipped eggs (or egg yolks) and sugar, although some modern recipes use heavy cream in place of raw eggs.
And lastly, opera cake, which includes a dark chocolate ganache between the layers as well as a chocolatey topping, features more cacao than tiramisu; the latter's top is simply dusted with cocoa. So, while both opera cake and tiramisu have some similarities, if you delve a little deeper into the creamy, caffeinated layers, you'll find they're deliciously different.