Giada De Laurentiis Uses Pop Rocks To Create Dazzling Chocolate Tarts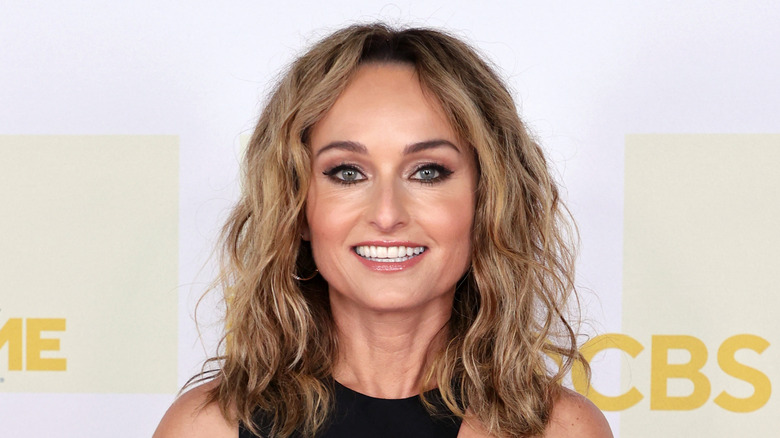 Kevin Winter/Getty Images
A dessert can make or break a meal. It's the final taste guests remember, often making it the most memorable part of the dining experience. While your salad may be perfectly dressed, it's dessert that guests typically look forward to with anticipation. Being an indulgence, dessert, with a bit of creativity, can evoke nostalgia and leave a lasting impression on those you share it with.
Celebrity chef Giada De Laurentiis has crafted such a memorable dessert. Her raspberry-cherry chocolate poppers recipe incorporates Pop Rocks, the iconic childhood candy known for its crackling and fizzing sensation. De Laurentiis adds cherry-flavored Pop Rocks to a straightforward chocolate ganache, topped with a fresh raspberry and edible glitter, creating an elegant presentation.
This easy-to-assemble dessert is both celebratory and theatrically impressive, and can be made using common kitchen molds. Perfectly sized for a holiday dessert buffet or as an impressive contribution to a potluck, these treats offer a two-bite chocolate experience that's sure to leave guests smiling.
Maximize the effect of your Pop Rocks
Similar to making any batch truffle recipe — like these traditional-ale truffles — Giada De Laurentiis' chocolate tarts offer a less messy and time-efficient alternative to individually rolling bonbons. Essentially, you're just pouring a rich chocolate ganache into mini silicone molds while warm, and then chilling until set.
The fun begins once the ganache is made, and De Laurentiis sprinkles cherry-flavored Pop Rocks into the bottom of her molds. Pro tip: As this candy is moisture-activated, pouring the chocolate ganache on top could initiate the coveted crackling effect prematurely. To enhance the popping experience, ensure your hands are dry while handling the candy, and consider adding a second layer of Pop Rocks to the top of the tarts before serving. While the ganache is firm when chilled, it never fully hardens, so it should soften sufficiently at room temperature to allow additional candy to adhere to the top of the chocolate poppers. If needed, running a warm knife along the top can melt the ganache just enough for the extra candy to stick.
Cherry pairs wonderfully with chocolate, but the candy is also available in other flavors, such as strawberry and chocolate, which would be equally delightful. While Pop Rocks may be the most well-known brand, other alternatives like Culinary Crystals — which are even available unflavored — can be purchased online.
Additional culinary uses for Pop Rocks
Giada De Laurentiis' chocolate tarts are an innovative way to use popping candy, but they're certainly not the only method. Chefs have been going wild with Pop Rocks for some time now.
Interested in experimenting with Pop Rocks at home? Try dipping fresh strawberries in warm ganache and roll them in Pop Rocks for a crackling effect, or use the candy as an unconventional topping for your next ice cream sundae.
For an extra pop, add Pop Rocks to popcorn. Coat the popcorn in melted white chocolate, then sprinkle your favorite flavored Pop Rocks on top while the chocolate is still warm. If you're enjoying it with a movie, a comedy is recommended since the noisy popcorn will likely have everyone giggling.
For a dramatic breakfast, add the candy to pancake or waffle batter. Serve these with additional Pop Rocks and maple syrup to maximize the effect. You can also garnish homemade donuts and cookies with this fruity candy, or fill the insides of cupcakes for an explosive surprise.
Finally, at your next cocktail party, forego the usual sugar or salt and rim the glasses with Pop Rocks instead. Cocktails and mocktails become more entertaining when they talk back.