30 Ways Chefs Are Going Wild With Pop Rocks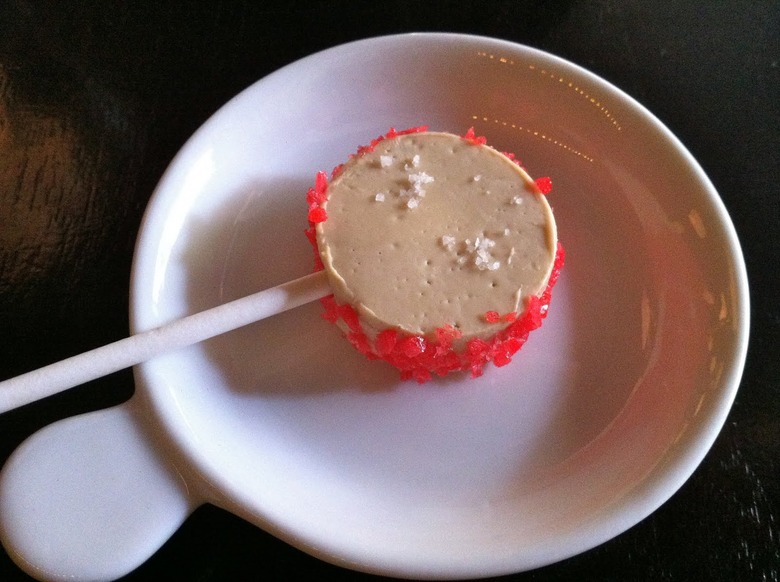 When Pop Rocks were first invented by a chemist named William Mitchel in 1957, the moment was kind of like a precursor to molecular gastronomy. What other candy, past or present, fizzes in your mouth on impact, and brings with it a unique sense of joy and mystery? Yes, that is the science speaking. Today, the childhood favorite can be found all over the world in cocktails, mixed into barbecue sauce, on desserts and gracing opulent bites of foie gras. We were so interested in the culinary world's exploding interest in the stuff that we scoured the land to find exactly 30 ways Pop Rocks have been utilized around the world.
1. We expected the crew at Do or Dine in Brooklyn to do something with Pop Rocks, and lo and behold they have created the Pop. Corn. Shrimp. In this cleverly named dish, chef George McNeese takes a crostini and tops it with grilled and pickled shrimp, chilled corn salad and then sprinkles unflavored Pop Rocks on top. "The only problem with them is you have to apply it right before eating it as otherwise the moisture in the food would cause them to pop prematurely," says McNeese. And nobody wants that to happen. 1108 Bedford Ave., Brooklyn, 718-684-2290; doordinebk.com
2. Kelly Fields, executive pastry chef for all of John Besh's restaurants, uses Pop Rocks often in her dessert creations. A recent treat she did was inspired by the Negroni and is made up of an orange-white chocolate angel food cake, gin-compressed melons, Campari cream, vermouth sorbet and Plinio Sandalio's Campari Pop Rocks. chefjohnbesh.com
3. Dontella Arpaia has worked with this candy in the kitchen before and makes a "sparkling" watermelon dessert with Pop Rocks at her restaurant Sienna in the Hamptons. "I love them because they are playful, fun, unexpected and the perfect aspect to bring a dish to life," she says. "I like to use gourmet 'pastry rocks' from ChefRubber.com because they have a lighter, effervescent effect and don't have an artificial taste." 44 Three Mile Harbor Rd., East Hampton, New York, 631-604-6060; siennahamptons.com
4. Bar manager Brian Smith of Denver's The Squeaky Bean created an edible pop rocks cocktail for a Willy Wonka–themed dinner. The drink, a slushy mix of cachaça, watermelon and peach juice, was served in a little tea cup that came rimmed with Modern Pantry's unflavored pop rocks, which he blended with Tajin, a Mexican seasoning of chilies, lime and salt. 1500 Wynkoop St., Denver, 303-623-2665; thesqueakybean.net
5-6. At Jose Andres' Patisserie at the Bazaar in Los Angeles, executive pastry chef Kriss Harvey created Dark Chocolate Pop Rocks, a simple but cracking dish they sell by the handful. Guests of Andres' restaurant Tres can also order this creation with afternoon tea, taking a British tradition designed by a Spanish man with an American flare. The celebrity chef also got into the Pop Rocks game at his now-defunct Washington D.C. place Cafe Atlantico. There he used this pink, fizzy candy atop a refreshing frozen mango dessert, making it sizzle. 465 S La Cienega Blvd., Los Angeles, 310-246-5555; sbe.com/thebazaar
7. Although not currently on the menu, at Niche in St. Louis, chef Gerard Craft has served a savory-sweet celery granita dessert with yogurt panna cotta, local ginger and Pop Rocks. Over all, it's a super light and refreshing palate cleanser, and the exploding candy helps to give it a fun kick that sends your taste buds to the moon.  7734 Forsyth Blvd., St. Louis, 314-773-7755; nichestlouis.com
8. Down south in Charlotte, Fern Flavors From the Garden use chocolate pop rocks in their beer donuts. Then this dish goes the extra mile by incorporating a sweet chocolate stout glaze, and surprise, it's completely vegan to boot. "We've always had a lot of fun working with pop rocks," says owner Susan Walley. "It's such an enjoyable addition, and what makes it a really great treat is to scan the dining room and watch as people react to that fizzy feeling that just instantly takes you back to some point in your childhood." 1323 Central Ave., Charlotte, North Carolina, 704-377-1825; fernflavors.com
9. Putting a spin on the margarita, mixologist Paul Sauter at Mercadito Chicago created the Jalapeno Popper, a cocktail made with jalapeño-infused tequila, jalapeño syrup, lemon juice, an orange-flavored liqueur called Combier and agave nectar. He incorporates Pop Rocks by rimming the class with a powdered version, hence the popper part of the drink's name. 108 W Kinzie St., Chicago, 312-329-9555;  mercaditorestaurants.com/chicago
10-11. Over at the Black Ant in New York City, pastry chef Cesar Moreno serves up The Black Ant Nest, a dessert made with pomegranate cream, cacao crumble, granita gelee, pistachio Pop Rocks dust and chocolate truffles. Then, owner and mixologist Jorge Guzman also gives his cocktail The Climbing Ant a Pop Rocks jolt by mixing the candy in with the gusano de maguey and ant dust he rims the drink with. 60 2nd Ave., New York, 212-598-0300; blackantnyc.com
12. Wolfgang Puck Catering offers their clients a milk chocolate and peanut butter Pop Rocks lollipop, a fun dessert perfect for parties and anything where you don't want to get your hands messy. The dish was originally created by former pastry chef Sherry Yard, and they have served them all over the country, even at the Oscars Governor's Ball.  wolfgangpuck.com/catering-events
13. For a taste of sushi with Pop Rocks, at the Japanese eatery Virago in Nashville they have a special sushi roll coated with watermelon Pop Rocks. Funny enough, the sweet melon taste really enhances the tuna, making it a winning combination. 1126 McGavock Street, Nashville, 615-254-1902; viragosushi.com
14. Down in Winter Park, Florida, Cocina 214 likes to give a classic margarita an extra pop with this candy in their Pop Rocks Rita. The $13 drink includes tequila, Grand Marnier, sweet and sour, and cranberry and lime juices, which gets a sweet rim of Pop Rocks before it's served. 151 E Welbourne Ave., Winter Park, Florida, 407-790-7997; cocina214.com
15-16. In 2013 at the Pebble Beach Food and Wine Festival, Chicago's Graham Elliot wowed party goers with a rich foie gras lollipop that he made whimsical by adding a coating of fruity Pop Rocks. Apparently, the dish is a popular choice at his restaurant in The Bellagio in Las Vegas as well. Also at that event, chef Yigit Pura, the season one winner of Top Chef Just Desserts, took the candy and dusted the top of his panna cotta and Campari gelee. Neither chef is a first timer to making wacky desserts, but both of these showcase just another way chefs are using the iconic candy. 3600 S Las Vegas Blvd., Las Vegas, 702-693-7111; bellagio.com
17. Pop Rocks have even found their way into high tea at the Lounge at the Royal Horseguards in London. Here, they have served lemon crackle pops crusted with Pop Rocks, a dish that was featured as part of their themed afternoon tea series surrounding Charlie and the Chocolate Factory. 2 Whitehall Court, London, 44-845-305-8332; guoman.com
18. While we wait for waffles to hit big time in the states, at American Cupcake in San Francisco they take their sweet breakfast foods seriously, and by seriously we mean loaded with candy. And, you guessed it, one of the options they have in the "design your own" pancake and waffle section is to add Pop Rocks to the dough, as well as Pixie Sticks, cotton candy and rainbow sprinkles, to name a few. 1919 Union St., San Francisco, 415-896-4217; americancupcake.com
19. You know an ingredient has gone posh when you find it gracing a luscious lobster tail. At Poor Calvin's Absolute Fusion in Atlanta they serve this crustacean as an appetizer and make it zing with a coating of explosive Pop Rocks. They also have a duck pate on the menu that comes covered in red-wine-lavender jelly and of course, more of this exciting sweet. 510 Piedmont Ave.,Atlanta, 404-254-4051; poorcalvins.com
20-21. Ever since Jesus Nunez made the New York City restaurant scene with the now defunct Graffit, he has been using Pop Rocks as an accoutrement to his dishes; a fact that actually was part of the reason another restaurant, called Graffiti, sued him for infringement in 2011. The owner of Graffiti, Jehangir Mehta, claimed Nunez was using his idea to cook with Pop Rocks, his signature ingredient (though to be fair, later Mehta said the lawsuit wasn't about Pop Rocks as much as the similar name). While Graffit has long been closed and Mehta doesn't have a dish featuring Pop Rocks on the menu currently, this mini feud between chefs brought to light this candy as an ingredient.  224 E 10th St., New York, 212-464-7743; graffitinyc.com
22. You might not think about pairing Pop Rocks with beer, but for the 2013 HopChef Competition at the Ommegang Brewery in Cooperstown, New York, chef Jeff Eng of the Tower Oaks Lodge in Maryland made a tantalizing chocolate hazelnut crunch bar spiked with Coke and Pop Rocks. This dessert, combined with the brewery's Three Philosophers, proved so good, he won the competition.
23. When Breaking Bad's finale aired, Brian Smith of Ample Hills Creamery in Brooklyn celebrated by making a special ice cream using blue Pop Rocks to represent the crystal meth that was the key ingredient to Walter White's story. Ampled Hills don't serve it now, but it wasn't the first time they have used Pop Rocks in an ice cream, and it probably won't be the last.  623 Vanderbilt Ave., 347-240-3926, Brooklyn, 347-240-3926; amplehills.com
24. At Pounds and Ounces in Manhattan they have an energetic barbecue sauce laced with Pop Rocks. It's not super sweet, but more of a nice, zingy condiment to dip your fries or mini corn dogs in.  160 8th Ave., New York, 646-449-8150; poundsandouncesnyc.com
25. You can even find Pop Rocks on the menu one of the best restaurants in the world, Arzak in San Sebastian, Spain. At this three-star Michelin restaurant, they make a spring strawberry soup that's served with a spattering of the fizzy candy. Avenida del Alcalde José Elosegi, 273, 20015 San Sebastián, Guipúzcoa, Spain, 34-943-278-465; arzak.es
26. For a place that serves cocktails rimmed with bubble gum flavored Pop Rocks, the Sugar Factory restaurants in New York and Las Vegas are aptly named. This bright green and pink concoction is found under the title Blow Pop Martini, and consists of Three Olives bubble gum vodka and apple flavored Pucker. Sound sweet? You bet. Pick your location at sugarfactory.com.
27. For a true grape explosion, at the mini chain Tumbleweed Restaurant they offers guests a grape-flavored cocktail called Grape Rocks. It's made with made with El Charro silver tequila and Hpnotiq Harmonie and, like the kid version of a pickle back, comes with a shot of grape Pop Rocks on the side. Find the closest location by going to tumbleweedrestaurants.com.
28. Pastry Chef Plinio of Sandalio in Austin made Campari Pop Rocks to go on his grapefruit sorbet. The dessert, which had a limited run, also gets topped with an Angostura Bitters mousse. Let's hope it finds its way back to the menu again. 1900 University Ave., Austin, Texas, 512-404-3655; thecarillonrestaurant.com
29. At Sushi Mazi in Portland, Oregon, they have a special Pop Rock Roll with spicy tuna, avocado and seasoned seaweed all wrapped up in sushi rice. The Pop Rocks come in as a garnish in the chef's secret sauce, an addition that really makes this Japanese staple crackle in your mouth.  2126 SE Division St., Portland, Oregon, 503-432-8651; sushimazipdx.com
30. Chef and owner Troy Guard of Tag Restaurant in Denver once used Pop Rocks to give his flash-seared hiramasa, or yellowtail amberjack, a special sizzle you can hear tables away. Made up of the Australian fish, yuzu, white soy sauce, sliced jalapeños and topped with a light myoga salad, the dish gets its boisterous boom from the addition of Pop Rocks sprinkled at the end, which, as they mingle with the juices, explode. 1441 Larimer St., Denver, 303-996-9985; tag-restaurant.com