Ina Garten's Favorite Recipe She's Ever Written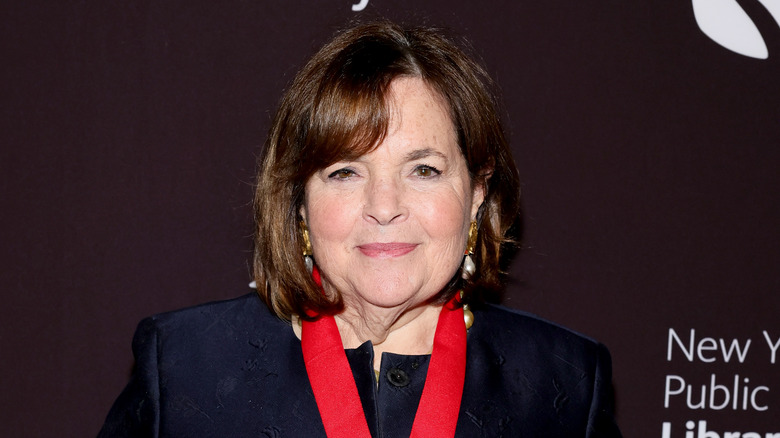 Theo Wargo/Getty Images
We may receive a commission on purchases made from links.
Many of us have a favorite recipe — whether it's one of our own, has been passed down by a family member, or is from a much-loved cookery book that just naturally falls open at that page from repeated use. It's something we turn to time and again if we're cooking for guests, or perhaps just want to treat ourselves. And culinary queen Ina Garten is no exception.
For the Barefoot Contessa, that recipe is a slow-cooked, hearty affair of red wine-braised short ribs, perfect for beating the winter chill, according to her "Cook Like a Pro" cookbook. Packed with flavor and with plenty of marbling, meaty beef short ribs require low-and-slow cooking in order to break down the connective tissue so that they become tender. But the rich, comforting result is well worth the time, and it's not surprising that Garten is a fan, often preferring to use this cut over chuck for her stews and sauces.
Garten uses a two-step cooking method for the ribs, first roasting them in the oven, and then cooking them for two hours in a Dutch oven where they slowly braise in beef stock and alcohol. A lot of alcohol.
Ina Garten braises ribs in wine and Guinness for extra richness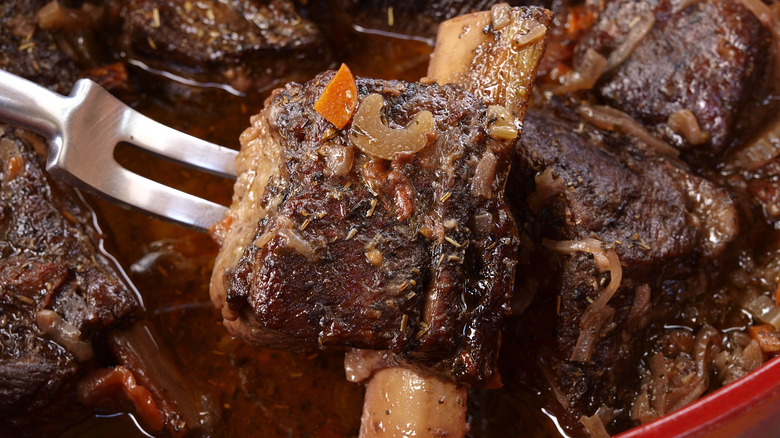 Cislander/Getty Images
"If you want it to taste better, add alcohol," is Ina Garten's mantra for rich, flavorful dishes such as her red wine-braised short ribs (via YouTube.) And she means business, adding a whole bottle of wine to the dish before it slowly simmers.
A dry, full-bodied red such as Burgundy, Côtes du Rhône, or Chianti, tends to work best with short ribs, but you don't need to splash out metaphorically speaking. Just as you can skip the top shelf when cooking with whiskey, you don't need to use a fancy or expensive bottle of wine when cooking — just something you like the taste of and enjoy drinking.
But Garten doesn't just use wine; she also adds a full bottle of Irish stout beer, such as Guinness, to her short rib dish. Made from hops, yeast, and roasted and malted barley, Guinness adds a rich, malty flavor with notes of coffee and chocolate to the braising liquid, pairing perfectly with the tasty, tender beef to create a cozy, comforting dish.
More hearty ways to elevate short ribs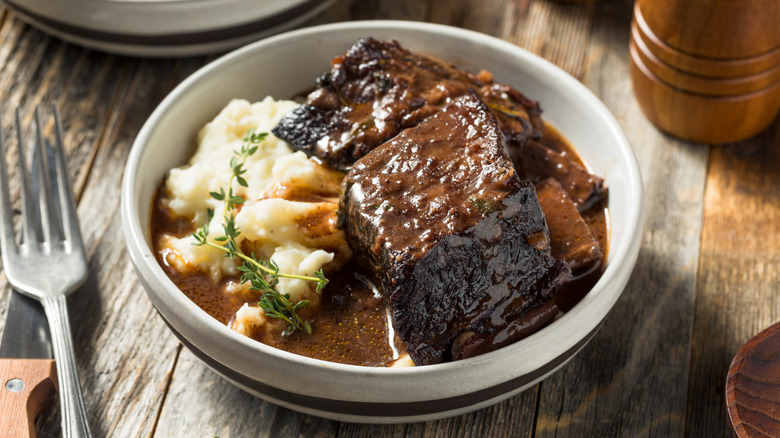 Bhofack2/Getty Images
Rich red wine and Guinness are natural partners for beef short ribs, but they're not the only boozy drinks that work well for braising the meat. Other types of alcohol can also add a flavorful kick, as well as helping to keep short ribs moist and fall-off-the-bone tender.
Try an American craft lager as an alternative to stout for braising the ribs before finishing them on the barbecue with a sweet, sticky glaze. Or adding a little whiskey to a red wine and stock braising liquid gives a deep, smoky flavor to the dish — while slowly cooking the ribs in beef broth and a splash of cognac adds a fruity spiciness which also helps to balance the richness of the meat.
But you don't just need to stick to alcohol; try making coffee-braised short ribs for a tasty twist. And when it comes to serving the ribs, they go beautifully with buttery mashed potatoes, cheesy Parmesan polenta, creamy grits, sweet root vegetable puree, or simply a big chunk of warm crusty bread to soak up all the rich, savory juices. Cooking doesn't get more comforting than this.