Michael Symon's Go-To Tomato Side Dishes Are So Simple - Exclusive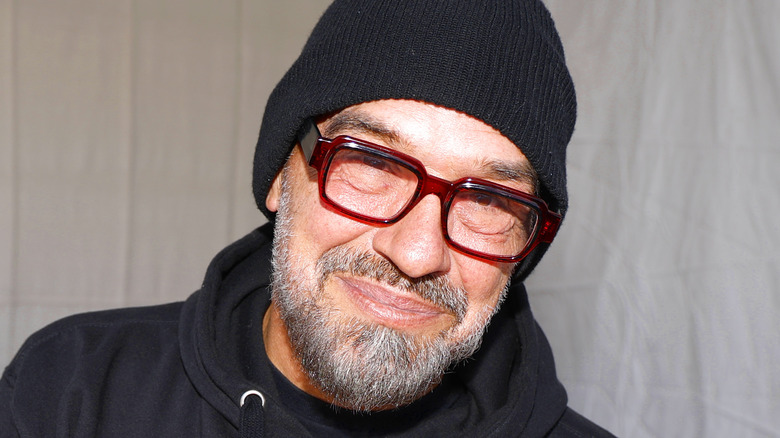 John Lamparski/Getty Images
Don't underestimate a tomato-based side dish. According to Michael Symon, the ingredient doesn't just have to be used in the main entrée — shoutout to a classic spaghetti with marinara sauce or a tomato soup with grilled cheese. The Food Network star advises using tomatoes in a variety of ways that don't always involve it being the star of a meal.
"The little seafood trick, if you wanted to do shrimp or scallops in there and then serve them as a starter, that would be a nice seafood starter," Symon said of a possible tomato side dish in an exclusive interview with Food Republic. The chef has been experimenting with throwing tomatoes in different types of stocks, like fish stock, vegetable stock, and chicken stock. If the seafood trick doesn't appeal to your taste buds, there are some other dinner tricks up Symon's sleeve that you should give a try.
Make a meatball appetizer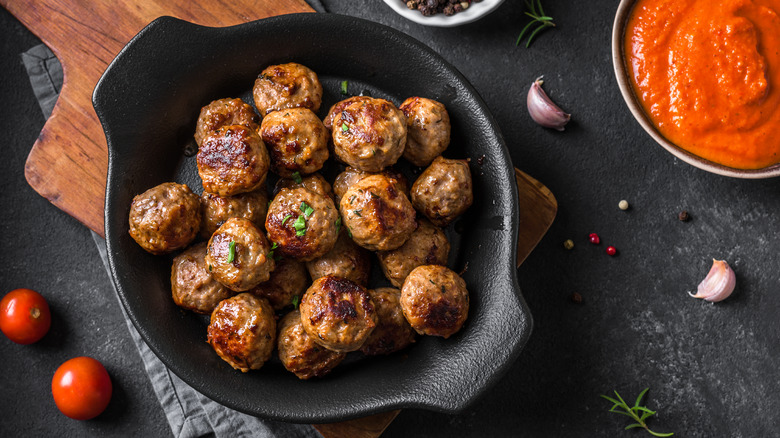 Oksana Mizina/Shutterstock
No, you don't need pasta to serve meatballs. Michael Symon advised using the recipe as an appetizer; as he told Food Republic, "You could also make meatballs with eggplant or zucchini, and then cook those in the sauce and then serve eggplant meatballs with a little bit of tomato sauce as a starter." Sprinkle on a bit of parmesan cheese and you are ready and waiting to host a dinner party.
Speaking of cheese, Symon has another idea for a simple tomato side dish: pair it with Halloumi cheese or a harder cheese that doesn't melt. Halloumi cheese is known to be great for frying or grilling due to its tough and rubbery texture. The television personality explained, "Sear off the Halloumi until it gets crunchy on the outside, and then finish it with some of those fire roasted crushed tomatoes, or the fire roasted crushed tomatoes with the garlic would be great, and some torn basil." Now you have all of the ammunition you need to make some delicious tomato-based sides!
Check out Michael Symon's recipes on Contadina's website or keep up with his latest projects on his Instagram page.