Giada De Laurentiis' Masterful Way To Dress Raw Zucchini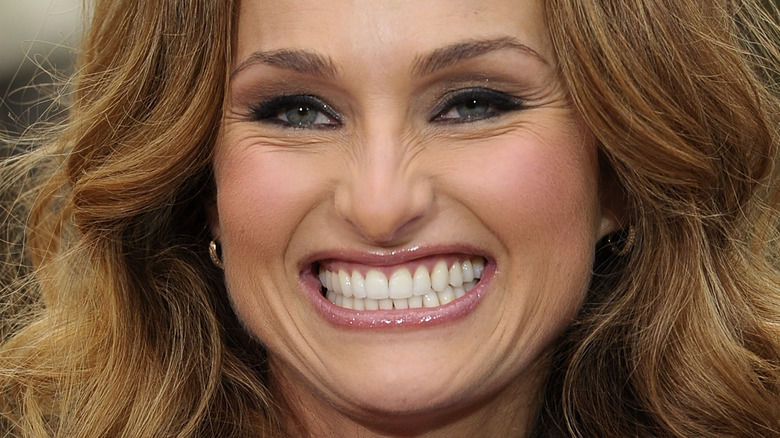 Noel Vasquez/Getty Images
Zucchinis and summer squashes are perhaps some of the most versatile vegetables around. Whether grated into batter to make sweet zucchini bread, grilled over an open fire at a cookout, or replacing traditional noodles for a low-carb lasagna, these cucumber lookalikes are a welcome addition to many recipes when they are in season. When roasted over a wire rack, they can also make for a delicious side dish for almost any main course.
But have you ever considered using it in a salad? In a recent TikTok clip, Italian food expert Giada De Laurentiis shared her favorite way to consume zucchinis raw. Taking a page from Italian seafood preparation, her zucchini crudo is a vegetarian twist on a recipe that mixes together simple but luxurious ingredients to make a crisp and savory main course salad or shared appetizer. Endlessly adaptable, her zucchini crudo is a delicious cool treat in hot weather.
Making a zucchini crudo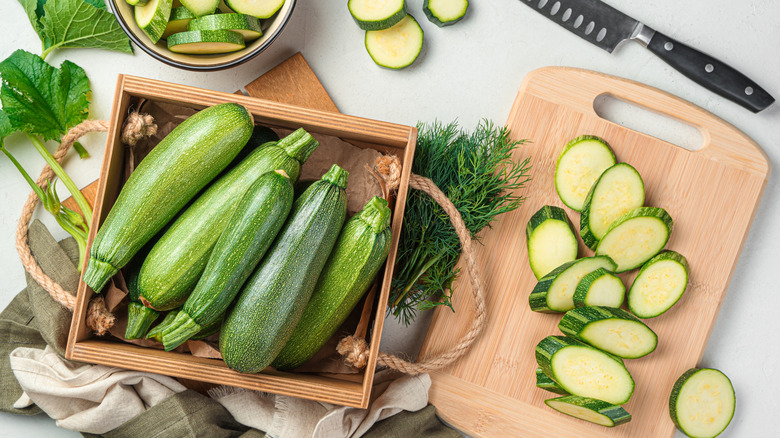 FotosDo/Shutterstock
To make crispy and delicious raw zucchini slices like the ones De Laurentiis uses for her crudo, start by slicing the zucchini into thin slices with a knife or a mandolin. It is best practice to use a finger guard when using a mandolin, as the sharp blade is quite capable of slicing your fingertip along with the vegetable. When finished, lay the slices on a plate and sprinkle flaky sea salt on the vegetables. The salt will help draw out some of the moisture from the zucchini and slightly soften the slices. Let it stand for a couple of minutes. As it sits, zest your entire lemon over the vegetable to give it a nice citrus scent. 
Aside from using it for a crudo, you can prep zucchini and yellow summer squashes the same way for other purposes. For example, you can arrange them with slices of Roma tomatoes in between for a colorful summer salad. Dress with white wine vinegar, plenty of extra virgin olive oil, and generous helping of torn fresh basil leaves for a refreshing and attractive shared appetizer. Or you can use them to create petite and elegant tea sandwiches by sandwiching them between buttered pieces of crustless bread.
Freshness defines crudo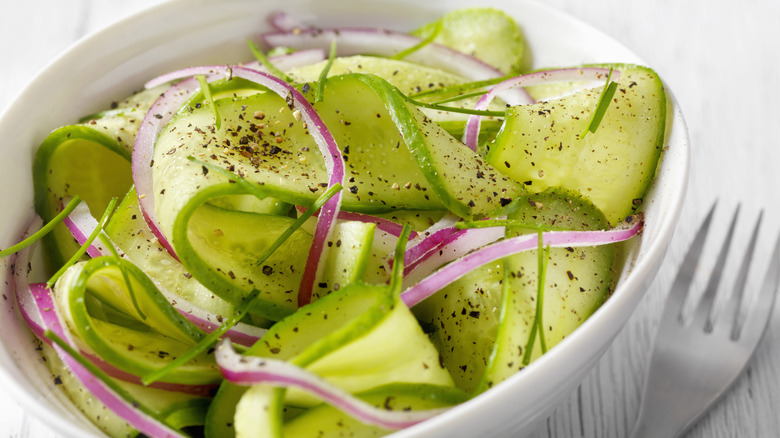 Lauripatterson/Getty Images
Aside from zucchini and summer squashes, there are other vegetables that are fantastic for the crudo treatment. For example, steamed or grilled artichoke hearts are great shaved to medium thinness and paired with arugula and curls of parmesan cheese. Alternatively, try shaving cucumbers thinly and dress them with soy, lime juice, and sesame oil for an Asian-inspired cucumber crudo-style salad. 
No matter which ingredient forms the base of your crudo, the most important part is to find the freshest and best samples of the ingredients. Since the recipe is so simple and does not require cooking, the dish really depends on the quality of the components to shine. For example, if you decide to replace the zucchini with fish for a traditional Italian crudo, you must choose premier sushi-grade fish for the best texture and flavor, not to mention food safety. Tuna or salmon, which are widely available as sushi-grade fish from regular markets, are both good choices.