The Medieval Origins Of Leaving Cookies Out For Santa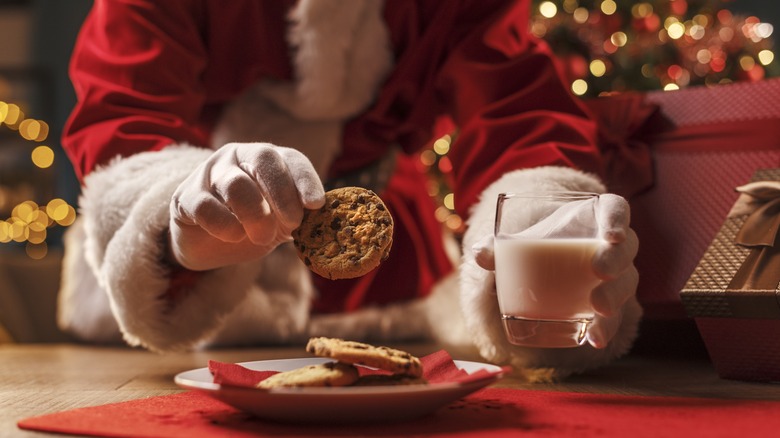 Stokkete/Shutterstock
Part of what makes holiday traditions fun is carrying on the spirit of those who celebrated long before us. However, as you get older, you may find yourself wondering about the origins of some of these holiday habits. A beloved Christmas Eve tradition is whipping together a batch of your favorite Christmas cookies and leaving them out with a glass of milk for Santa Claus. While you might assume this is done to provide parents a sweet midnight snack while they're arranging "Santa's" presents — or purely for whimsy — the connection between Christmas and cookies actually dates back to the Middle Ages.
Monks in Northern Europe were known to make Christmas cookies during medieval times, which they shared with friends and neighbors as a demonstration of gratitude and care. This was also a philanthropic gesture, considering not everyone had access to cookie ingredients like the monks did. Eventually, the tradition spread over much of the continent before being introduced to America in the 1600s. Dutch immigrants introduced this custom to the United States, which explains why the English word "cookie" bears a strong resemblance to the Dutch "koekje" (and not to the British "biscuit," which instead comes from the French).
Early Christmas cookies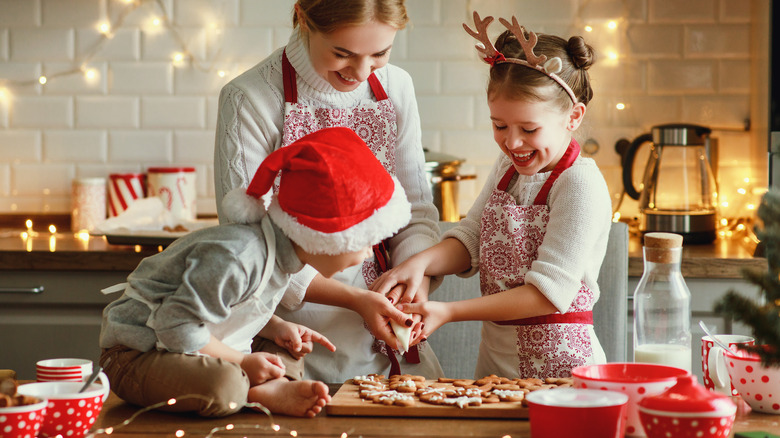 Evgeny Atamanenko/Shutterstock
It's no surprise that early Christmas cookies, often sugar cookies or gingerbread-like, were reserved for winter holidays. The spices used in these cookies were very expensive at the time, making them a special occasion treat. The rise in popularity of gingerbread, dating back to the Ancient Greeks, can be attributed to the influx of spices from the Middle East starting in the 11th century.
But how did the tradition of leaving out cookies for Santa begin? This practice came centuries after Christmas cookies were introduced in the United States. In the 1930s, during the Great Depression, parents encouraged their children to practice gratitude and generosity — even in hard times — by leaving cookies out for Santa, a practice reminiscent of the monks sharing their Christmas cookies in medieval times. These uniquely American origins explain why, around the world, other countries have their own traditions for Santa's refreshments. Common practices include leaving Santa sherry, beer, rice pudding, or even hay, depending on the region.