The Gin-Soaked Fruit Jacques Pépin Eats Every Single Day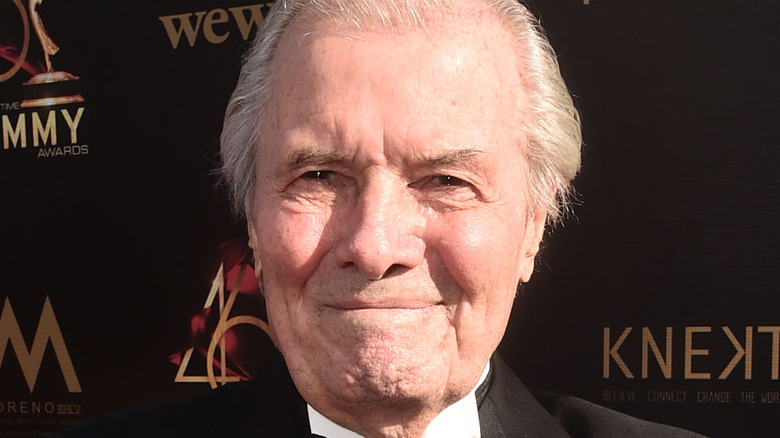 Alberto E. Rodriguez/Getty Images
Over the long course of his career, legendary chef Jacques Pépin has had many claims to fame including working as the personal cook for French chef Charles de Gaulle, winning an Emmy for his PBS cooking series with friend Julia Child, and publishing over 30 cookbooks, including his most recent, "Jacques Pépin Cooking My Way: Recipes and Techniques for Economical Cooking." But, it's his nightly ritual that's creating a lot of buzz.
In an interview with Food & Wine, Pépin revealed that he eats seven gin-soaked golden raisins every night, sharing with the publication he does so "for good health and longevity." At 87 years young, he may be on to something, but gin-soaked raisins have also been considered by some to be a natural "remedy" to ease arthritis pain.
Pépin isn't the only believer in the benefits of this at-home concoction. Radio broadcaster Paul Harvey mentioned using gin-soaked raisins for relief in his syndicated radio show in the early '90s, and Teresa Heinz Kerry, wife of once presidential hopeful John Kerry, spoke about the ritual on the campaign trail in 2004. Nine daily gin-soaked raisins have also been credited by New Jersey native Lucia DeClerck for helping her to reach the ripe age of 105 years, surviving both the Spanish Flu and COVID-19. 
Is there really something to it? People have been using natural remedies for generations to try to cure ailments, and while most are not backed by science, recent studies noted by Healthline have shown there may be benefits, even if it's just a placebo effect.
Do gin-soaked golden raisins really ease arthritis?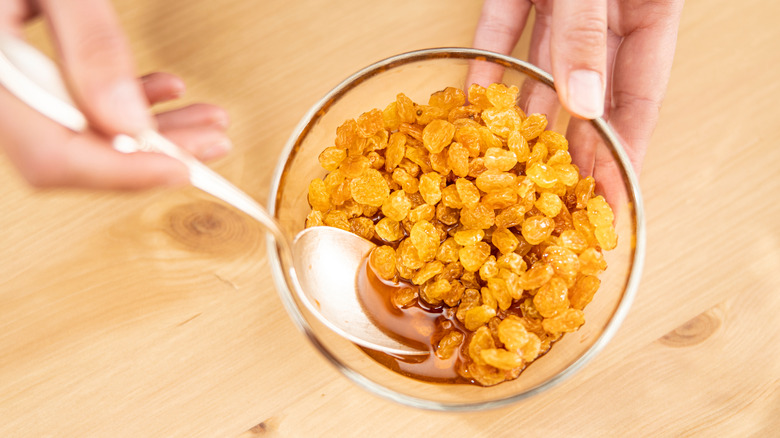 tstockphoto/Shutterstock
Unfortunately, no conclusive medical evidence has proven that eating seven gin-soaked golden raisins (as Pépin does) or nine of them (as others do) can for sure ease arthritis symptoms. However, some preliminary studies, including one done with rats published by Pharmacognosy Magazine, suggest that compounds found in drunken fruit, like the juniper berries in distilled gin and the sulfur used to preserve the quality of golden raisins may be what's helping to reduce inflammation and pain. A 2016 study in the Journal of Biometerology showed that people with osteoarthritis of the hip found relief using sulfur baths in conjunction with exercise, for example.
Still, without medical research, the at-home gin-soaked raisins treatment may just be a tasty placebo. Since natural remedies can be harmful if used in excess and can sometimes interfere with other supplements and medication, before self-prescribing and adding to your nightly routine, speak with a physician to ensure it's safe. Less risky home remedies like meditation and yoga may also help with stiff joints, swelling, and pain. 
How to make gin-soaked raisins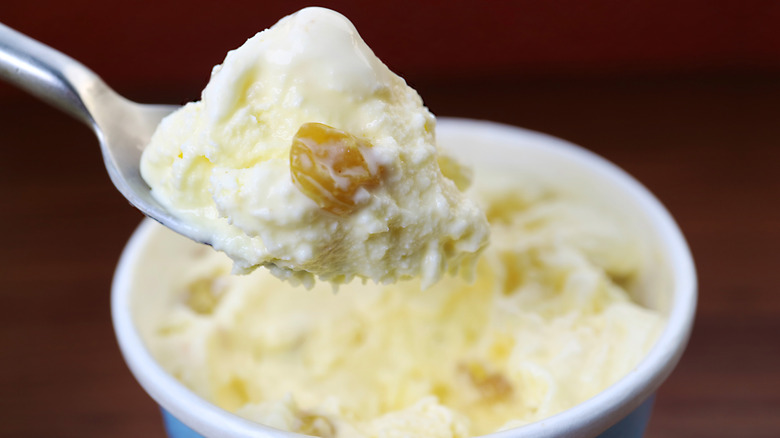 Lovelypeace/Getty Images
Whether you believe gin-soaked raisins can help with arthritis or just like the idea of the dried fruit soaked in gin, it can be an interesting ingredient to add to desserts. There really isn't a "recipe," per say, but there are some guidelines to follow if you're interested in making them. 
Pépin and others swear by only using golden raisins for the sulfur, but for cooking purposes, purple raisins would work too. Place as many as you like in a glass jar and cover the raisins with a quality gin distilled with juniper extract. Place the jar in a dark, cool location until the raisins are plump and hydrated, between 9 and 21 days. Since gin-soaked raisins can take up to three weeks to reach their peak, you may want to do some math if you plan on enjoying them daily so you have a stash (for example, prepare 147 raisins at a time if you want to eat 7 every day for 21 days).
Aside from the anecdotal remedy benefits, to enjoy the flavor, substitute gin-soaked golden raisins in desserts where you already enjoy the wrinkled fruit such as scones, tea cakes, Danishes, chocolate chip cookies, or oatmeal raisin cookie recipes. If you like rum raisin ice cream, try a scoop of chocolate or vanilla ice cream with a handful of gin-soaked raisins instead. Or place them in rice or bread pudding for an adult-friendly dessert.