The Most Common Pasta Sauce Mistake, According To Giada De Laurentiis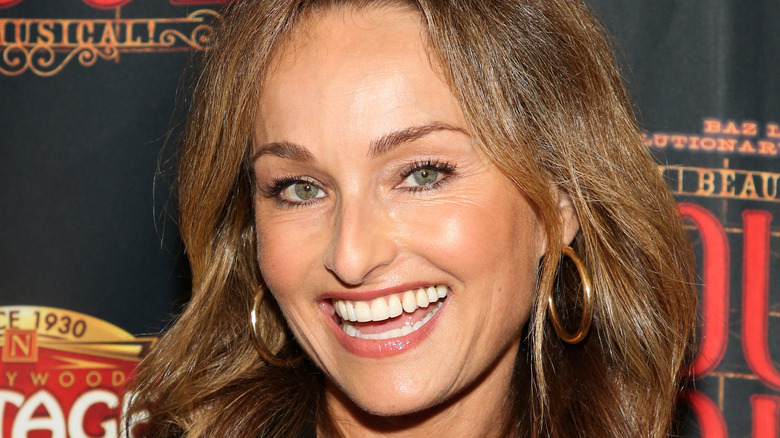 Paul Archuleta/Getty Images
Born in Rome, Italy, and raised in the U.S., Giada De Laurentiis knows a thing or two about Italian cooking. So when she has go-to tips for cooking perfect pasta — we listen with rapt attention. Who wouldn't be all ears to suggestions for whipping up a fresh batch of pasta sauce? Because, while you may be tempted to grab a store-bought jar and call it a day, there are ways to do it better. 
The famed chef says it's actually incredibly easy to mix together a delicious accompaniment for your al dente noodles, so long as you don't make the common mistake of going overboard with the sauce. In other words: Keep it simple.
The TV personality has taken to TikTok to showcase her flawless pasta-making skills, which really boils down to not overcomplicating the sauce. Unlike in America, where noodles are often loaded with creamy sauces like alfredo or hearty meatballs and crispy chicken parmesan, less is actually more in Italy. After all, the deliciousness of true Italian pasta stems from its simplicity, and maintaining a delicate balance of ingredients is essential, especially when it comes to the sauce.
Giada's trick for making a simple sauce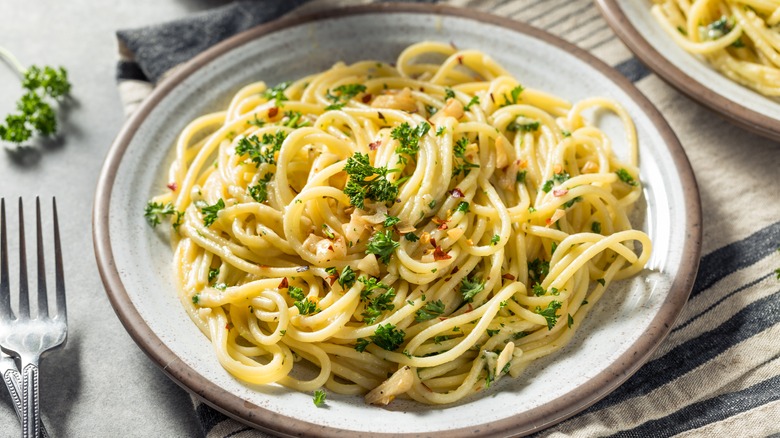 Brent Hofacker/Shutterstock
You can actually make a delicious-tasting pasta sauce using ingredients you probably already have lying about your kitchen — and you don't need any tomatoes or meats on hand to do so. In fact, you don't even really need a sauce at all. At least, not in the traditional sense of the word. Instead, Giada De Laurentiis' topper features only four simple ingredients: olive oil, garlic, lemon (the zest and juice), and a dash of pepper. 
After sauteeing the mixture to golden perfection, she combines it with trottole pasta, but you can certainly use whichever noodles you prefer, so long as they're cooked al dente. Just be sure not to pour your leftover pasta water down the drain because it's actually the cookbook author's hero ingredient, aka "liquid gold." Adding a ladle or two of the piping hot water to the garlic-lemon mixture is what helps to give it a signature sauce-y feel.
For a delightful crunch with every bite, follow De Laurentiis' lead and garnish the dish with chopped walnuts, too. And don't hesitate to sprinkle on your favorite fresh herbs, such as rosemary, thyme, or parsley, for added flavor.
Other mistakes to avoid when making pasta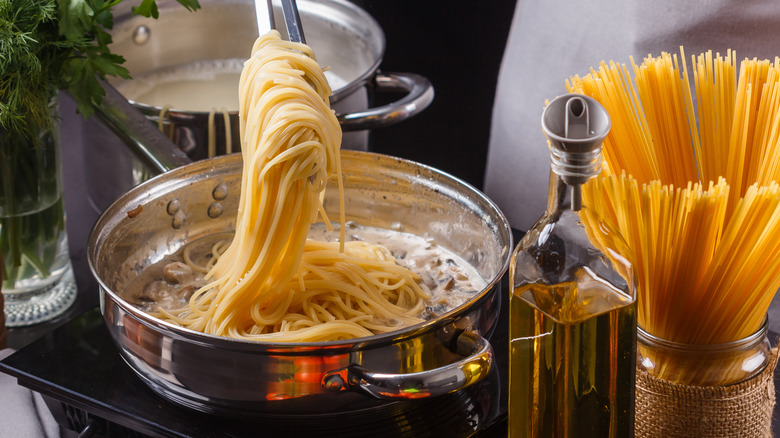 Andrii Pohranychnyi/Getty Images
When it comes to tucking into the best pasta you've ever had, going overboard with the sauce is a major no-no. However, as Giada De Laurentiis shared in her TikTok, you should definitely go overboard with the salt. Properly salted pasta water is essential for a tastier dish because it's a top flavor enhancer and helps to season otherwise bland noodles. So, how much salt is enough? As the restaurateur shares, you should use a heavy hand when adding it to the boiling water because you want to "make it taste like the sea." 
Another mistake to avoid? Adding oil to the pasta water. Contrary to popular belief, this doesn't keep the pasta from sticking together. Instead, it just makes your noodles rather slippery, which can, in turn, make it difficult for your sauce to stick to them. Last but certainly not least, there's one pasta rule you should never, ever break: Don't snap long pasta like spaghetti and linguine before throwing it into the pot to cook, so you can eat it like a true Italian by twirling it around on your fork.