Turn A Mini Pint Of Ice Cream Into A Luxurious Affogato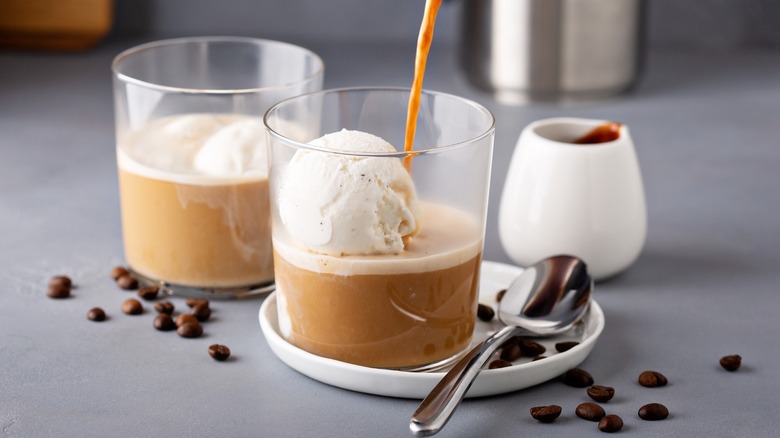 Veselovaelena/Getty
If you've had the chance to visit Italy, you've likely noticed that affogato is a fixture on every dessert or drink menu. "Affogato" translates in English to "drowned," and that's truly what the dessert is — ice cream in a cup or espresso glass drowned in espresso. It's a double-duty dessert; not only are you getting a sweet treat in the form of vanilla ice cream, but you're also getting a little caffeine boost with the shot of espresso.
Making an affogato at home is easy if you have an espresso machine and ice cream, but a creator on TikTok shared how they make it even easier by using a mini pint of ice cream. Instead of having to scoop out ice cream from a big pint into another bowl, the user gets a mini pint, scoops out the middle, and simply places it under the espresso machine so that the shot gets poured right over the ice cream. Scooping out the middle is essential to avoid any espresso spillage. The tool this user employs to remove the middle of their pint appears to be an apple corer, but if you don't have that you can always use a spoon or a knife to carefully dig a reservoir for your espresso.
How is a traditional Italian affogato made?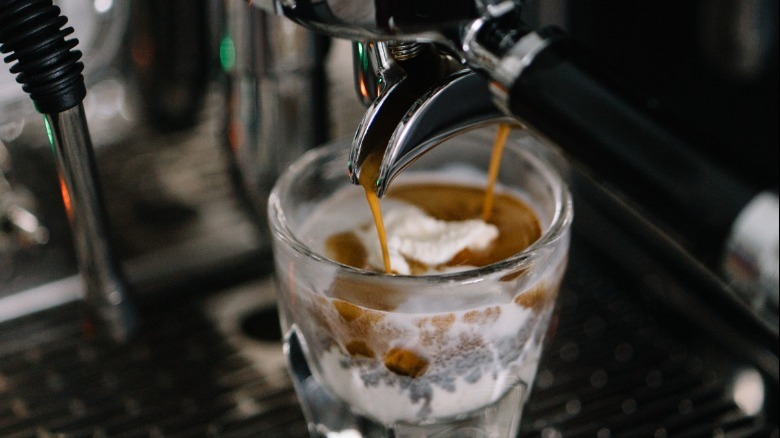 Rocksterwho/Getty
The basic ingredients are the same for all affogatos: All you need is espresso poured over ice cream, so that's why using a mini pint instead of a cup is so efficient — save yourself some dishwashing later. However, there are more specific flavors that are associated with the traditional version of the desert. "Fior di latte" ice cream is what's classically used as the base for an affogato. In English, that means "flower of milk," and is milk-flavored gelato that has no eggs or other flavorings added to it. Any type of espresso shot will do, but if you're a coffee aficionado, you probably already know how to pull a great espresso shot.
If you're looking for a boozier twist on the classic recipe, the affogato corretto incorporates liqueur into the dessert. The most commonly used liqueurs include grappa, Baileys, Kahlua, and Amaretto. Just add a teaspoon (or more if you're in the mood) to your mini-pint before or after adding the espresso. 
Make it more unique by swapping out flavors
Annapustynnikova/Getty
Even though the Italians might like to stick to tradition, there's nothing stopping you from changing up the flavors of your affogato when you're making it yourself at home. The easiest method is to switch up the type of ice cream or gelato you use. Chocolate makes it mocha-esque, or you can try something out of the box like cookies and cream. Don't do dairy? Not a problem. Swap out that star of the show for your favorite plant-based alternative ice cream. 
Something to keep in mind: A lot of the unique ice cream flavors aren't sold as mini pints, so you might have to do a little bit of scooping if all you can get is a full size. Another way to make your affogato pint a little more interesting is by adding chocolate. Lots of mocha recipes call for actual squares of chocolate to be added to the cup, so why not place some chocolate in the hole in your pint before adding the espresso? The hot coffee will melt and blend the chocolate and the ice cream, creating an even richer cup of affogato. You could also do the same thing, but swap out the chocolate for Nutella or for caramel sauce — because you're making it at home, you have the freedom to customize your affogato to your tastes.