The Best Cheese To Add To Pesto Sandwiches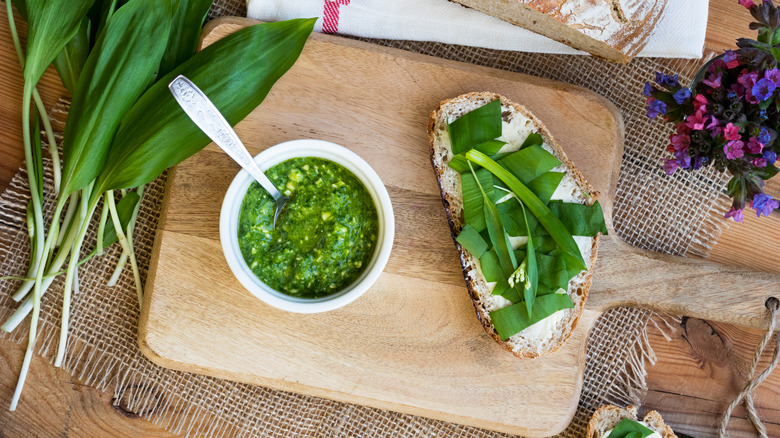 Madeleine Steinbach/Shutterstock
Adding pesto to sandwiches is the perfect way to use up leftover pesto from a pasta dinner. Just spread it on bread and add your favorite fillings — ramps, turkey, hummus, anything you want. But if you're using cheese, you'll want to use one that doesn't overpower all of the nutty, herbaceous flavors that pesto has to offer.
One of the absolute best cheeses to use on a sandwich with a flavorful spread like pesto is mozzarella. Its smooth bite adds the textural component that helps make a sandwich satisfying, but its mildness makes it the ideal addition to let the flavor of the pesto shine.
The other bonus of choosing mozzarella is that it's versatile. While there are some types of mozzarella that may not be ideal for sandwiches, like burrata, several varieties will work well. Using fresh mozzarella (along with tomatoes) can create a handheld version of a Caprese salad that's easy to take on the go. You can also low-moisture mozzarella on a wide variety of cold sandwiches for a more traditional deli-style approach, but it also melts beautifully, making it a great contender for inclusion in a grilled cheese or panini.
What makes mozzarella the best cheese for a sandwich with pesto?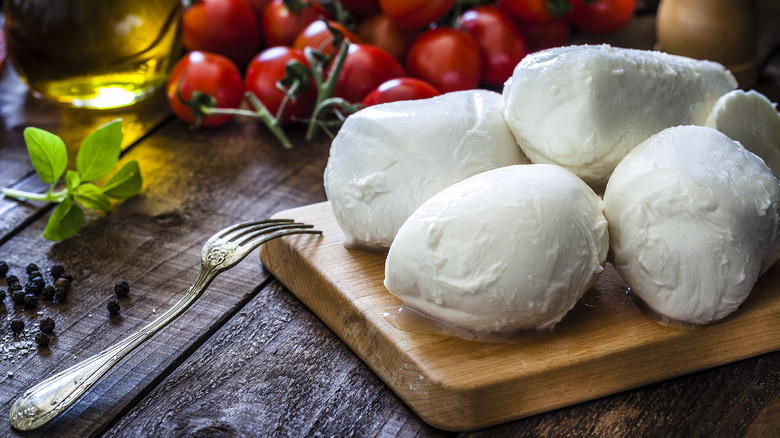 Fcafotodigital/Getty Images
Cheeses like feta, blue cheese, or even gouda may be too pungent for pesto, drowning it out in a simple sandwich. But there are plenty of other cheeses, like creamy Havarti and fontina, or even cheddar, that could potentially pair well with pesto. However, as those cheeses age, their flavors can transform, which may make them a less consistently ideal partner for pesto.
Since fresh mozzarella does not spend time aging, its flavor can be expected to remain essentially the same, or at least very similar, each time you use it (not accounting for differences between makers and regions in which it's produced). The same can be said for its low-moisture counterpart that you can purchase shredded, in slices, or blocks since it is only aged for four weeks or less. It's got more chew and is slightly saltier, but its flavor won't overshine the bright pesto. This way, you can count on your cheese always pairing perfectly with your pesto.
Sandwiches to make with pesto and mozzarella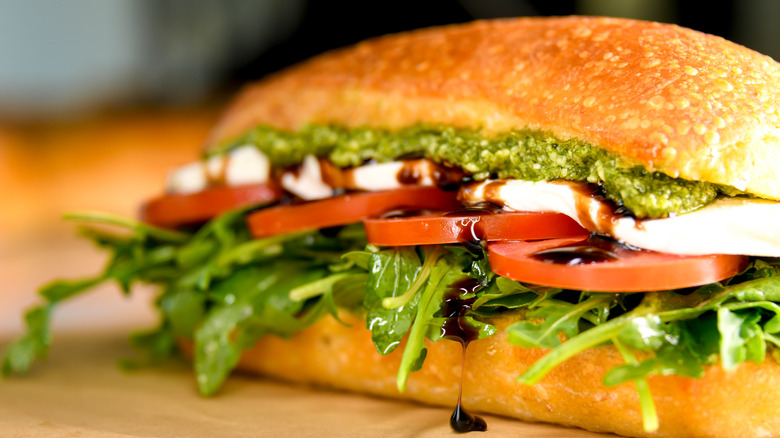 Jeff Couch/Getty Images
There's nearly no end to the types of sandwiches you can make with pesto and mozzarella. Simply add some tomato for a caprese sandwich or try the combination on your standard deli-style sandwich with sliced turkey or other meats. You could also use sprouts, greens, and tomatoes for a take on a traditional powerhouse sandwich or add sauteed or grilled vegetables for another vegetarian option. And don't sleep on starting your day with the tasty combo — simply slide an egg onto your pesto-slathered bread, top it with the mozzarella (either fresh, sliced, or shredded), and let it get all melty.
If you're looking to liven up your pesto, you can take your entire sandwich to the next level with easy tweaks. Try swapping out the basil to make a sage and arugula pesto, use mint and basil with a bit of sriracha to make an Asian-inspired pesto, or spice things up with a cilantro-marcona almond pesto.