Spicy Cilantro–Marcona Almond Pesto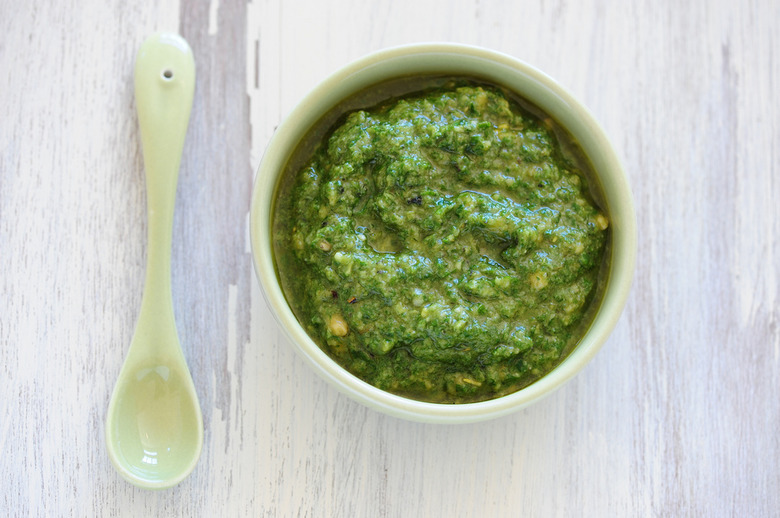 Photo: jules:stonesoup on Flickr
You can find salted, fried Marcona almonds, the flattish almonds from Spain, in many stores these days, but they're not all great quality. Avoid overtoasted Marconas, which will be fairly dark, almost the color of a brown-paper bag, and oily, and choose nuts that are lightly tanned and just faintly glistening with oil.
The Marconas add enough richness and body to this sauce that I leave out the cheese. The flavor of the almonds comes through better and the sauce tastes fresher and greener — an exciting accent to a bean soup or an omelet.
Spicy Cilantro–Marcona Almond Pesto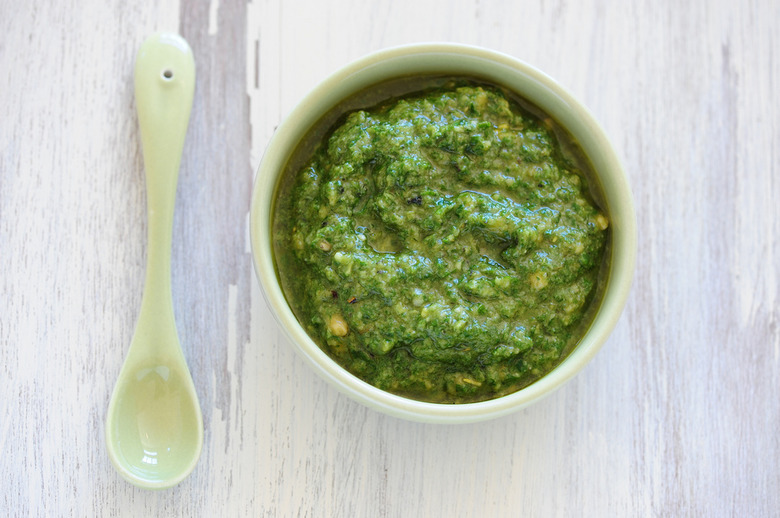 Ingredients
3 cups lightly packed fresh cilantro leaves and tender stems
1 small jalapeño chili
1/4 cup fried Marcona almonds or lightly toasted slivered almonds
1 small clove garlic
1/2 teaspoon kosher salt
1/2 teaspoon lightly packed finely grated lemon zest
1/2 cup fruity extra-virgin olive oil
Directions
In a food processor, combine the cilantro, chile, almonds, garlic to taste, salt, and lemon zest and pulse a few times to make a coarse puree.
With the motor running, slowly pour the oil through the feed tube. Stop processing as soon as all of the oil is blended with the other ingredients. If you want a finer, smoother consistency, continue processing until the pesto looks good to you.
Transfer the pesto to a small bowl, press a piece of plastic wrap directly onto its surface, and refrigerate until you're ready to use it. 
Use basil instead of cilantro, or use a mix of cilantro and basil. 
Omit the chile.
Pulse in ½ cup grated aged Manchego cheese after adding the oil.
Use toasted pine nuts instead of Marcona almonds.