The Spicy Ingredient That Elevates Peanut Butter And Jelly Sandwiches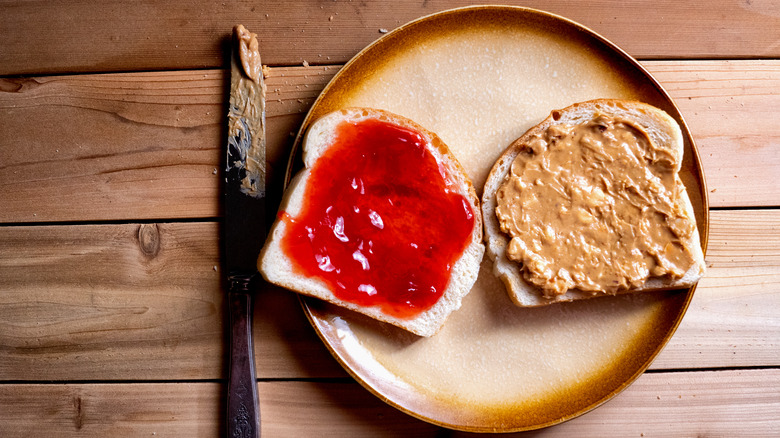 Grandriver/Getty Images
Is there any sandwich as nostalgic as a peanut butter and jelly sandwich? Known as a staple in childhood lunchboxes, it remains popular among adults as well. While many enjoy the sandwich in its classic form, there's no shortage of variations and add-ins, from sweet ingredients like bananas, marshmallow spread, and honey, to savory ones like bacon or cheese. However, one flavor enhancement can take a peanut butter and jelly sandwich to new heights — spiciness.
To craft a spicy PB&J, you need just one simple ingredient — canned chipotle peppers. Mixing them with jelly ensures an even distribution of heat, transforming your simple sandwich from standard to scrumptious.
The easiest way to infuse your jelly with spice is to mix in the canned peppers with a store-bought variety. Simply dice the peppers and stir them into the jelly thoroughly. For added smoky and tangy notes, feel free to include a bit of the adobo sauce from the can. Alternatively, you can create this spicy jelly from scratch.
Spicy jelly customization tips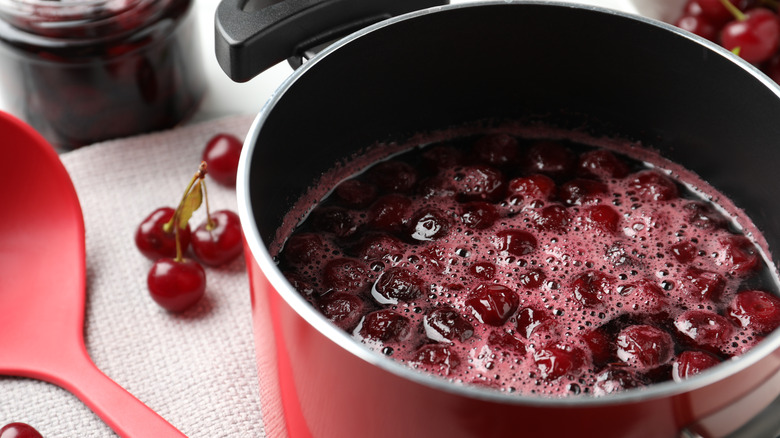 New Africa/Shutterstock
If you have a favorite jelly or jam recipe — we recommend this jarringly beautiful ruby red jam, which would pair perfectly with peanut butter — simply toss in some canned chipotle peppers to the saucepan when heating the fruit on the stovetop. Make sure to taste your jelly to ensure the right balance of sweetness and heat. If it needs more sweetness, blend in your preferred sweetener. If you're using granulated sugar, consider preparing a bit of simple syrup to ensure it dissolves thoroughly.
If you're using fruits like cranberries or apples, you may not need pectin — a natural starch that is often extracted from fruits and used as a thickening agent — to achieve the desired consistency. However, with popular jelly fruits like strawberries, which are naturally low in pectin, you may need to add some. To achieve a thicker consistency, incorporate the pectin during the boiling process on the stove.
Variations and other uses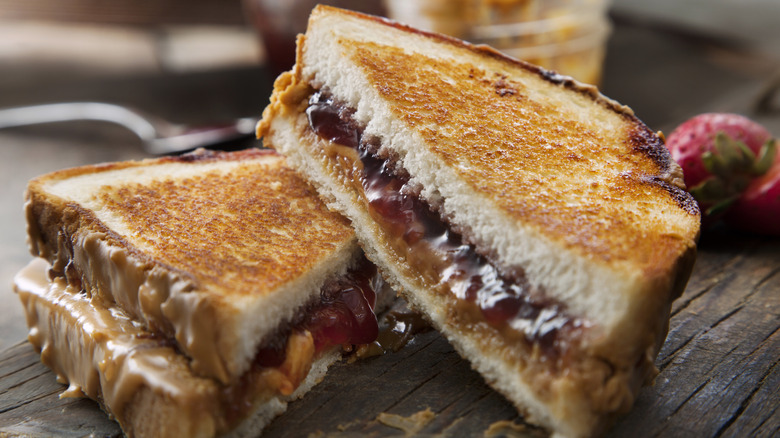 Lauripatterson/Getty Images
If you're looking to spice up your PB&J, but don't have the time or inclination to make spicy jelly, consider layering diced chipotles directly onto the sandwich between the peanut butter and jelly. The spiciness won't be as evenly distributed, but it will still elevate your sandwich with a burst of heat.
Feel free to also experiment with different types of peppers. Chipotle peppers range from 2,500 to 8,000 Scoville heat units, placing them in the same category as jalapeños and cayenne. But if you want more heat, you could experiment with Thai peppers or Scotch Bonnets in your jelly. And for those who really want to add some fire to their sandwiches, habanero peppers — or even the formidable Carolina Reaper — are some of the hottest options available.
Also, don't limit your spicy jelly to just an adult version of a PB&J. There are plenty of other uses. Stir a spoonful into your morning oatmeal or overnight oats, spread it over cream cheese on a bagel, or add it to a cheese and charcuterie board. It works well as a glaze for roasted or grilled meats, or you can thin it out to create a unique salad dressing.