Why You Should Slice Your Beef While It's Still Frozen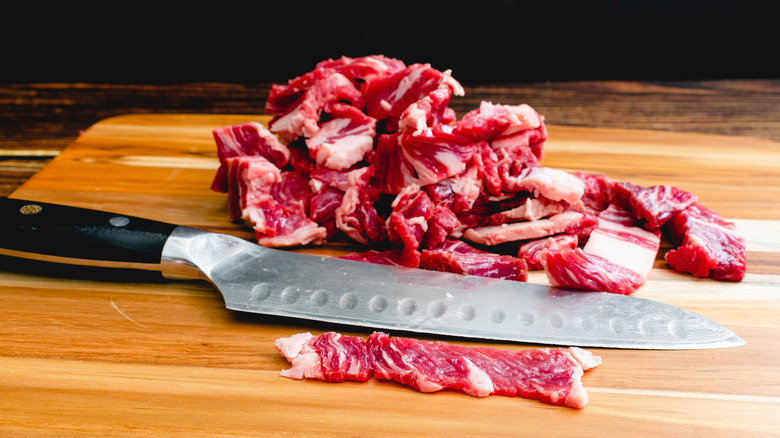 Candice Bell/Getty Images
If you want to put a beef dish on the table quickly, roasting or grilling a large piece may not be the best cooking method for a hungry family ready to storm the kitchen. Increasing the surface area in contact with the hot surface by thinly slicing the meat quickly delivers tender bites, whether beef, pork, chicken, or lamb. Easy weeknight recipes like stir-fries, Korean bulgogi, or Philly-style cheesesteaks rely on thinly sliced beef that sears within minutes on a hot skillet.
Trying to slice raw meat thinly, however, can be difficult even with the sharpest chef's knife. Raw beef at room temperature is too soft and limp to make close-together cuts without using a deli slicer, which most home kitchens don't stock. To make the protein more manageable to cut, firm it in the freezer for up to 30 minutes. 
Since you aren't looking for the meat to be rock solid, set a timer and prepare the rest of the meal while the beef freezes uncovered. After 15 minutes, it will be firmer and stable enough to slice into ¼-inch thick strips or less without a problem. The thinner you can cut the meat against the grain without tearing it, the faster, more tender, and better balanced the beef you use for your recipes will be.
Thinly slice beef against the grain for best results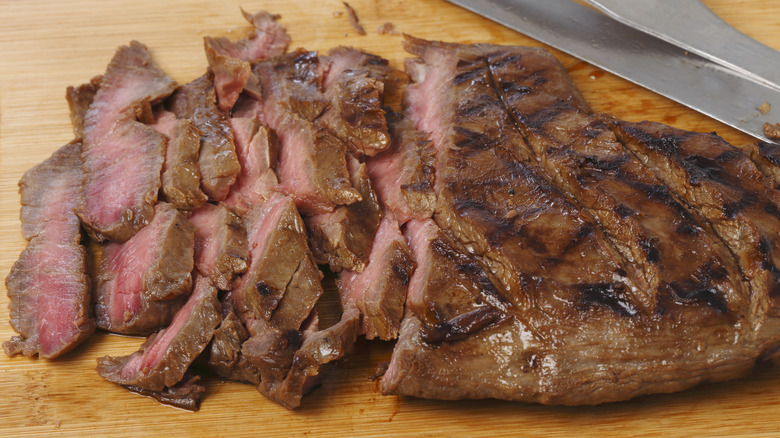 Paul Cowan/Shutterstock
For quick-cooking beef dishes, slicing the meat thin — and against the grain — makes tougher cuts more tender. Muscle fibers (the grain) run parallel and uniformly. Shortening the muscle fibers by making thin slices against the grain makes the meat easier to chew. Luckily, they are more obvious to spot on raw, tougher cuts like flank, hanger, and skirt steak, where cutting against the grain is critical.
Tender cuts like filet mignon have finer muscle fibers, so the direction you slice the meat isn't as critical. Likewise, slow-cooked braises, like pot roast, break down the muscle fibers over hours, so even tough cuts of brisket become fork tender. While you could thinly slice a tenderloin, less expensive cuts are traditionally used to make fajitas or Vietnamese pho.
After you locate the grain, place the frozen beef on a cutting board with the long sides parallel to you so the grain runs left to right. Slice the meat perpendicular to the grain and on a bias to increase the surface area.
Try this technique with these recipes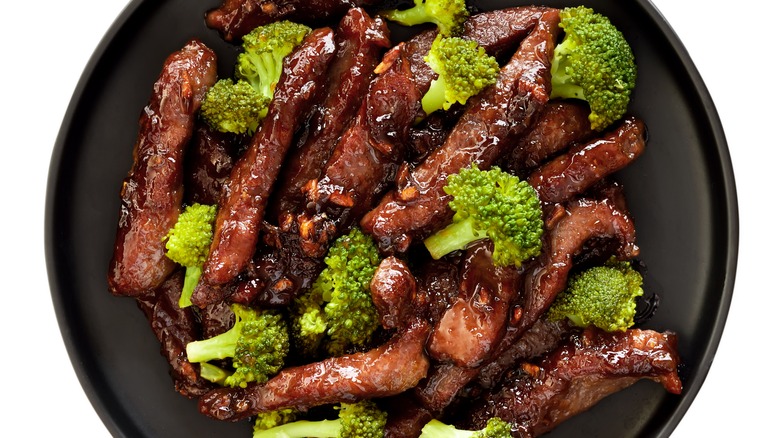 Nadezhda Nesterova/Shutterstock
This cutting technique is valuable in many Food Republic recipes; it's perfect for weeknight meals when you're short on time but prefer to cook. Flank steak or sirloin is par-frozen, thinly sliced, and marinaded in soy sauce and baking soda in our Hunan-style beef stir-fry recipe. This technique, "velveting," is popular in Chinese cuisine. Velveting soaks the meat in acidic baking soda for 30 minutes to tenderize tougher cuts. This slightly spicy dish is flash-seared in batches and coated in a flavorful sauce made with black bean sauce and chili oil. 
Beef and broccoli, another popular Chinese take-out dish, can be more nutritious — and on the table within 20 minutes — when made at home. Swap in low-sodium or gluten-free soy sauce and reduce the sugar in the recipe to customize the dish. Broccoli is a classic accompaniment, but you can also load this dish with fresh veggies like sugar snap peas, bok choy, and sliced mushrooms. However, you'll want to start to cook the rice before you preheat the skillet. Serve either dish with steamed white rice or vermicelli noodles. 
Of course, thinly sliced beef doesn't need to be cooked. Use this technique to prepare beef carpaccio using a high-quality tenderloin or sirloin from a trusted butcher. Garnish the dish with shaved Parmesan cheese, olive oil, capers, and arugula, and be transported back to Harry's Bar in Venice, Italy, where it began.