Turn Canned Cinnamon Rolls Into Mini Apple Pies With One Ingredient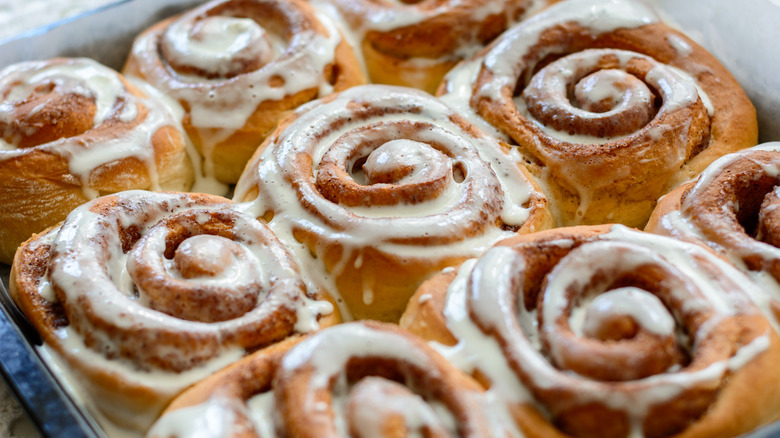 roman tohtohunov/Shutterstock
Like pancakes or waffles, a can of cinnamon rolls deliciously blurs the line between breakfast and dessert. In less time than it takes to watch a Saturday morning cartoon, the icing-clad rolls bake to golden perfection, making them an irresistible way to start the day. As tempting as the store-bought baked goods are in the morning, though, they are also a game changer for post-dinner desserts.
For example, canned cinnamon rolls can be transformed into mini apple pies in minutes with one extra ingredient — apple pie filling. Since the sweet rolls are already swirled with cinnamon and brown sugar, it makes them a natural pairing for the sweetened baked apples. The reserved icing is the proverbial cherry on top.
@bestfriendsforfrosting

Canned Cinnamon Roll Muffin Pan Hack = Cinnamon Roll Apple Pie! Get out of town- this is ONLY 2 INGREDIENTS. These halfway homemade apple pie cinnamon rolls come together with just three ingredients and ready under 30 minutes! You'll only need one can of cinnamon rolls and one can of apple pie filling. PILLSBURY Cinnamon Roll Apple Pie INGREDIENTS 1 can refrigerated cinnamon rolls 1 can apple pie filling INSTRUCTIONS Preheat the oven to 400 degrees Fahrenheit. Add cinnamon rolls to muffin tin and push down in the center to make a bowl shape. Fill each cinnamon roll with apple pie filling. Bake for 15-20 minutes. Drizzle with icing and serve. #muffintinhacks #muffintinsnacks #muffintin #pillsburyrecipes #cinnamonroll
To make, use a standard-sized muffin tin, and mold individual cinnamon rolls to the bottom and sides of each cup so that they become the crusts for the mini apple pies. Once cooked, you can drizzle with the provided icing. Since cinnamon rolls are sold in packs of five or eight, this hack enables you to serve a party with some warm, fresh-baked cinnamon roll apple pies within 30 minutes; or, 31 if you add a scoop of ice cream (and we recommend you do).
Tips for making cinnamon roll apple pies
Although you'll want to use some cooking spray, it's best to start making your mini apple pies with a non-stick muffin tin so that the individual portions come out easier. As well, silicone muffin cups can also be used for more ease. After cooking, allow the pies to cool in the tin for a few minutes before removing them with a paring knife, so the pastry is less fragile and can firm up. 
A 20-ounce can of pre-made apple pie filling is the fastest way to make this dessert; however, to make it fresh, you can combine 1-½ cups of fresh chopped apples, granulated sugar, and spices. Toasted chopped nuts or dried fruit can be added for more texture as well. If you have an extra pie filling leftover, it can be used to top pancakes, oatmeal, and waffles — or to fill homemade crepes.
Since the pies are mini, they bake for only 18 minutes so, whether you are using a can or making the filling from scratch, it's important to chop the apples smaller than you usually would for a large pie so you aren't left with a single, too-firm apple wedge in the middle of the treats. Though, avoid mincing the apples, which would turn them into apple sauce.  
For the best presentation, allow the pies to cool slightly before adding the icing, or it will just melt into the filling. If needed, warm the icing on low in the microwave for a few seconds to make it easier to drizzle on the pies.
Other cinnamon roll cup desserts to try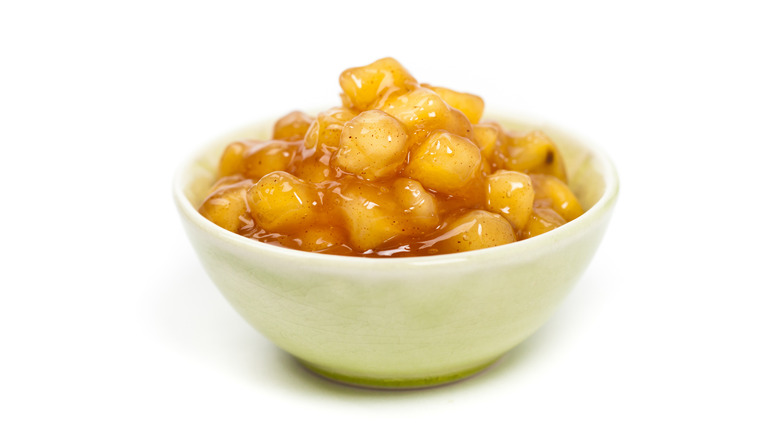 Alisafarov/Getty Images
Although it's a classic, apple pie filling isn't the only option to jazz up cinnamon rolls. They can be topped with other homemade or canned fruit fillings like peach, blueberry, or cherry. They can also be used for making mini pumpkin pies with a streusel topping — or even individual cheesecakes.
In particular, mini pumpkin pies are perfect for fall when everything gets a dusting of pumpkin spice. To make, use a can of pumpkin pie filling, not pumpkin puree, which isn't flavored. The streusel topping is also easy to throw together with quick-cooking oats, all-purpose flour, sugar, and butter. (The streusel would be delicious on the apple pie cinnamon rolls too, turning them into mini Dutch apple pies.) If preferred, a can of sweet potatoes, sweetened with maple syrup, can be used instead of pumpkin pie filling and topped with mini marshmallows for mini versions of the popular casserole.
To make some mini cheesecakes with cinnamon rolls, whisk softened cream cheese, confectioners sugar, and vanilla extract to make the filling and use the sweet rolls again as the crust. The mini cheesecakes can be topped with fresh berries, crushed cookies, or candies. Just don't forget to drizzle the reserved icing on top once the pies/cakes have cooled.