Elevate Your Soy-Based Dipping Sauce With Pantry Staples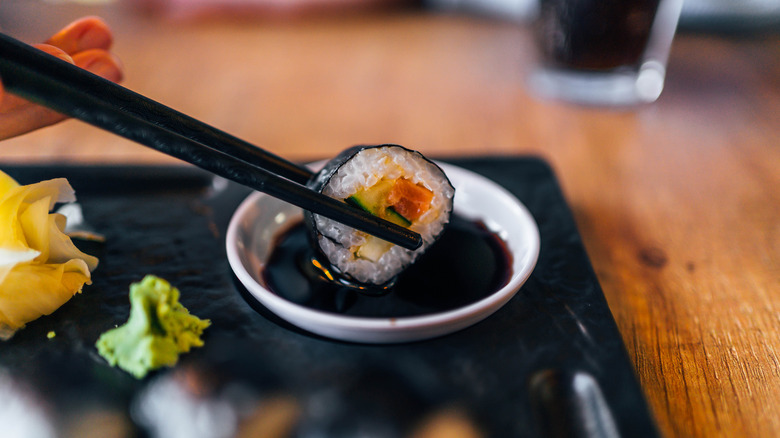 Lordhenrivoton/Getty Images
Soy sauce is an indispensable part of the modern cook's pantry, and not just because of its ability to add that last-minute bit of saltiness or umami to sushi or dumplings. When combined with a few other ingredients you probably already have at home, soy sauce can become a versatile foundation for an entire squadron of delicious dipping sauces that will take your next snack or meal to the next level.
Chef Andrew Hunter, the Corporate Executive Chef at Kikkoman Sales USA, offered some tips to Food Republic on enhancing your soy sauce with everyday pantry staples such as citrus, garlic, ginger, sesame oil, vinegar, and crushed red pepper flakes. These additions each pair excellently with this salty, fermented Asian sauce. For these dips, any type of soy sauce — be it dark, light, sweet, or even double-fermented — should suffice, provided that you choose a high-quality product that will stand out in the finished sauce.
Citrusy, spicy, and gingery soy sauce
Sentelia/Shutterstock
To craft a tangy, citrus-infused dip for potstickers, Chef Andrew Hunter suggests blending fresh orange and lime juices with soy sauce. For a spicier kick, infuse your soy sauce with crushed red pepper and chopped garlic to enhance the flavor and heat of noodles or dumplings, serving it as a sauce or dip. Moreover, for a simple yet delicious dipping sauce perfect for potstickers or egg rolls, mix soy sauce with finely sliced ginger root, balsamic vinegar, and sesame oil to create a soy-ginger dipping sauce that may well become a new weeknight dinner favorite!
Of course, these suggestions are merely starting points. Don't be afraid to experiment with the ingredients you have on hand to customize your soy sauce dips. Combining melted butter with soy sauce is a match made in heaven, ideal for drizzling over noodles accompanied by savory mushrooms or ground pork. Pro tip: Soy butter is also great over steamed clams.
Other compatible ingredients that harmonize with soy sauce include rice vinegar, brown sugar or maple syrup, fish sauce, and a blend of lemon juice and honey. Fresh herbs like cilantro or chives can be finely chopped and stirred into your soy sauce, as can a variety of alliums, such as scallions and garlic.