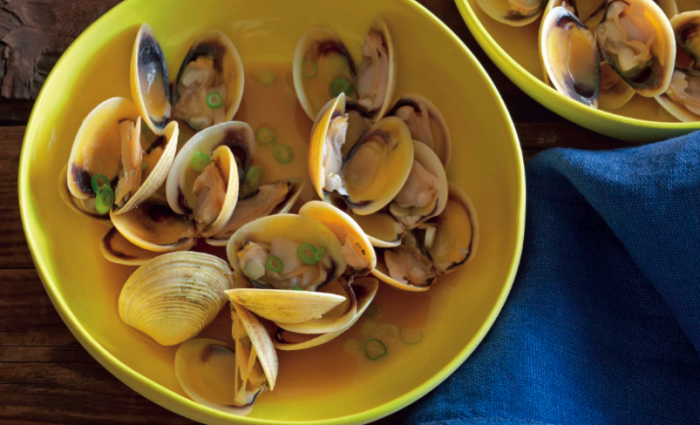 Clams are pretty straightfoward to cook: apply heat and moisture and they'll open up and offer you their sweet, chewy innards. With that basic formula in mind, we're publishing this recipe from Hardie Grant Books' new Izakaya cookbook. White wine and parsley is a classic clam-steaming combination, but what would happen if you replaced the wine with sake and added a delicious, buttery soy sauce to the mix? The beer would keep flowing, according to Japanese bar tradition.
Ingredients
1

pound

clams

1/4

cup

sake

2

teaspoons

superfine sugar

1

teaspoon

Japanese soy sauce

1

teaspoon

ginger, finely chopped

3/4

ounce

unsalted butter, chopped and chilled

1

scallion, thinly sliced
Directions
Put the clams in a bowl, cover with cold water and place in the fridge for 2 hours (this helps to release any sand that may be caught in the clams). Drain the clams, rinse under running water and set aside.
Combine the sake, sugar, soy sauce and ginger in a small jug. Stir until the sugar dissolves.
Put the clams in a large frying pan over high heat and add the sake mixture. Cover and cook, shaking the pan occasionally, for 3 minutes, or until the clams open. Use a slotted spoon to transfer the clams to a serving bowl.
Add the chilled butter to the pan juices and whisk until the butter is melted and the sauce is thickened and glossy. Pour the sauce over the clams and sprinkle the spring onion over to serve.
Check out these other clams on Food Republic: