Your Costco Cart Has A Special Feature For Wine Bottles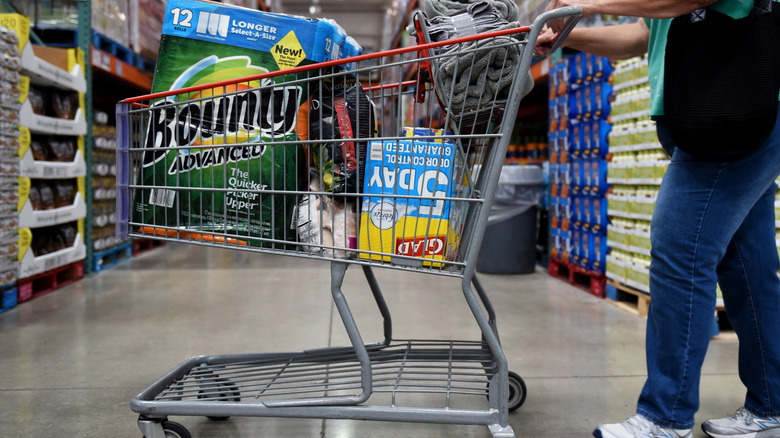 Bloomberg/Getty Images
Costco designs its own shopping carts, and yes, they're bigger than those found at other stores. It makes sense, right? The wholesale chain sells items in bulk sizes and quantities, which means larger carts and wider shopping aisles are required to facilitate a convenient shopping experience.
Size concerns have definitely been addressed as Costco has refined its shopping cart design over the past decade. Notably, in regards to the capacity of the carts' underneath storage space. But so, too, have minor cart adjustments for some of the specific items Costco sells. It's not an accident, for example, that wine bottles fit perfectly into holes in the back of the cart's child seat. The imaginative nature of this feature is even more evident when the bottles are placed so that the barcode is facing up, making for easy scanning at the register.
To take advantage of the clever design hack, lay the bottles down nearly flat, with the heel pointing towards the cart handle. The necks will slide easily between cart holes at the back of the child seat, securing the bottles firmly, and ensuring they won't roll around as you finish the rest of your shopping.
Costco shopping cart etiquette for wine
This new trick will surely prove useful to Costco members who take advantage of bulk-buying — which is one big draw of the warehouse retailer. This is not just because of the convenience of not having your bottle rattle around a shopping trolley, but also the way it dovetails nicely with Costco's large selection of high-quality, yet affordably priced wines. Yes, this includes pairing options for Costco's iconic hot dog deal.
As a bonus, the excellent wine fit also helps to promote two basic rules of shopping cart etiquette. It's always recommended, for example, that shoppers grab a cart in the first place. Costco offers more than one option, of course (flat carts are also available), and the use of either will help prevent unintended spillage or infringement into the shopping space of others.
Costco etiquette, meanwhile, also notes that shoppers should store the barcodes face-up in carts for expedited scanning at check-out. Because of the way wine bottles are held firmly in place by the Costco shopping cart's child seat and accompanying holes, this etiquette dictum is more easily and efficiently accomplished.
Alternative wine storage when the child seat is in use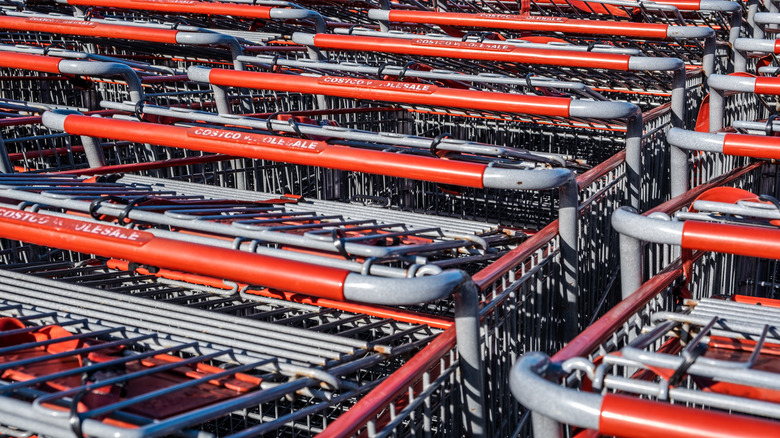 Tsvibrav/Getty Images
There is one obvious situation in which the wine storage trick won't work. You guessed it: If you have a child in the shopping cart's child seat. Naturally, your child takes precedence and is more important than any shopping item or hack.
Fortunately, however, there is another method that will still allow Costco members to safely store wine in their shopping carts. Costco is famed for the abundance of empty boxes that are available to savvy shoppers, and this bevy invariably includes wine boxes. Store an empty wine box in the back of your cart, and then fill as many of the 12 open spaces as you'd like for purchase. The bottles won't lock satisfyingly into place as they do in the child seat, but this is an effective alternative when the child seat is in use.
When you've finished shopping, don't forget a third important rule of shopping cart etiquette. Don't abandon your shopping cart in the middle of the parking lot. Instead, leave it at a designated shopping cart corralling point. After the way it faultlessly and creatively stored your wine purchases, it's the least you can do.