The Best Wine To Pair With Costco Hot Dogs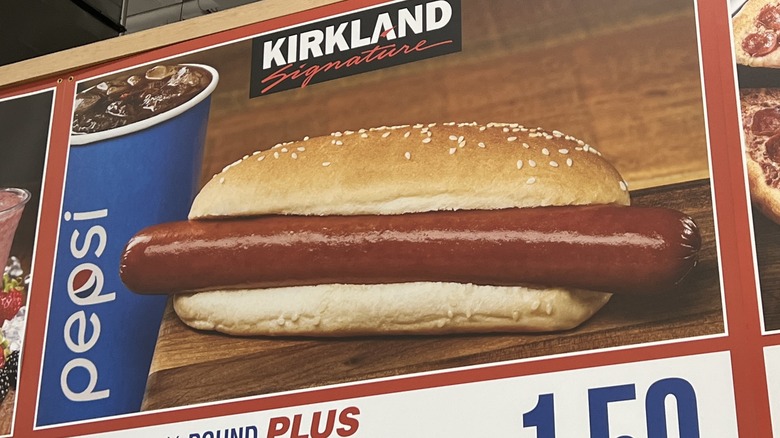 Smith Collection/gado/Getty Images
Many food and wine pairings have become established favorites over the years. Steak, for example, is often enhanced by a fine California cabernet sauvignon; caviar is complemented by Champagne; and Stilton cheese reaches sublime levels when paired with a glass of vintage port. But what kind of wine best accompanies one of Costco's most beloved food court items: the hot dog? That's a challenging question, and one few experts have dared to tackle. However, our expert is up for the challenge.
"If we weren't talking about wine, I would probably want an ice cold Coca-Cola," notes Jerome Noel, general manager of taste56, a new wine store and interactive tasting room which recently opened in the DUMBO neighborhood of Brooklyn, New York. "So with wine, I'd want something that has the same properties. A wine that is refreshing, slightly fruity, slightly spicy, and not too savory or bone dry. Melville Estate Pinot Noir 2021 from Sta. Rita Hills in Santa Barbara fits perfectly."
The Costco hot dog is worthy of a wine pairing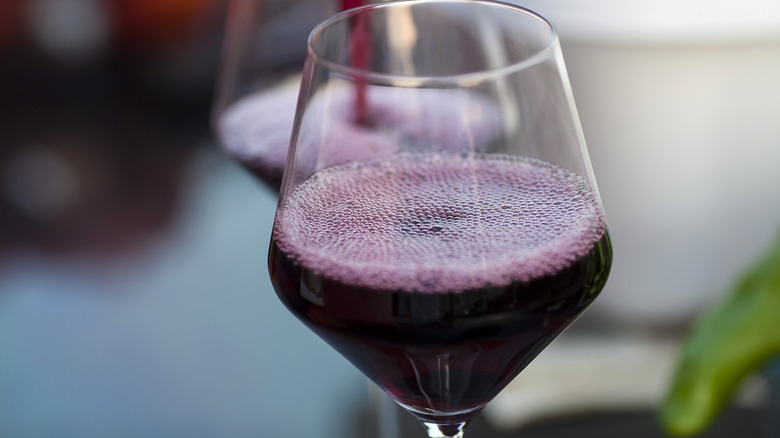 Denizunlusu/Getty Images
As Jerome Noel points out, Coca-Cola is perhaps the more traditional pairing for the Costco hot dog, which has always been large — more than twice the size of average hot dogs, in fact, and made exclusively from beef. Initially, Costco served kosher Hebrew National hot dogs, but now it produces its own. In both cases, the hot dogs have always been free of artificial flavors or fillers.
In other words, it's a high-quality hot dog, even though the price at Costco's food court remains just $1.50, the same as it was when it launched in 1985. With that in mind, why not use that extra room in the food budget for a more upscale wine pairing? The Melville Estate Pinot Noir 2021 from California, which Noel recommends, retails for $44. Therefore, a hearty dinner and drinks for two would cost less than $50 in total — not including tax — and no, you won't need to make a reservation.
Pairing hot dogs with wine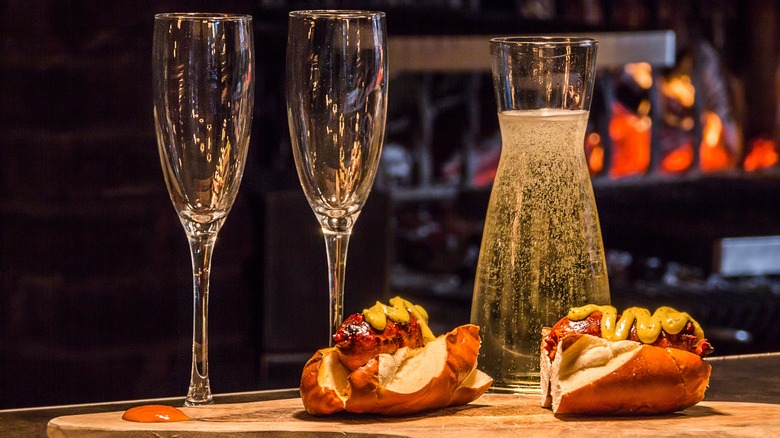 Lucretia Photography/Shutterstock
The key to food and wine pairings lies in matching complementary flavors. In the case of the Costco hot dog, toppings must also be considered. For instance, Pinot Noir generally pairs well with hot dogs topped with ketchup and yellow mustard. If you prefer relish and sauerkraut, however, a citrusy and acidic white wine may be a better choice.
One of the reasons Jerome Noel advocates for pairing the Melville Estate Pinot Noir 2021 with the iconic Costco hot dog is the wine's distinct flavor profile. "With aromas and flavors of fresh red berries, herbal tea, and cola, this wine would perfectly pair with a Costco hot dog," he says. The red berry notes enhance ketchup-topped hot dogs, while the cola undertones recall the more traditional pairing with Coca-Cola. "Pro tip — grab a bag of ice and a cooler to chill it down, as long as you do not have to buy 40 of them," Noel recommends. For those who prefer to avoid alcohol, a chilled can of fruity-flavored Arizona iced tea could also be a good option.
The Costco hot dog has earned its respect — even Julia Child was a fan — and the wine that Noel recommends is unquestionably an inspired selection. It might even match the perfection of the classic pairing of caviar with Champagne.