How To Juice Watermelon Without An Expensive Blender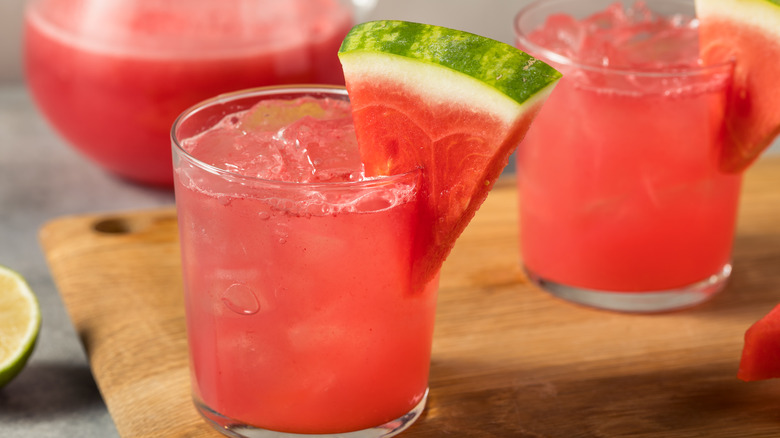 Bhofack2/Getty Images
Watermelon is delicious any way you have it. You can grill it on the barbecue and add it to a salad or sandwich, chop it up into a sweet-savory ceviche or chaat, or enjoy it in simple sliced form — the list goes on. However, one of the best ways to indulge in the flavorous fruit is to savor its sweet juice straight from a glass. Unfortunately, watermelon juice is rarely found on store shelves, namely because it has a relatively short shelf life. Luckily, you can still lap up every last drop of the refreshing, slushy juice by using an immersion blender to puree the melon's pinkish flesh, no expensive Vitamix required.
This clever juicing hack comes courtesy of Alton Brown, who shared the helpful tip in a video posted online, which shows the TV personality sticking it to a watermelon. That is, he uses a hand-held stick blender to puree the inside of a watermelon. Not only is his juicing trick easier, but it's also mess-free because you don't have to scoop out any of the watermelon bits or chop them up to fit into a blender.
Use a stick blender to make watermelon juice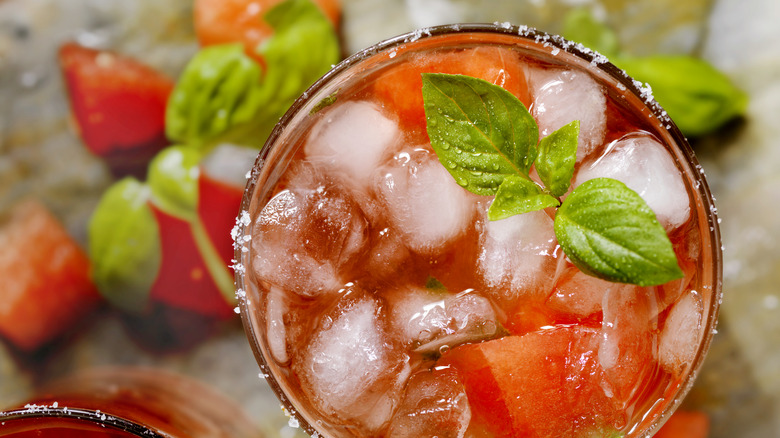 Lauripatterson/Getty Images
Juicing a watermelon without a fancy blender is easy, so long as you opt for the Alton Brown method. Carefully cut a 3-inch wide piece out of the top of the melon, stick the immersion blender in, and then let the handy gadget do its thing. To make cutting the hole out of the thick-skinned fruit easier, the food show presenter uses a biscuit cutter to mark the circle before tackling it with a knife (but that's completely optional). With just a little bit of elbow grease, you'll have drinkable watermelon juice in just a matter of minutes. 
Once you're done pureeing, pour the juice into a separate container to enjoy it as is — or, use it to zhuzh up a variety of tasty drinks, including lemonade, limeade, and smoothies. You can even use it to add a touch of irresistible sweetness to cocktails like martinis, margaritas, mojitos, and sangria, among others. Just be sure to strain the seeds out first before throwing the juice on the rocks.
Use up the leftover rind and seeds, too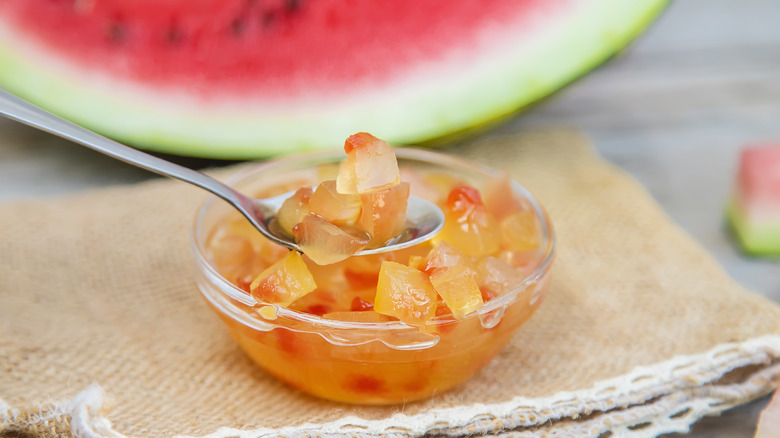 Yana Tatevosian/Getty Images
Perhaps the neatest thing about Brown's watermelon juicing hack is that it leaves the rind intact. However, there's no reason to let any bit of the scrumptious melons go to waste, including the aforementioned seeds and peel. Not only are they both edible, but they're actually quite nutritious. The seeds are rich in magnesium and fatty acids, while the peel contains less sugar and more fiber than the fruit's pink flesh, according to Northwestern Health Sciences University.
Similar to pumpkin seeds, you can roast watermelon seeds and sprinkle them atop cereal, yogurt, or salad, among other foods. And, there are a variety of ways to use leftover watermelon rinds, too. Level up your morning slice of toast with watermelon rind jam or try candied watermelon rinds for a light snack. You could even julienne the peels and cook them along with veggies in stir-fries or simmer them with dried spices to make a hearty curry. But, no matter which recipe you opt for, it's sure to be one in a melon.