How EJ Lagasse Is Making A Name For Himself Outside Of His Father - Exclusive
Going into the family business is a natural step for many people, but it can be difficult for them to forge their own identities in the same industry as a parent — not to mention that "nepo babies" get a bad reputation. But EJ Lagasse has put in the work, graduating from Johnson & Wales culinary school and working in Michelin-starred restaurants as he honed his skills. Now, Lagasse has taken over as chef patron at his father Emeril's flagship restaurant in New Orleans. Our sister site Tasting Table spoke to Lagasse in an exclusive interview about how he is making a name for himself while honoring the path his father forged.
"My father and I are very similar in personality and a lot of things, but we're also very different," said Lagasse. "It's very early in my career, but we have the same fundamentals and the same goals. That's what makes us a strong team — and the ability for us to work together so well — he trusts me and I trust him, because we've been talking about doing what we're doing for many years." That trust allows Lagasse to play with elements of the restaurant, including spearheading a complete remodel of Emeril's and updating and changing the menu. 
Changes in the works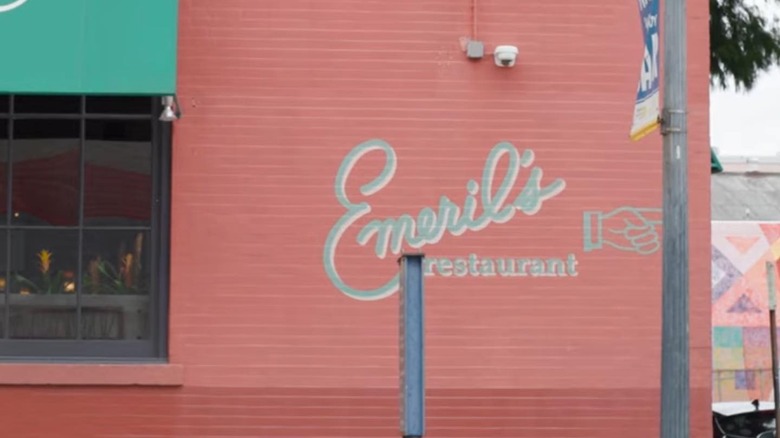 https://www.instagram.com/p/CqONTXSrcKR/c/17984027812852367/?hl=en&img_index=2
EJ Lagasse has also kept his father involved in the conversations about the restaurant's future, bridging family ties while also making his own mark. "We had some preemptive conversations for quite a long time about what we wanted to do and what we wanted to accomplish, and that was bring Emeril's back to its roots, back to its fundamentals." While the changes are undeniably present, Lagasse says sometimes finding common ground is key. "I like to focus a bit more on where we're similar. It is a family business, after all."
Of course, the work is never done. And while Lagasse has already made memorable changes to the decades-old establishment, more are likely to come. "As the restaurant continues to evolve and move forward, I'll find certain things that put me on a different end of the spectrum than my father's when it comes to certain things. I don't know exactly what those things are yet." 
Emeril's New Orleans is now open for dining. For reservations and additional information, please visit Emeril's restaurant website.
Static Media owns and operates Food Republic and Tasting Table.