The Best Store-Bought Bread For Savory Sandwiches
Brent Hofacker/Shutterstock
Have you ever found yourself in the grocery store bread aisle overwhelmed by the countless choices in front of you? With so many options, it can be tough to know what kind of bread to use for various types of sandwiches. Tastes vary of course, and the right bread depends on what you're planning to use it for. Certain pairings immediately seem to fit while others just feel intuitively wrong. You're not likely to enjoy a peanut butter and jelly sandwich on an onion bialy, just as cinnamon raisin bread is probably not a good match for liverwurst. For savory sandwiches, there's one type of store-bought bread that is almost always the best choice — dill rye bread.
Rye bread is denser than regular white and whole wheat bread, and even when purchased pre-sliced, the firm slices are likely to have a thicker cut. This makes it an ideal base that holds up to wet condiments and dressings to prevent spreads like mustard and mayo from seeping through. The hearty flavors of rye and dill go great together and stand up well to strong sandwich fillings. Rather than overpower, they complement bold meats, cheeses, and vegetables, while adding a fresh, earthy taste to the mix.
Use dill rye bread for the most flavor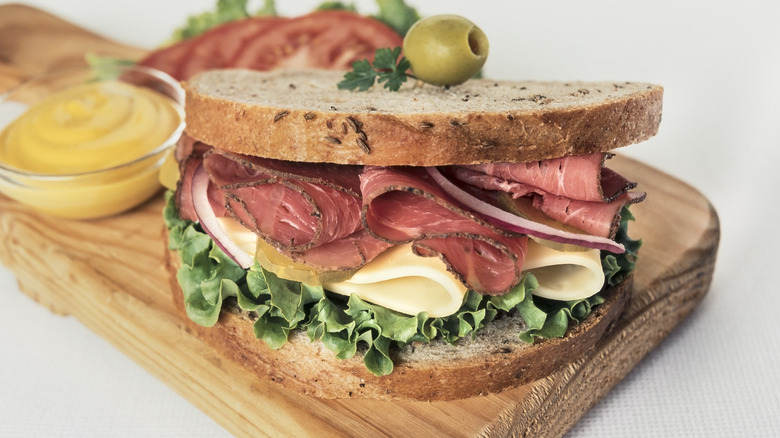 Mofles/Getty Images
Look for fresh artisanal dill rye bread at bakeries and delis in your local area. One readily available nationwide brand to offer it is Oroweat, which can be found in many supermarkets. It's made with just the right firmness based on a traditional recipe. The company was established in 1932 as a bakery and market in Los Angeles, serving up hot loaves of bread straight from its brick oven. 
Similar to Jewish rye or New York deli style, this type of bread is usually made with caraway seeds; however, Oroweat's version is made without it. For those who crave the pungent, anise-like taste of caraway, the brand makes a Russian rye bread and a traditional Jewish rye that both feature it. You might also be able to find Western Hearth onion dill rye bread by Van de Kamp's – although the brand is now owned by Kroger and may be sold under its private label, Private Selection, or simply as "Kroger."
If you've got a knack for baking, you can even make your own homemade bread using leftover pickle juice. This zero-waste hack works with any rye bread recipe; just swap out all or most of the called-for water with the juice right out of the pickle jar. You can further boost the tangy flavor by adding fresh or dried dill to the dough.
Deli sandwiches wouldn't be the same without it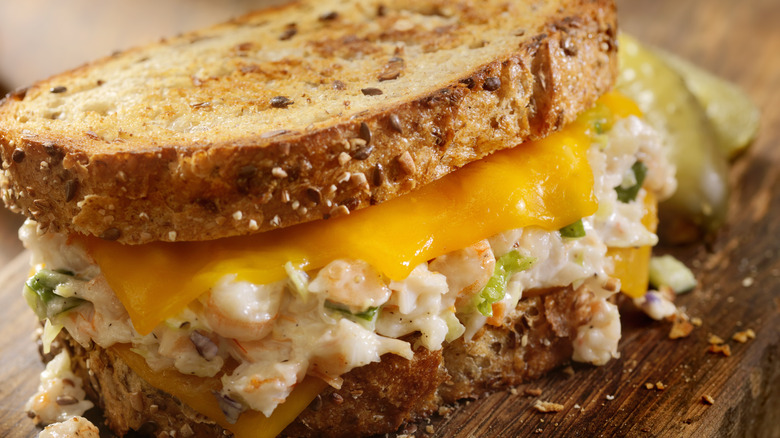 Lauripatterson/Getty Images
Dill rye bread is perfect for savory deli sandwiches. A traditional Jewish delicatessen's pastrami on rye is made with heaping piles of cured, spiced, and smoked corned beef with hot brown mustard — when you make one at home, try it on dill rye for a tasty upgrade. Similar but not the same, a Reuben is also made with corned beef — though the meat isn't as heavily seasoned – and this sandwich usually comes loaded with sauerkraut, Russian dressing, and Swiss cheese. A true Reuben will also be served on rye bread, sometimes with pickles on the side, but make it with dill rye and that essence of pickle becomes part of the bread itself.
Another well-loved savory sandwich filling is tuna salad, and sturdy slices of dill rye are excellent for the mayo-based salad because liquids won't end up soaking out. Take tuna salad to another level of deliciousness with Ina Garten's comfort food sandwich — her favorite — the ultimate tuna melt (the recipe is in her cookbook "Modern Comfort Food"). She recommends making it with white bread, but try it once with hearty dill rye, and you'll never look back. She adds fresh dill, scallions, and hearts of palm to her tuna salad, and serves the whole thing open-faced and broiled just long enough to melt the grated Swiss cheese layered on top. The full flavor of rye and dill seeds absolutely pops when released by that final toasting.