Ina Garten's Ultimate Comfort Food Sandwich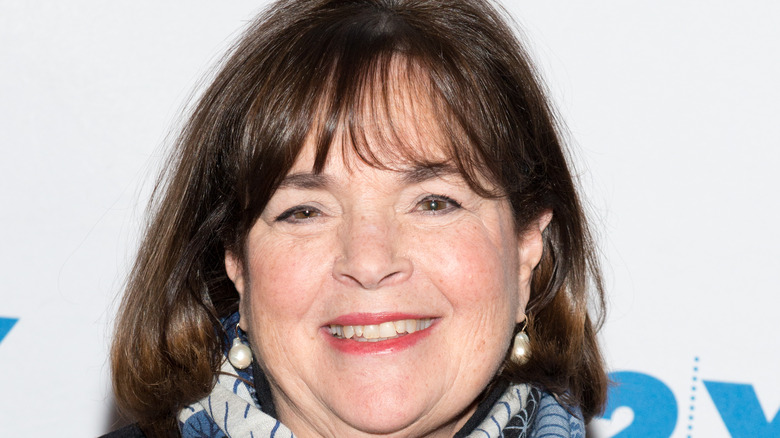 Noam Galai/Getty Images
It's no secret that Ina Garten has an affinity for comfort food. After all, her aptly named cookbook "Modern Comfort Food" is devoted to just that. In the collection of over 80 recipes, the Barefoot Contessa teaches readers how to make plenty of cozy, nostalgic foods, from creamy tomato bisque and chicken pot pie soup to cheddar and chutney grilled cheese and the ultimate beef stew. But, in an Instagram post, Garten shared that one of her absolute favorite comfort foods is a super simple sandwich: the humble tuna melt.
Since Garten is known for keeping cooking simple, her Ultimate Tuna Melts recipe (also featured in her cookbook) is an easy one to follow, in which the chef uses mostly easy-to-find ingredients like mayonnaise, pepper, celery, and white bread. But Garten kicks it up a notch with the addition of fresh dill and scallions and a bit of lemon juice, too. And for the ultimate upgrade, there's an optional addition of anchovy paste for a more complex flavor profile (though Garten admits it might not be for everyone).
Tips for the best tuna melt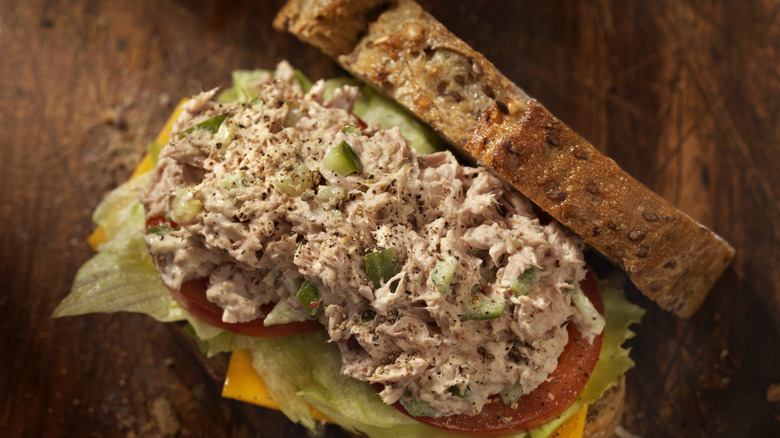 Lauri Patterson/Getty Images
To make the best tuna melt, Ina Garten recommends Spanish tuna that is packed in glass jars, citing its moistness and chunkiness. However, if all you have available is the typical canned tuna at your local grocery store, just opt for a variety packed in olive oil (rather than water) so that it's as moist and flavorful as possible.
When it comes to cheese, Garten likes the nuttiness and meltiness of Emmental, a type of Swiss cheese. For a similar flavor, you could also use Gruyère. If you're looking for a different flavor profile, choose another one that has a similar pH, which is what affects the cheese's meltability. Both gouda and cheddar will melt similarly to Emmental. And don't forget to grate it — doing so yields far superior results to any of the store-bought shredded version.
When it comes to mayonnaise, Garten says to use a good version from the grocery store; she's known for using Hellman's, which was also Julia Child's favorite brand. Some other top options are Duke's Mayonnaise (Alton Brown's favorite) or Kewpie. Just be sure to avoid others that are overly sweet or have unnecessary additions so that the rest of the ingredients in the sandwich can shine.
Variations on Ina Garten's tuna melt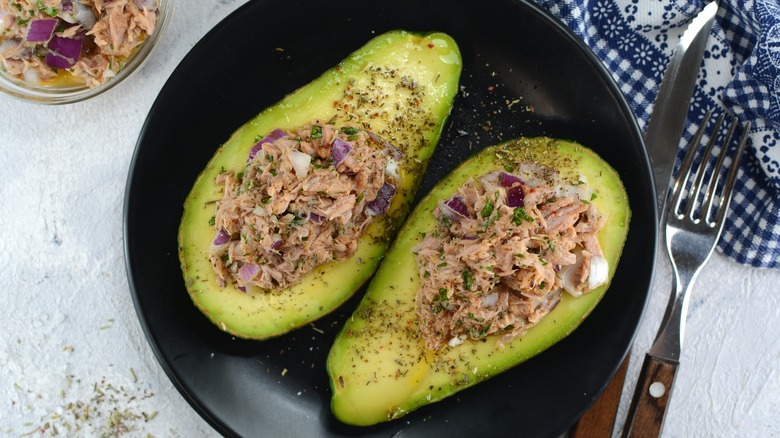 Azra H/Shutterstock
While Ina Garten's tuna melt recipe is perfectly on point, there are plenty of ways to put your own spin on the open-faced sandwich. First, if you're on a mission to cut carbs or have a gluten allergy or sensitivity, try swapping out the bread. Instead, use a vegetable base — such as filling up a bell pepper or a hollowed-out tomato or spreading it over the top of a portobello mushroom. Or, remove the pit from an avocado, spoon a bit of the flesh out, and place your tuna salad inside.
Not feeling in the mood for tuna? You can swap that out, too. There are plenty of other melts you can make. Stick with seafood by using whitefish salad, salmon salad, shrimp salad, or crab salad. Or, for a vegan version, make a mashed chickpea salad. You can also trade the mayo for other alternatives like avocado, vegan mayonnaise, or hummus.
In Garten's version, she uses anchovy paste. If you're not a fan, you can leave it out. But if you do want the umami that anchovy paste lends to the tuna salad but don't have anchovy paste, you can substitute other ingredients for that, too. Some easy options that you may have on hand are Worcestershire sauce, soy sauce, and fish sauce. And if you want to add even more umami flavor, try tossing in some sliced olives or capers. There's no shortage of ways to dress up this simple sandwich.