Waffle Cone Trail Mix Puts M&Ms To Shame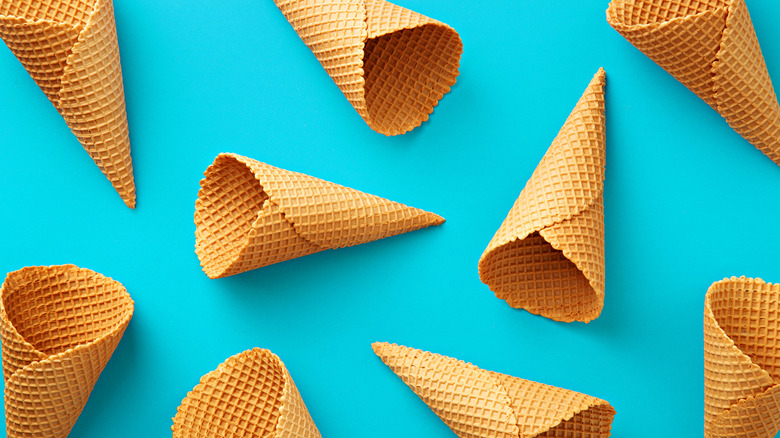 virtu studio/Shutterstock
Having a surplus of ice cream cones isn't necessarily a bad problem, but it can seem a little difficult to repurpose this ice cream-specific ingredient for other culinary projects. Still, if you get creative about it, you'll find that the waffle cone can be destined for bigger and better things than a standard scoop of ice cream.  
How creative? Well, try to think outside of the ice cream pint with this conical item and go for a pantry snack favorite. Broken into bite-sized shards, these waffle cones can become the rich, crunchy element for a delectable trail mix. Blended with salty, toasted nuts; tart, dried fruit; and oatmeal clusters, the cone can go from a dessert base to a proper snack filler. Already caramelized in golden sugar, you don't even need to toast it off before mixing in. Or you can double down on decadence and fill your plain waffle cones with chocolate and sprinkles before breaking them up so that you'll have a crisp chocolate element akin to M&Ms.
A sweet addition to your favorite snack mix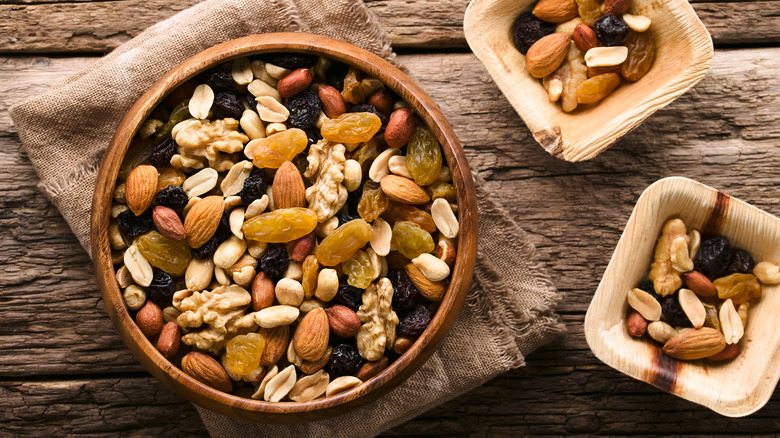 Ildi Papp/Shutterstock
Let's kick it off with the best way to break up your waffle cones into bite-sized pieces. There are really only two methods to choose from, and the first is to give it a quick chop on a cutting board. You want to keep this a rough chop so that you get a nice range of big and small pieces dispersed in the mix. You can also go for the less messy approach and place the cones in a re-sealable plastic bag and give it a gentle press with the rolling pin. Avoid using a blender or food processor, as this will pulverize your cones into dust and crumbs rather than pieces. 
Second, know which type of ice cream cone works best for this hack. Waffle cones, which have a caramelized, toasted exterior, are preferred here over the pale blonde options of the sugar and cake cones. The latter two can have a powdery texture akin to a wafer cookie when broken up, so they don't work as well in a grab-bag trail mix. 
Building your own trail mix blend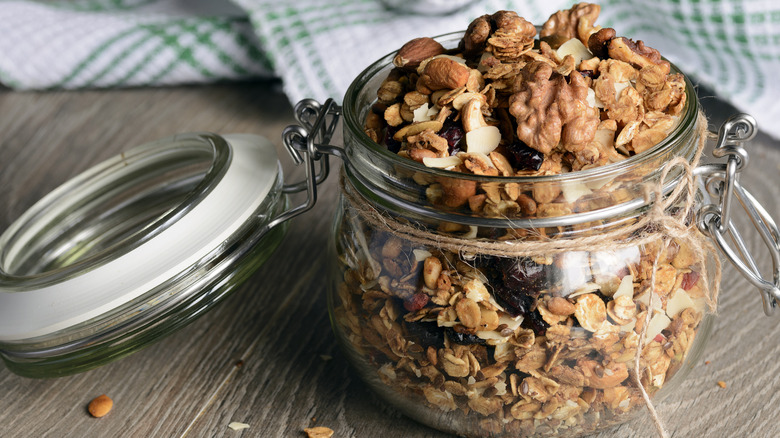 Tatyana Berkovich/Shutterstock
For a low-maintenance start to the mix, you can choose a store-bought trail mix base or your favorite brand of granola to work as your base. You can add popcorn, toasted nuts, and even dried fruit with the waffle cone pieces, making it as simple or complex as you'd like. You can also coat the mix-ins with a drizzle of white or dark chocolate before tossing it in as well (in case you decide to skip filling the individual cones with chocolate). 
If you're looking to make the mix from scratch, consider combining the broken cones with a box of cornflakes or raisin bran. The idea is to pick a cereal that's not too sweet so that the waffle cones can shine. Next, select a salted nut mix to help balance out the sweetness. Peanuts, walnuts, almonds, pecans, and macadamia nuts are all fair game for your trail mix blend. Wild card additions like toasted coconut flakes, chopped dates, and chocolate chips are all welcome, as are some crushed potato chips or saltine crackers to provide a contrasting savory note. You can coat this mix in a custom seasoning blend or just your favorite spice blend. You're only limited by your own creativity when it comes to the trail mix choices.