Use Lemon Skins As A Perfect, No-Waste Crème Brûlée Dish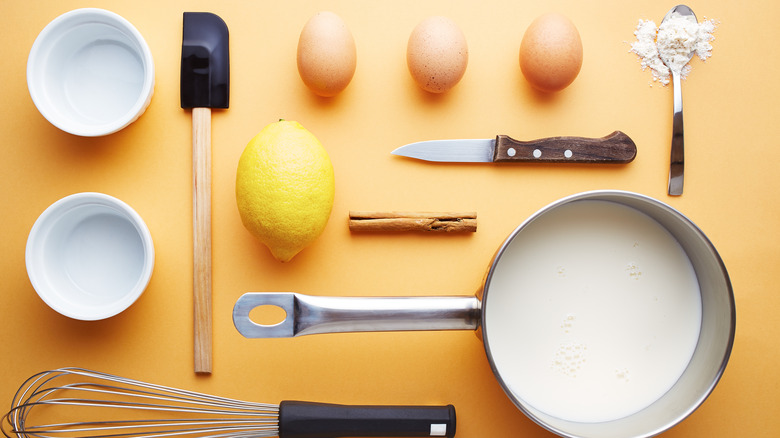 Raimunda-losantos/Shutterstock
What's better than a dessert that looks pretty and tastes delicious? A dessert that looks pretty, tastes delicious, and is made with zero waste. If you're looking for that perfect sweet treat that has all three, look no further than the creatively constructed lemon skin crème brûlée — or an even easier brûléed lemon posset if you want to skip the egg yolks.
@happytummy_702

Replying to @Kelly Campbell lemon possets, brûléed 🍋 no eggs, no baking, only 3-4 ingredients Recipe for 3 reg/large sized lemons. Double the recipe for extra-large lemons Follow on IG story highlights for step-by-step tips 🙏🏼 Ingredients ✨1 cup (240 ml) heavy whipping cream ✨1/4 cup (50g) granulated sugar + more for brûlée – 60g if you prefer more sweet than tart ✨1-1½ lemons, zested ✨3 tbsp (45g) lemon juice ✨1 tsp vanilla extract (optional) Instructions 1. Zest lemon(s) and set aside. 2. Slice lemons into halves. Scoop out the flesh with a spoon. Squeeze out lemon juice using a sieve. 3. In a large sauce pan, combine heavy cream, sugar, and lemon zest. Stir constantly on med-low heat until sugar has dissolved and cream thickens slightly, about 3-5 mins. Color will turn a faint yellow. 4. Turn off heat. Pour in lemon juice and vanilla. Cream will thicken more immediately. 5. Strain mixture through a clean sieve to remove zest. Let cream cool for a few mins. 6. Fill hollowed lemons evenly. Chill in fridge for 1-2 hrs min, or overnight. 7. Once cream is set, enjoy as is, or sprinkle even layer of sugar and brûlée with a blowtorch. #lemonposset #lemontok #lemontiktok #brulee #lemondesserts #easyrecipe
Lemon-flavored crème brûlée doesn't just taste amazing (and look fancy). Featuring lemons as the main ingredient in this dessert allows you to repurpose their skins, which would otherwise be discarded, as a vehicle for the dessert itself — making use of the entire fruit, and leaving behind no food waste in the process — doubly so if you compost them after eating.
The best part is that you only need a handful of ingredients to make lemon possets or crème brûlée at home, and most of them are probably already in your kitchen. Just be sure that you take the time necessary to properly prepare the lemons to make the rind food-safe.
Tips for making no-waste lemon crème brûlée
To make a no-waste lemon posset or crème brûlée, you can start by scooping out the lemons and then utilize them in several different ways throughout the process. The juice and zest from the lemon become ingredients to flavor the cream mixture, and the hollow lemon shells become creative vessels to hold, bake, and ultimately serve the dessert.
To properly prepare your lemons for this no-waste dish, there are a few tips you'll want to keep in mind. First, if your lemons aren't organic, wash them with soap and water to remove any chemicals since they'll be baked along with everything else. When you cut open your lemon, use a sharp knife and slice the lemon lengthwise rather than crosswise to make two perfect cups.
To create those ideal serving shells, use a smaller paring knife to trace around the edge of the flesh, detaching it a bit from the skin. From there, either a melon baller or a spoon will work to scoop the flesh out in one go; that way you can reserve it for easy juicing.
More no-waste dessert ideas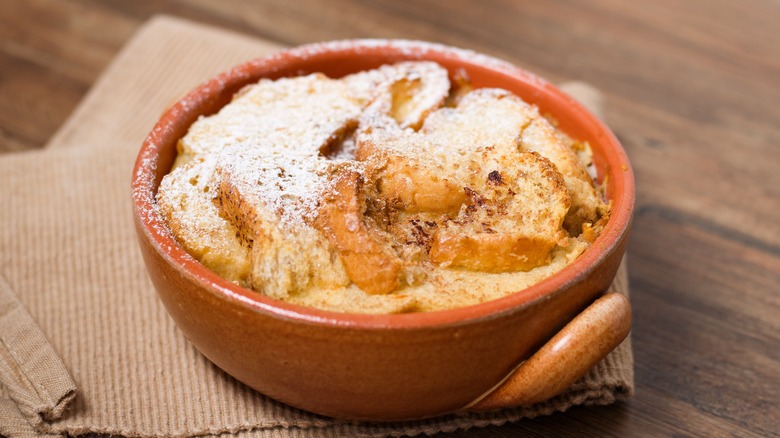 Petr Kazilek/Getty Images
There are plenty of ways to repurpose ingredients or use up leftover ones to create delicious desserts that help reduce food waste. No lemons? Try this same method using an orange or a grapefruit instead. Or make the most of citrus peels in other ways, like chopping them up and adding them to bread and baked goods, candying them and dipping them in chocolate, or using them to make jams and marmalades.
But citrus peels aren't the only skins you can repurpose — did you know you can also bake up banana peels? You can easily make your next banana bread a no-waste recipe by blanching and blending your banana peels and adding them to the batter along with everything else to sweeten things up.
Another great item to repurpose is stale bread or those leftover remnants of crust that you're tempted to throw away. Instead, use these unwanted pieces for classic desserts like bread pudding, or more creative ones like baked cinnamon sticks.