Panera To Display Warnings For Its Charged Lemonade After Customer Death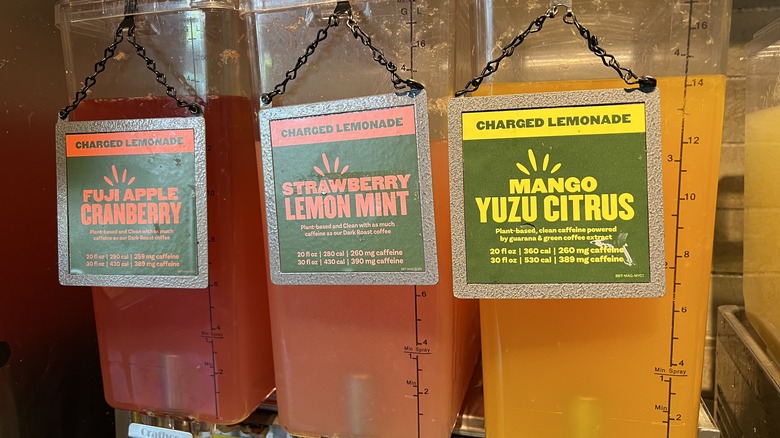 Smith Collection/gado/Getty Images
Panera's caffeinated Charged Lemonade is the subject of a lawsuit following the death of 21-year-old Sarah Katz on September 10, 2022. According to NBC News, Katz, who had a heart condition, died shortly after consuming a large Charged Lemonade. Those close to Katz claim that she would not have consumed the drink had she been aware of its caffeine content.
While Panera asserts that the caffeinated lemonade was labeled appropriately, lawyers from the firm Kline & Specter, PC — who are representing Katz's family — argue that the labeling did not adequately outline the risks. In response, a Panera spokesperson told NBC News that "out of an abundance of caution, we have enhanced our existing caffeine disclosure for these beverages at our bakery-cafes, on our website[,] and on the Panera app." Further calling into question Panera's safety measures is the fact that the Charged Lemonade is available for unlimited refills as part of its Unlimited Sip Club.
When ordering a Charged Lemonade online, the drinks are listed under a "Charged Sips" tab. The individual drink order page features a banner, stylized in capital letters, stating that the beverage "contains caffeine."
What ingredients are in Panera's Charged Lemonade?
Panera's Charged Lemonades come in three flavors and are advertised as plant-based drinks that are "[p]owered by [c]lean caffeine from guarana and green coffee extract." The regular-sized strawberry lemon mint flavor contains 65 grams of sugar, while the large size has 98 grams. The mango yuzu citrus flavor has even more sugar, clocking in at 82 grams in the regular size, and 124 grams in the large.
While 20-ounce servings of each drink have similar amounts of caffeine — a large dark roast coffee contains 268 milligrams, and the Charged Lemonade has approximately 260 milligrams — the large Charged Lemonade is actually 30 fluid ounces. Sarah Katz ordered a large on the day she passed away, which contained 390 milligrams of caffeine. This amount is just shy of the 400-milligram daily limit recommended by the Food and Drug Administration for adults without underlying health conditions.