The 2 Types Of Mustard Ina Garten Likes To Mix Together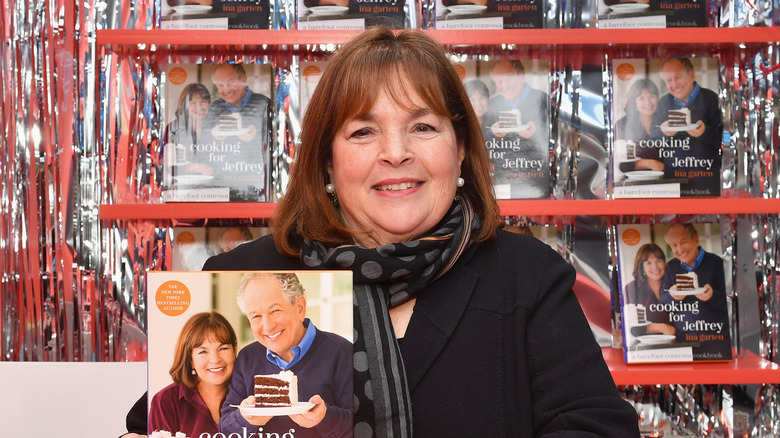 Noam Galai/Getty Images
Ina Garten is known for making restaurant-quality items accessible to the home cook. She relies on meticulous recipe testing, straightforward techniques, and of course, high-quality ingredients. Just because Garten is obsessed with using excellent ingredients does not mean that she believes everything must be made from scratch. A fridge and pantry well-stocked with Ina Garten approved store-bought substitutions is a key part of the chef and cookbook author's cooking ethos.
Some of her go-tos are a little on the luxurious side while others are common classics. Her list includes vinegar, olive oil, chocolate, mayonnaise, and two different brands of mustard — Maille and Grey Poupon. She likes the Dijon styles of both, and she loves combining the two in vinaigrettes and sauces. She uses Maille's whole grain and Grey Poupon's smooth Dijon variety in dishes like mustard-roasted fish, filet mignon with mushrooms and mustard sauce, and crispy seared kielbasa with a mustard dip.
What do these two mustards taste like?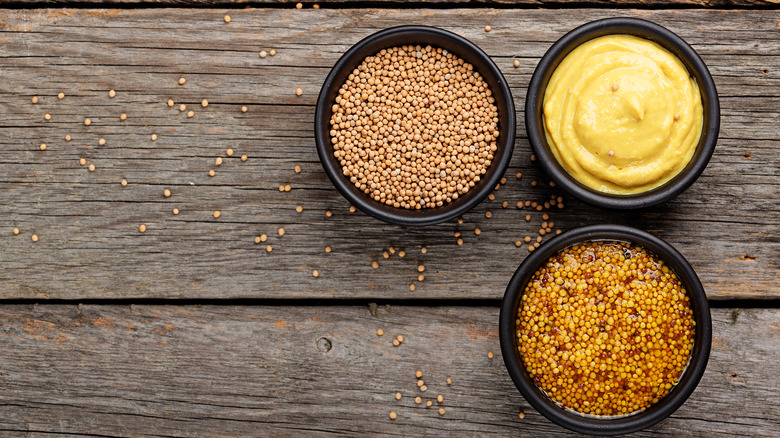 nelea33/Shutterstock
Real Dijon mustard comes from Burgundy, France. It is traditionally made with black and brown mustard seeds and the tart addition of verjus, which is unfermented grape juice made from wine grapes. Grey Poupon does not specify exactly what kind of mustard seeds it uses, and the rest of the ingredients list includes items like salt, sugar, distilled white vinegar, and white wine. Maille whole grain mustard has pretty much an identical ingredients list. The difference between the two mustards is that Grey Poupon is blended, and Maille leaves the mustard seeds intact.
Breaking down the mustard seeds yields a pungent, sharp, and tangy taste and a creamy consistency. When the mustard seeds are whole, the taste is milder, and the mustard has a pleasant textural pop. Using both in a recipe means you get the best of both worlds — a pro move from Queen Ina, for sure.
Where can you use this mustard hack?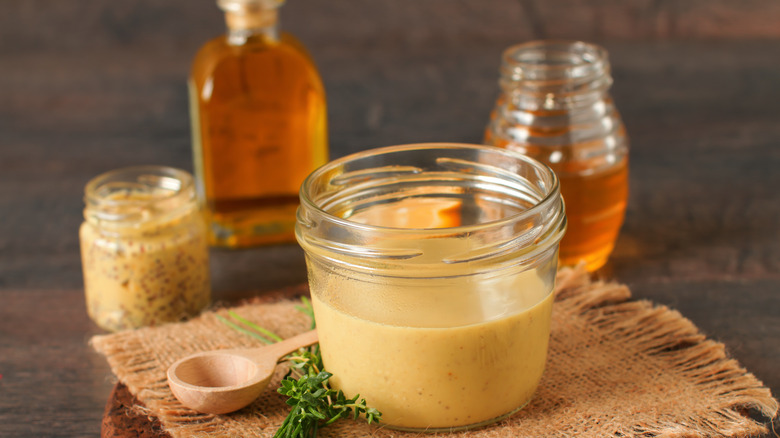 NADKI/Shutterstock
Go for Grey Poupon and Maille if you want a truly Barefoot Contessa vibe, but there are lots of delicious brands of mustard out there, so feel free to use your favorite one! As Ina Garten mentioned, salad dressings are a great way to make these mustards shine. Mustard seeds have quite a bit of mucilage – which acts as a strong emulsifier. Blended mustards will do the trick, but whole-grain mustards have the most mucilage, which makes them ideal for holding a vinaigrette together. However, if you want a strong taste to stand up to rich proteins, sweet roasted root vegetables, or sharp and creamy cheeses, you will definitely want to add some smooth Dijon mustard, too.
Make a simple honey mustard dip for chicken tenders or sweet potato fries by combining a little bit of mayonnaise, honey, and both mustards — or upgrade a tangy mustard-dressed slaw by doubling down on this piquant condiment. Use Garten's dual mustard technique in any preparation where you would want both mustard zing and a not-so-homogeneous consistency.