What Is Lemon Cream And How Do You Cook With It?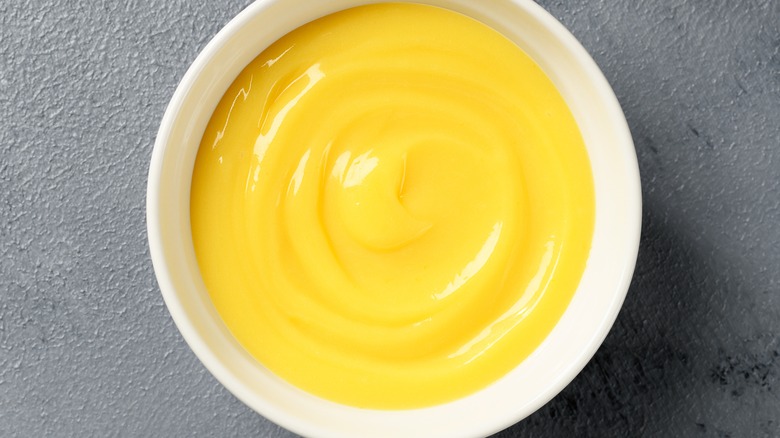 nelea33/Shutterstock
You've likely heard of lemon curd, sauce, juice, and dressing, all of which instantly perk up a dinner or dessert with little effort. But there's another sassy lemony sauce in town, one that might just take the culinary sheriff's badge — at least when it comes to saucy citrus goodness in your kitchen. It goes by the name of lemon cream, aptly named for the primary ingredient and its luscious, soft, and creamy texture. Not only is lemon cream a recipe game-changer, but it's also adaptable to a wide variety of dishes, from sweet to salty or savory. 
Basically, lemon cream is a thick pudding-like custard sauce similar to lemon curd – but creamier. Depending on who's doing the making, lemon cream can be as easy as a quick combination of lemon juice, zest, sugar or salt, and heavy whipping cream – but it's more commonly a labor of love involving fresh ingredients such as eggs, butter, sugar, milk, and plenty of lemon juice. Chefs have also been known to increase the velvety smoothness and standalone texture by adding things like unflavored gelatin, pure extra virgin olive oil, flour, or cornstarch.
Regardless of how it's created, the goal is a lemon cream full of zesty citrus flavor and a smooth yet resilient composition. That's what makes it a standout star in any dish or dessert, from pasta to pie to poultry or seafood. 
Lemon cream makes savory dishes smooth and zesty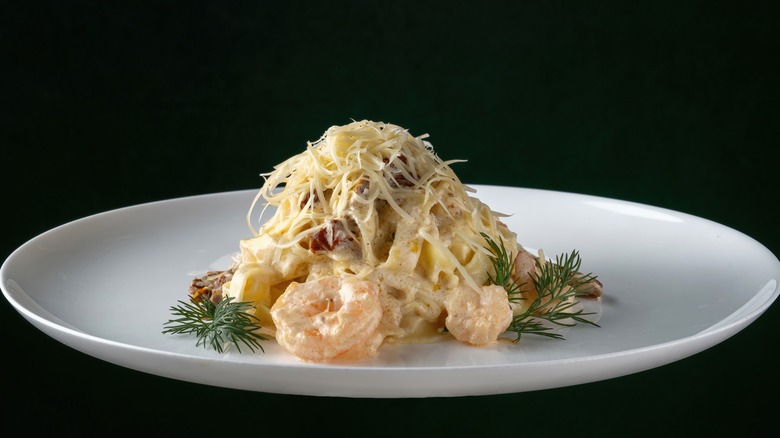 Alexander Mogilevets/Shutterstock
Lemon cream easily adds panache to savory food, most often sans the sweetness. Rather than including sugar in the cream base, these kinds of dishes opt for ingredients such as minced garlic, salt, herbs, spices, and broth to personalize and temper the lemon juice. In savory foods, lemon cream is generally warm and more saucy, compared to the sweet, custard-like texture of a lemon-cream dessert. 
Pasta with lemon cream is a standout favorite in Mediterranean cuisine, including Italian, Greek, and Spanish recipes. Simple Italian dinners featuring lemon cream include a take on pasta al limone. Simply add a little lemon cream to the fresh lemon, and season with Parmigiano-Reggiano, salt, and pepper. Chunky penne versions come alive with added Parmesan, either eaten on its own or combined with basil, grilled chicken, or even roasted asparagus. 
Citrus is a natural complement to seafood, and that includes creamy lemony sauces. For shrimp fettuccine, the usual lemon cream ingredients, joined with extras such as white wine, garlic, and flour for thickening, create a single-skillet dish that's smooth, refreshing, and filling. Finally, a lemon cream sauce crowns baked or grilled fish with a light, bright, citrus flavor, and can be punched up with Dijon mustard, fish sauce, or clam juice.  
Sweet and smooth lemon cream desserts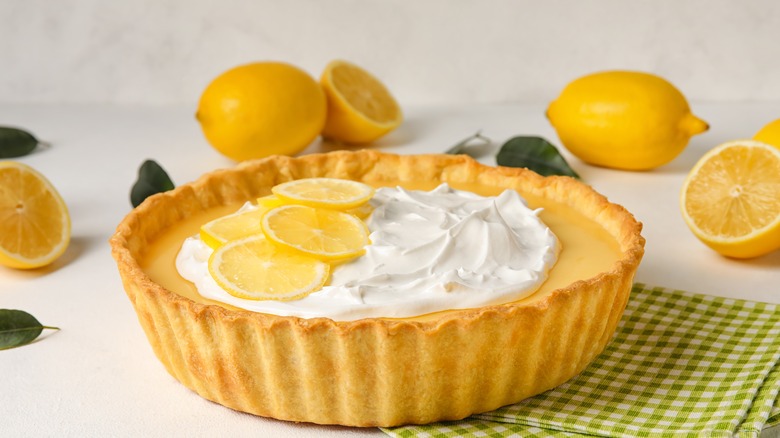 Pixel-Shot/Shutterstock
For an easy, no-cook tangy treat, discover chilled Spanish lemon cream, a standalone pudding-style dessert known in Spain as crema de limone. It's richer than standard pudding, defined by its fresh lemon essence. Recipes vary per household, but a basic approach simply combines condensed milk, lemon juice, and plain yogurt. Greek versions typically require cooking but utilize the same dairy and sweet ingredients in classic custard cream, including eggs, milk, butter, and sugar, plus the lemon juice and grated zest. Topping with dried fruits and pistachios makes it a true Greek indulgence. 
Simple lemon cream can also be mixed with fresh fruits to lighten things up, especially with a berry blast from strawberries, blueberries, raspberries, or blackberries. There's no need to add sugar, as it's already in the cream, but a touch of honey introduces a nuanced element into the mix. A similar British version known as posset – considered a hybrid of lemon curd and an American-style lemon pudding — sticks with the basics of lemons, heavy cream, and sugar — with no eggs or thickening agents other than the citrus. Serve it in a hollowed out lemon as a cup and save on some dishes.
As a component of other favorite desserts, lemon cream uniquely defines pies, cheesecakes, tarts, and layered lemon bars. Lemon cream pie made with condensed milk is a Deep South favorite but is often called lemon icebox pie. Lemon cream cake recipes sometimes employ buttermilk and cream cheese for added depth and richness.