Julia Child's Favorite Things From Costco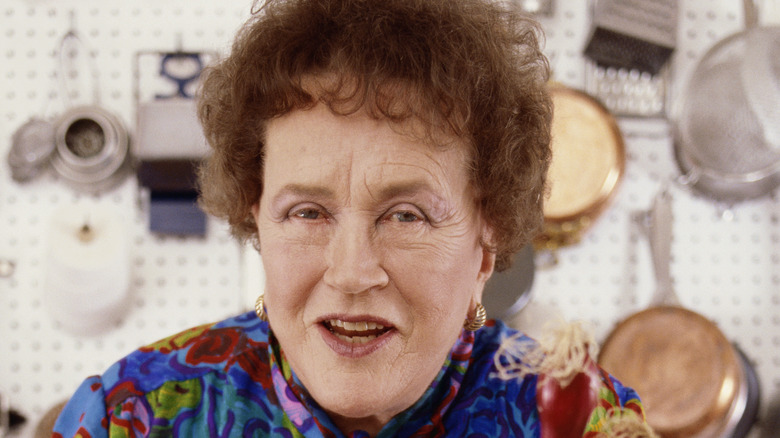 Aaron Rapoport/Getty Images
If you think about iconic chef Julia Child, a few images might come to mind: French cuisine, of course, being tops. And more specifically, dishes like coq au vin, crepes, or beef bourguignon — all homemade, of course.
But, one thing most people probably wouldn't associate with Child is that oh-so-American temple of bulk purchasing, Costco. However, it turns out that Child was quite a fan of the membership-only warehouse store and certain products it sells. In journalist Bob Spitz's biography of the famed chef, "Dearie", he wrote that Child "loved Costco hot dogs as much as a fine French meal."
The surprising fact that Child was a fan of Costco's famously cheap meal is backed up by former Bon Appétit editor Barbara Fairchild, who told now-defunct food magazine Lucky Peach that Child finished every trip to the store with a visit to the food court, always enjoying that meaty treat at a location in her then-home city of Santa Barbara, California.
Julia Child was a fan of more than Costco hotdogs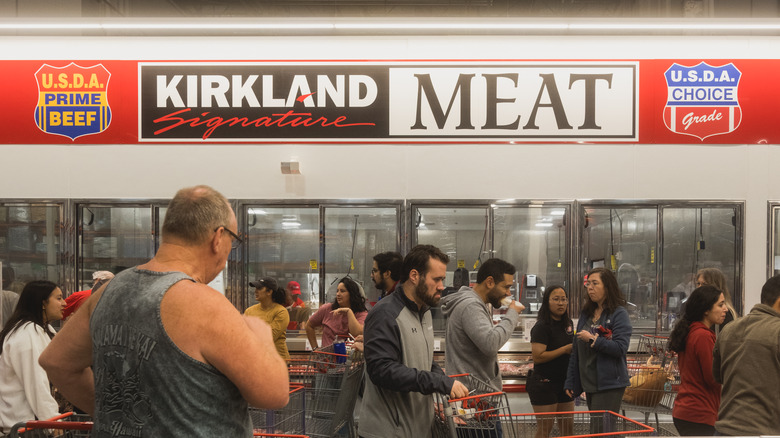 Bloomberg/Getty Images
Julia Child wasn't visiting Costco just to chow down on hot dogs, however. In the same interview, Bon Appétit editor Barbara Fairchild said that the chef was also impressed by the megastore's meat offerings. Child reportedly regarded Costco's selections as high quality, and would opt for the store's steaks if she was hosting a dinner party at her home.
While there may be some gourmet foodies who turn their nose up at Costco, Child's patronage of it is on track with how many Americans feel about the warehouse giant. The company has been ranked as the most popular store in the country, with 68% of respondents in one poll having a positive opinion. An organization called the Santa Barbara Culinary Experience even produced a guide to Child's favorite food destinations in Santa Barbara County, including the local Costco store as well as burger chain In-N-Out. (It's even more impressive considering that most of the guide highlights local and independent restaurants and stores and not chains.)
There's no shortage of chefs who appreciate Costco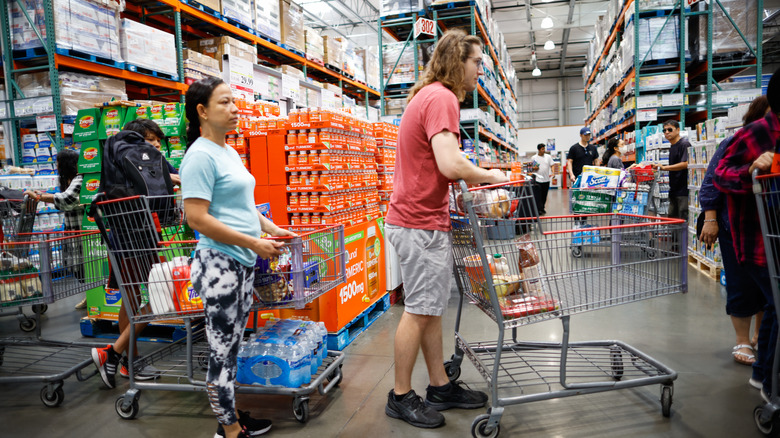 View Press/Getty Images
Costco has largely made a name for itself by offering high-quality products, including those that are part of its store brand, Kirkland Signature. So, it's not surprising that Julia Child isn't the only big name to have sworn by the store and its products. "Salt Fat Acid Heat" author Samin Nosrat is also an advocate for the Kirkland brand extra virgin olive oil, and "Top Chef" winner Floyd Cardoz swears by an array of Costco products, including meats from smoked bacon to skinless chicken thighs, and even wine. Meanwhile "Chopped" judge Maneet Chauhan picks up roasted macadamia nuts when she's shopping at Costco.
But, you can't please everyone, of course and Costco is not beloved by everyone in the culinary industry. Momofuku founder David Chang is a Costco detractor who has taken aim at the bulk store's famously cheap $4.99 rotisserie chicken, criticizing it on his podcast for not being seasoned enough. Chang also disapproves of the store's policy of not offering shopping bags.