Coffee Mate Releases Non-Dairy Ready-To-Drink Iced Coffee Bottles
Coffee Mate non-dairy creamers, a brand of the Nestle company, have been a cup of joe go-to since 1961. This shelf-stable product allowed people to feel like they stirred a splash of cream into their coffee without the actual cream. The company has a bunch of coffee creamer flavors with classics like mocha and hazelnut, sugar-free and plant-based options, and even flavors inspired by liqueurs, desserts, breakfast cereals, and candy bars.
Now Coffee Mate is jumping from a coffee accompaniment to the coffee itself, and the choices are simple crowd-pleasers. The brand announced in a Facebook post that 50-ounce bottles of ready-to-drink caramel and French vanilla iced coffees are now available across the United States. Just pour over ice! As far as price goes, it works out to about $1 per serving, or around $4.99 for the whole bottle. Some fans expressed excitement while others quickly requested more flavor options, zero sugar, and unflavored choices.
Is Coffee Mate vegan?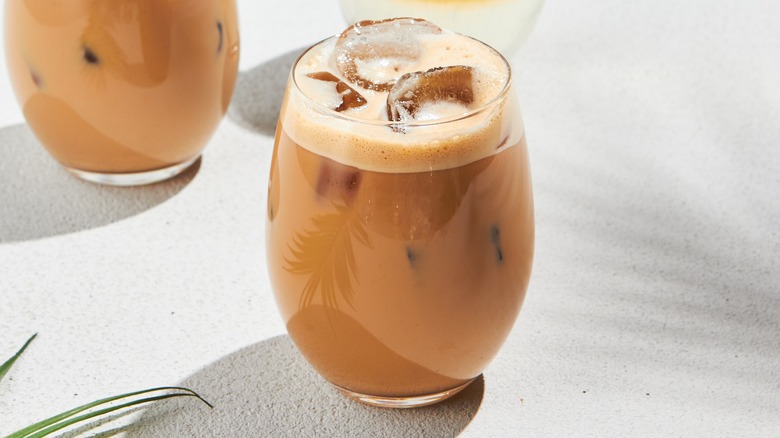 Ryzhkov Photography/Shutterstock
While Coffee Mate products are advertised as non-dairy, that does not necessarily mean that they are dairy-free. One person commented on the Coffee Mate Facebook post asking if the new iced coffees had sodium caseinate, which is derived from milk protein. Coffee Mate had a detailed response saying, "These contain the milk derivative 'micellar casein.' 'Non-dairy' can be used to describe a product that is often or can be made with dairy but has been formulated to not have dairy ingredients."
The company goes on to explain that this is permitted by the Food and Drug Administration (via University of Nebraska — Lincoln) as long as the label specifies that the casein is a milk derivative and that "products labeled as being non-dairy may not be suitable for those allergic to milk." Bottom line: Coffee Mate is not vegan and is also more than likely unsafe for those with a milk allergy, so make sure to inspect the ingredient label carefully.