Why It Pays To Cook Pasta Directly In Red Wine
There are few meals that are more classically Italian or more simply perfect than a plate of pasta and a glass of red wine — but did you know that cooking pasta directly in red wine is also an Italian culinary tradition? Known as "spaghetti all'ubriaco" (drunken noodles) this dish is deeply flavorful, delightfully easy to prepare, and destined to impress dinner guests.
By pouring red wine into the pot of boiling water as your pasta cooks, every single strand becomes evenly infused with the complex layers of flavor within the wine, saucing your spaghetti from the inside out — all without dirtying another pan. During the process, the heat from the stovetop causes the alcohol in the wine to burn off, so that no boozy flavor lingers. Instead, the end result is a warm nest of pasta in a striking shade of dark purple that tastes both somewhat sweet and slightly savory.
How to cook your pasta in red wine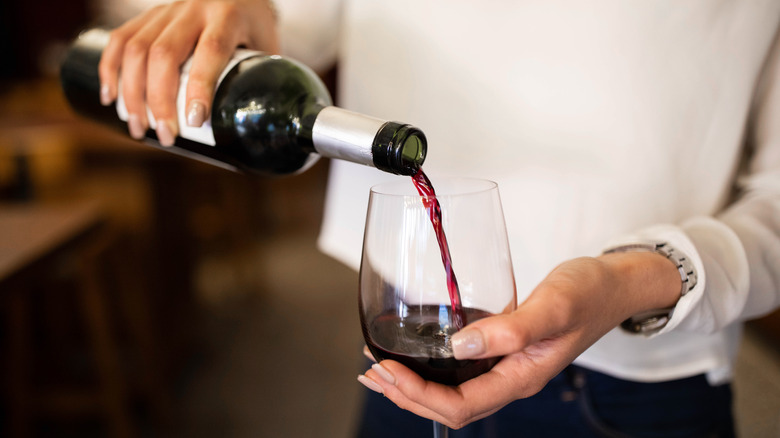 Alvarez/Getty Images
The elegant appearance and unique flavors of red wine pasta make this dish feel utterly luxurious, but thanks to a short set of ingredients and instructions, it's approachable enough to make at home (even on a weeknight) and easily adjustable to suit an individual serving or a group gathering. To get started, all you need is a single pot, a box of pasta, some salt, and a bottle of wine. Since you'll be dumping the wine that the pasta cooks in, go ahead and use an inexpensive red Italian wine. As is the case when making a wine reduction, opt for something that is fairly dry and not too sweet.
First, fill the pot with water and bring it to a boil on the stovetop over high heat. Turn down the heat, then season the water with salt and add the red wine (about a quarter cup per person). Add your pasta and cook until the texture is al dente, then strain and serve immediately.
Pairings for your red wine pasta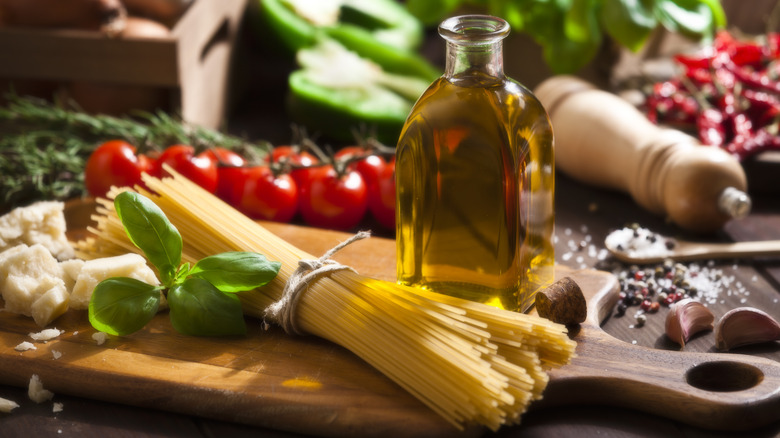 Fcafotodigital/Getty Images
Red wine pasta is the perfect one-pot meal, requiring just a small amount of time and energy to prepare and clean up. Cooking your pasta in wine adds plenty of flavor on its own, but if you want to add extra layers of taste and texture to your dish — and you don't mind getting another pan dirty — there are many ways to make this dish even more delicious and better suited to your personal preferences.
If you like a little heat, balance out the richness of the wine with something spicy, like freshly cracked black pepper or red pepper flakes. For a milder flavor, stir in some roasted garlic and fresh herbs, like rosemary or basil. To make this a more substantial meal, consider adding salty, crispy pan-fried pieces of pancetta (or, as a vegan alternative, mushrooms) to your pasta. Sprinkle on some toasted nuts, such as walnuts, to add a great crunchy texture or cheeses like pecorino or parmesan for additional creaminess.