Ina Garten's Go-To Brands For Basic And Luxury Store-Bought Pasta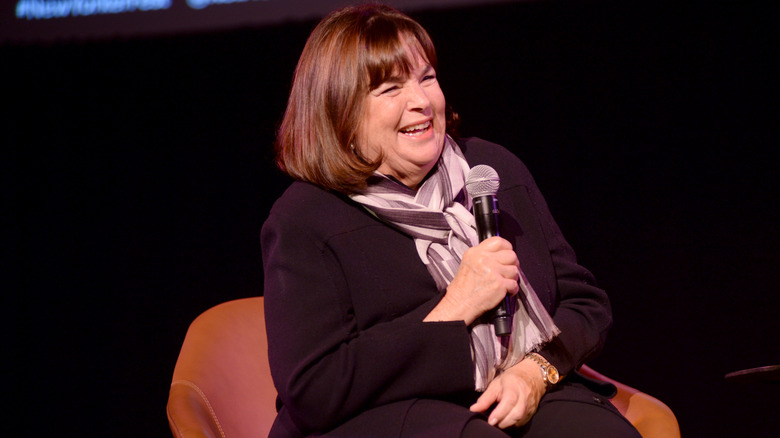 Brad Barket/Getty Images
Ina Garten's recipes are reliably delicious. Even the most complicated dishes in her cookbooks are manageable thanks to her easy-to-follow instructions and practical tips. Helpful details that she'll often include alongside her ingredients are the brands that she recommends. From her favorite pantry staple rice to the best olive oil, she's not secretive about the names of products she loves and loyally uses. There is even a section of her website dedicated to sharing them where home cooks can shop for the Barefoot Contessa's top picks in cookware, kitchen equipment, and the specific ingredients she prefers to cook with.
As for pasta, Ina Garten's selected brands fall into two types: frequently used pasta, and the fancier stuff for making more luxurious meals. The two brands of pasta she proudly includes in her online shop are De Cecco and Cipriani. Both are high-quality, artisanal pastas made in Italy, and both companies have long and storied histories.
The more economical option for everyday meals is De Cecco pasta, which comes in a variety of shapes. Throughout her cookbooks she names De Cecco as her preference for spaghetti, fusilli, penne, and bow ties — which De Cecco sells under the Italian name of farfalle, meaning butterfly. One pound of De Cecco pasta costs as low as $2.99 per box. For high-end and luxurious dishes, Ina Garten opts for organic egg pasta by Cipriani, noting that its tagliarelle noodles are perfect as an upscale version of fettuccine. A half-pound box goes for $11.00.
Extraordinary De Cecco pasta for ordinary dishes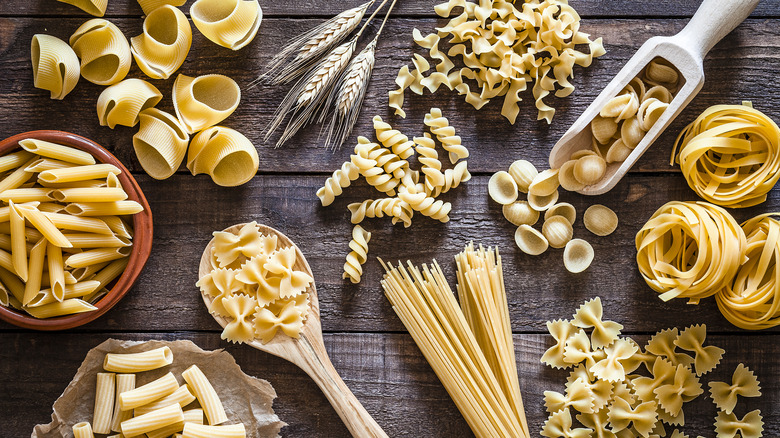 Fcafotodigital/Getty Images
The De Cecco brand is Ina Garten's choice for basic, everyday cooking. It is a cut above other regular pastas at the grocery store while it remains competitively priced. Since 1886, the company has been milling wheat and crafting pasta from its base of operation in the village of Fara San Martino in Southern Italy. De Decco's dough is made by traditional methods, using only fresh, cold water that flows from a natural spring directly below its factory, and the pasta is slow-dried at low temperatures, all of which gives it its robust flavor, firmness, and maintains the final product's nutritional value. Another characteristic is the pasta's rough outer surface, created by scoring with bronze draw-plates, the result of which is a texture ideal for holding onto the sauce.
De Cecco makes a range of different pastas, including durum wheat, whole grain, seven-grain, egg, organic, and gluten-free. To make the Italian dish called "pasta mista," Ina Garten mixes different pasta shapes into one dish — and the brand offers plenty of shapes to choose from — including shells, elbows, rotelle, orecchiette, cavatappi, ziti, linguine, angel hair, lasagna, and more.
A number of recipes in Ina Garten's cookbooks suggest De Cecco pasta. In "Modern Comfort Food," she uses the brand's spaghetti for Spring Green Carbonara. The bow ties used in Pasta, Pesto, and Peas from "Barefoot Contessa Parties!" are also De Cecco, as is the fusilli in Pasta With Sun-Dried Tomatoes in "Barefoot Contessa Family Style."
Memorable dishes are made with iconic Cipriani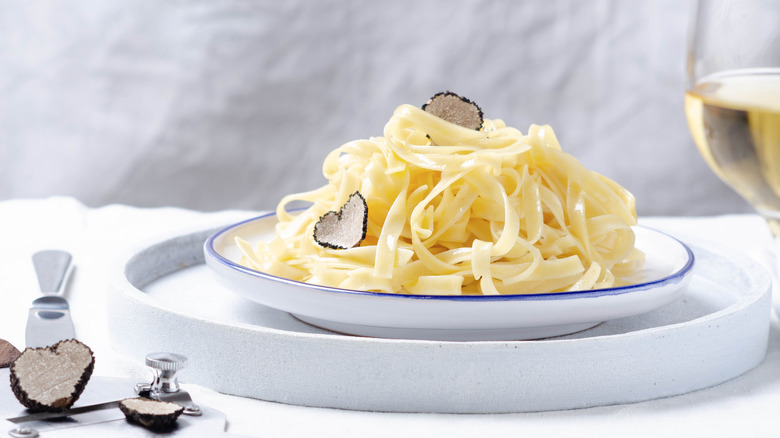 Olga Larionova/Shutterstock
For occasions worthy of premium pasta, Ina Garten's go-to is Cipriani. The company's organic egg pasta is celebrated for its elastic, velvety thin texture. It is made with superior ingredients and has a very short cooking time. Made with at least 25% eggs, delicate Cipriani pasta is prepared to be eaten soft, not al dente. Along with well-known shapes like rigatoni and penne, the brand also makes quintessentially Italian specialties like pappardelle, tagliardi, tagliolini, and tagliarelle.
The Cipriani family's hospitality empire began in 1931 when Giuseppe Cipriani opened the now legendary Harry's Bar in Venice — where he invented the original Bellini cocktail, as well as the raw beef dish carpaccio. Today there are restaurants, lounges, shops, hotels, and residences in the family's name worldwide. In the 1980s, Giuseppe's son opened a pasta-making factory in Meolo, Italy, using methods passed down from his father. Cipriani restaurants from Abu Dhabi to Monte Carlo exclusively serve the same pasta.
In "Barefoot Contessa Back to Basics," the brand is featured in Ina Garten's recipe for Tagliarelle with Truffle Butter. She makes it with opulent and pricey Urbani white truffle butter (it costs $31.90 per eight ounces). Tagliarelle is machine folded over 80 times and dried at low temperature for 14 hours — but takes only three minutes to cook. Shaped extra thin, it tastes like a light, fresh pasta. Cipriani's green spinach tagliarelle can be used to add a pop of color to the already decadent dish.