The Rice Brand Ina Garten Keeps Stocked In Her Pantry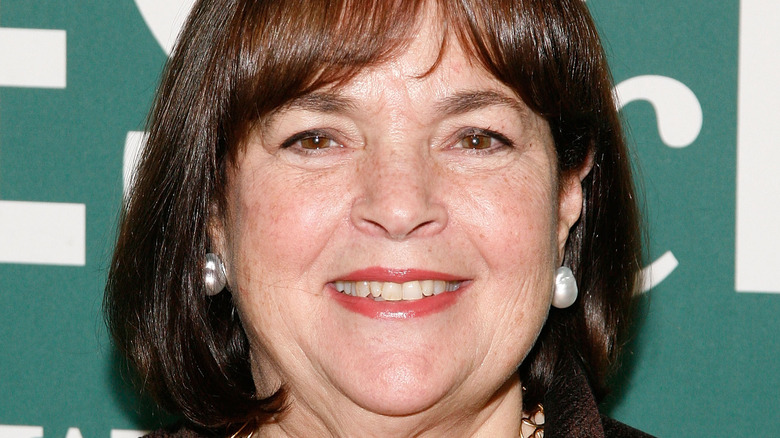 Andy Kropa/Getty Images
Despite being a celebrity chef who previously worked at the White House, hosted an Emmy award-winning TV show, and authored more than a dozen cookbooks, Ina Garten doesn't rely on hoity-toity ingredients for her cooking. She makes a point of recommending specific brands in her recipes and features them in her online store, and many of the products she promotes are comparatively inexpensive. Whether it's her preferred Hellmann's mayonnaise, her favorite San Marzano tomatoes, or the Diamond Crystal kosher salt Ina Garten keeps on her counter, many of her picks cost less than $10 per package.
This extends to her choice of rice, too. Ina Garten keeps her pantry well stocked with several of Rice Select's signature mixes — including its Texmati brand rice, which she lists by name in her cookbooks and mentions enthusiastically in her interviews. She has been so vocal about her love for the rice, that even Texmati took notice and put up a webpage in gratitude for Garten's endorsements.
Texmati was created in Texas over 40 years ago and is the first aromatic rice to be cultivated on American soil. The proprietary grain is a hybrid of long-grain white rice and Basmati rice, the latter of which traditionally comes from Southeast Asia, and is extensively grown throughout India and Pakistan. Texmati comes in white rice and whole-grain brown rice, grown in both conventional and organic varieties. Ina Garten's cookbook "Barefoot Contessa Family Style" notes Texmati organic basmati rice as what she uses in her rum raisin rice pudding recipe.
This hybrid Basmati rice was made for home cooks
In a picture shared on Ina Garten's Facebook, she gives a peek at what she keeps in her pantry. Among bottles of Nielsen-Massey vanilla extract, stacks of Lindt Swiss chocolate bars, and cans of Planters peanuts, are jars of Texmati rice. The main reasons Ina Garten prefers Texmati are its quality and taste. The grains stay separate and fluffy when cooked, and the company describes it as having a nutty flavor, with an aroma similar to just-popped popcorn.
The almost empty jar of Texmati white rice on Ina Garten's shelf needs restocking. Like all of Rice Select's products, its white rice is non-GMO and kosher certified. All of the brand's rice is also certified gluten-free, except for the whole grain blends, which contain wheat and barley. The white rice cooks in 15 minutes, and the long grain is designed to absorb the flavors it's cooked in, from chicken stock to Thai coconut milk. This rice features prominently in Ina Garten's salmon teriyaki and broccolini recipe from "Go-To Dinners: A Barefoot Contessa Cookbook," where it is as much of a main ingredient as the fish.
Garten's pantry appears to be well-stocked with Texmati brown rice. This 100% whole grain rice cooks to a fluffy texture in 45 minutes. The product earns a photo in the Ina's Pantry section of her "Cooking for Jeffrey" cookbook, and it is a co-star in her warm brown rice and butternut squash from "Cook Like a Pro."
Texmati rice plus grains make for Ina Garten-worthy recipes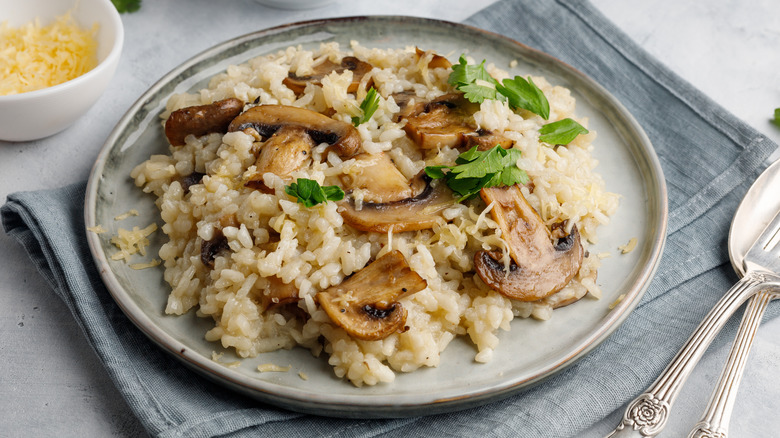 Dmitrii Ivanov/Shutterstock
You can also spot a jar of Rice Select's couscous on Garten's shelf. This staple North African pasta resembles a small grain but is made from semolina wheat. Couscous takes only five minutes to steam, and Garten has a traditional Moroccan couscous recipe for it in her "Barefoot in Paris" cookbook, and she serves couscous with lamb kabobs in "At Home." Rice Select also offers pearl couscous, aka Israeli couscous, which are little toasted pasta balls that are larger than regular couscous. A recipe for Israeli couscous and tuna salad is on page 101 of "Barefoot Contessa Foolproof."
Another Rice Select product that Ina Garten keeps on hand is Arborio rice. Arborio is the variety of rice that gives Italian risotto its silky texture and firm bite. It's a starchy, medium-grain rice also suitable for making Spanish paella. Ina Garten has a perfect recipe for wild mushroom risotto in her cookbook "Barefoot Contessa: Back to Basics," and her easy lobster paella is in "Barefoot Contessa At Home."
Rice Select's Jasmati is a hybrid of the best jasmine rice from Thailand with Texmati white rice. The Royal Blend is a mix of rice and grains, made with white and brown Texmati rice, wild rice, and red rice. The brand's specialty line includes un-milled black rice, sweet sticky glutinous dessert rice, short-grain sushi rice, orzo, and quinoa — delicious in Ina Garten's quinoa tabbouleh with feta, from her book, "Make It Ahead."