What Is Salsa Macha And How Do You Use It?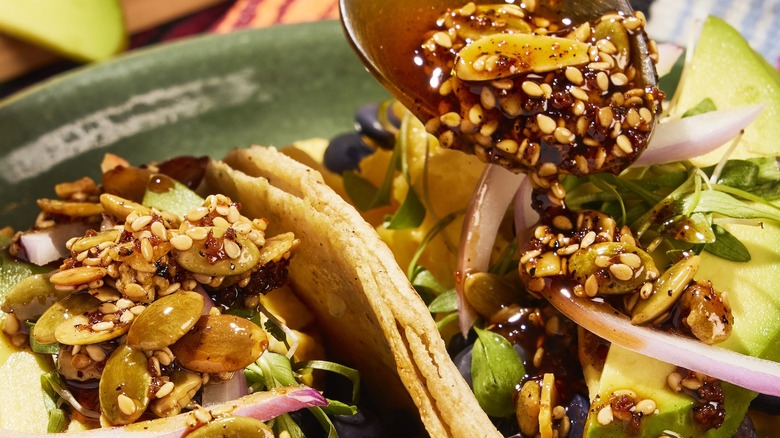 SOMOS (Juan Pablo Tavera, Alfredo Parker, Paola Argaez & Keeka Argaez)
You know what salsa is, but have you ever tried salsa macha? In this Mexican condiment, you won't find chopped tomatoes or finely minced cilantro leaves, and it won't pile nicely on a tortilla chip bound for your mouth. Salsa macha is an oily and sometimes spicy condiment made from chiles, garlic, and various nuts, seeds, and legumes (like pumpkin seeds, sesame seeds, and peanuts).
Salsa macha is similar in a lot of ways to the widely popular Sichuan chili crisp, the once-relatively obscure regional condiment that is now a mainstream favorite for topping anything from dumplings to ice cream. Both salsa macha and chili crisp are made by caramelizing chiles, garlic, and spices into a chewy, crunchy topping dripping with savory oil. The difference lies in the remaining ingredients: Salsa macha generally includes a hearty dose of nuts and seeds that add a nutty taste and texture to the oil-based condiment.
The origins of salsa macha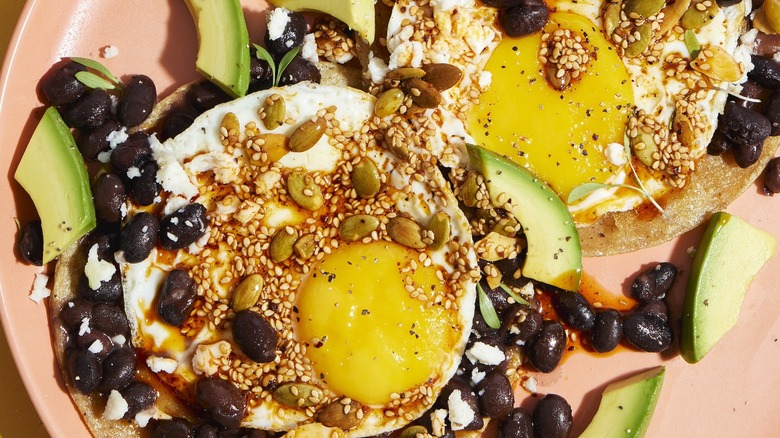 SOMOS (Juan Pablo Tavera, Alfredo Parker, Paola Argaez & Keeka Argaez)
Salsa macha originated in Veracruz on Mexico's eastern coast and Oaxaca to the west. It is traditionally made with the fantastically spicy comapeño chile, which is from near Veracruz and quite rare, especially in the United States. The heat of this chile is actually what gives the chile oil its name — salsa macha translates to "brave salsa" or "manly salsa" ("macha" is the feminine version of "macho") because only a real tough guy could have been able to handle the super spicy original version, apparently.
Today, however, salsa macha can be made with any combination of dried chile peppers, including chipotles, ancho peppers, guajillo peppers, and chiles de arbol. It can be made as spicy or mild as you like, and different seeds and nuts can be used to accommodate differing dietary restrictions. It's also a great way to sneak in some extra nutrients like Omega-3 and magnesium, along with healthy fats and protein, through a dose of seeds and nuts.
How to use salsa macha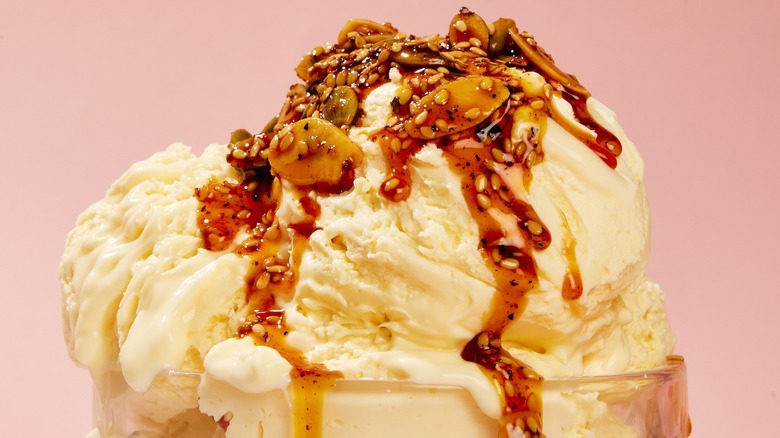 SOMOS (Juan Pablo Tavera, Alfredo Parker, Paola Argaez & Keeka Argaez)
Salsa macha is a highly versatile condiment. While it will vary in flavor and spiciness depending on the brand (or how you choose to make it at home, should you wish), the mix of heat, nuttiness, a mild allium bite, and an underlying sweet note allow it to play well with most dishes. Drizzle it over a burrito bowl, enchiladas, a quesadilla, or even a side of guac. But there's no need to stop at Mexican food. It will be great on dumplings, fish toast, or as a topping for poached eggs and unsweetened Greek yogurt for a twist on Turkish eggs. 
"A spoonful of salsa macha, with its complex flavor, crunch, and balanced levels of heat, can make the simplest of dishes pack a punch," explains Miguel Leal, CEO of SOMOS, a Mexican food brand currently selling a modern update on the condiment. As Leal told Food Republic, "Some of my favorite ways to use it are drizzled on top of fried eggs or avocado toast, as a topping for my tacos, or on pizza and vanilla ice cream. I also like using the oil for cooking — shrimp pan-fried in the salsa macha oil then topped with the nuts [and] seeds is delicious."