Why TikTok Is Tossing Pasta In Cocktail Shakers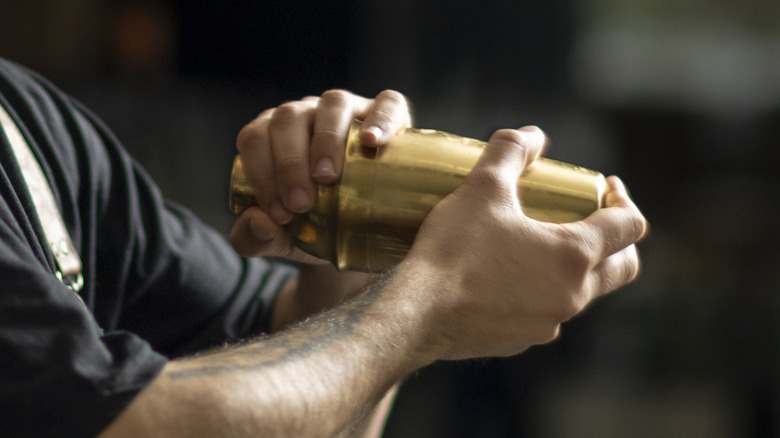 Ilkermetinkursova/Getty Images
TikTok loves a food hack. Why cook and eat your food in any normal way when you could eat butter straight off a rustic wooden cutting board, drink cucumber-infused spa water at home, or make a cake that looks like a roll of toilet paper?
But there's no foodie trick TikTok loves more than a weird or nifty pasta take to spice up what could otherwise be a pretty standard weeknight dinner. There was the viral tomato and baked feta pasta, Gigi Hadid's vodka sauce, and the two-ingredient scissor cut pasta. Then, people started putting pasta ingredients in cocktails and cocktail ingredients in pasta, with the Internet going nuts over dirty martini pasta and the mozzarella martini.
The latest trend is apparently shaking your pasta in a cocktail shaker before serving the meal. Yes, you read that right. What started as a wedding catering concept of shaking pasta and serving it in a martini glass now has social media in an uproar over whether or not this should be considered acceptable for at home dinners, too.
To shake or not to shake?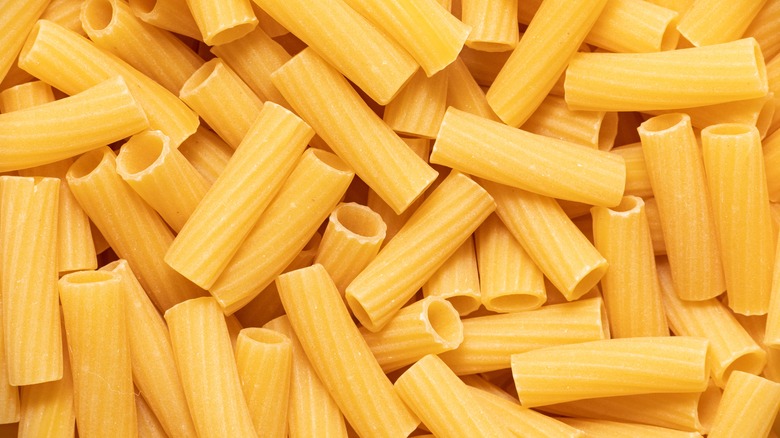 JAY.D.Beagle/Shutterstock
While shaking pasta in a cocktail shaker might seem to come completely out of left field, it's actually not the wildest idea out there. Cocktail shakers can help to emulsify a pasta sauce, and make sure that the noodles are evenly coated. It's the same general idea as shaking your salad in the original plastic salad mix box in order to get your dressing evenly dispersed. (And by the way, you can also mix salad dressing in a cocktail shaker! The same emulsion principles apply.)
Also, it's just plain fun. Serving your shaken pasta in a martini glass might go a little too far, but there's no harm in experimenting with a little preparation and plating innovation. (Though, just remember you'll have to deep clean the cocktail shaker later on.) Even some top notch restaurants have begun to implement the cocktail shaker pasta technique, in a fascinating fusion of tableside dramatics and practical functionality.
Restaurants are serving shaken pasta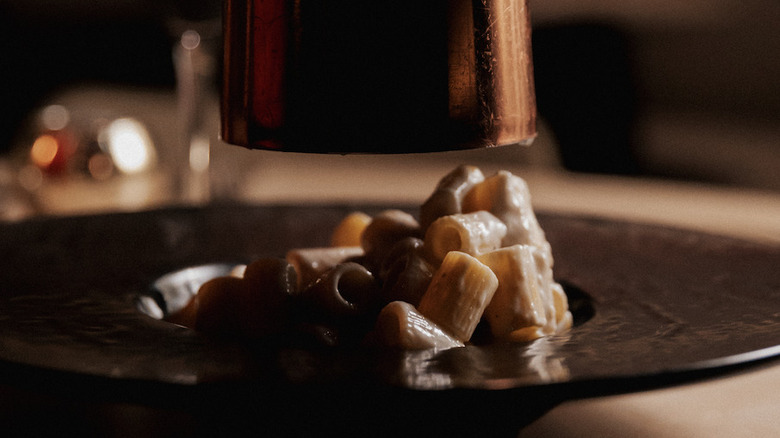 The Ruby
In May 2023, a TikTok was posted showing a server at the Michelin starred restaurant Aroma in Rome, Italy shaking the restaurant's pasta carbonara in a cocktail shaker, before elegantly releasing the freshly sauced noodles onto a diner's plate. The Carbonara "Shakerata" received some negative comments from viewers, but the dish is still on the menu at Aroma.
The new Manhattan cocktail bar and restaurant The Ruby also serves a cocktail shaker pasta dish. The Shaker rigatoni Cacio e Pepe is, of course, served tableside. This dish, which seems designed to capitalize on all of our favorite trends — like the now ubiquitous cacio e pepe meal and tableside theatrics just asking to be filmed for TikTok — has actually received high praise, finding itself earning headliner distinction in the New York Times dining news roundup. This dish adds some extra flair with a last-minute kiss from a blowtorch to melt a finishing sprinkle of cheese that adds even more dramatic pasta prep.