Skip The Traditional Brine For The Tastiest Smoked Turkey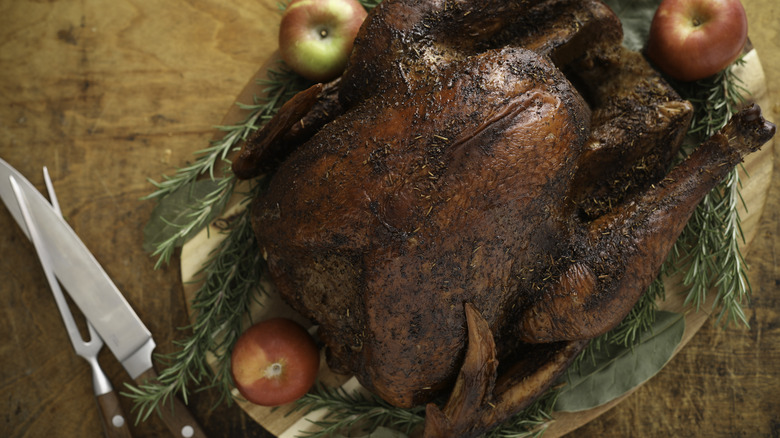 Debbismirnoff/Getty Images
What used to be the most traditional meal of the year has undergone a transformation over the past decade. Americans are no longer strictly roasting their Thanksgiving turkeys; deep-frying and wet-brining have gained popularity.
While both methods yield delicious results, wet-brining may not be practical for home cooks who lack the refrigerator space to soak a 16-pound turkey, or the outdoor area to deep-fry the bird safely. If you're in search of a flavorful turkey with crispy skin, consider preparing a dry-brined, smoked turkey this year.
Dry-brining offers a less messy way to infuse the turkey with flavor without introducing liquids, which can inhibit skin crisping. This method is also more manageable and requires less of the precious refrigerator space that hosts often find scarce during the holidays. Smoking the turkey moves the cooking process out of the busy kitchen and onto a grill, allowing the bird to cook slowly and retain its juiciness in both the dark and white meat. Since the turkey is grilled, butterflying it (or spatchcocking) reduces cooking time, even at lower temperatures, and ensures the meat cooks evenly, eliminating the issue of soggy skin beneath the legs.
To prepare a smoked turkey, you'll need poultry shears or a cleaver for spatchcocking (or you can kindly ask a butcher), hickory wood chunks, and a meat thermometer. Also, don't forget to factor in a few days for thawing a frozen turkey and an additional day for dry-brining, so be sure to plan ahead.
How to dry-brine your turkey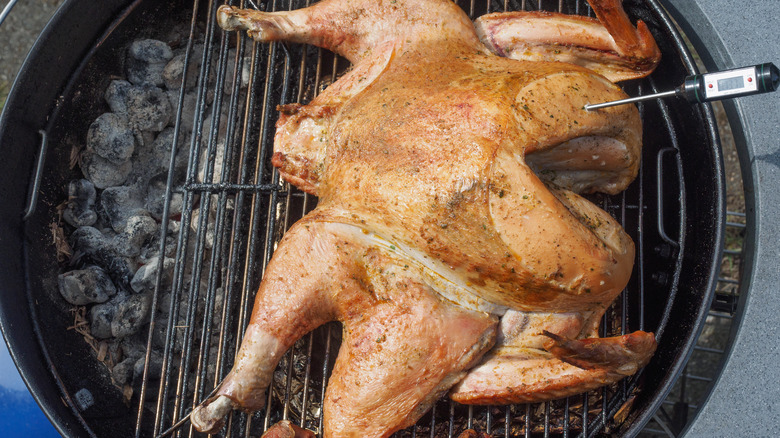 pr2is/Shutterstock
Since Thanksgiving leftovers are a given, plan on 1½ pounds of turkey per guest. If you're serving more than eight people, we recommend preparing two birds instead of cooking one larger than 12 pounds, as larger turkeys are more likely to dry out. Moisture is the enemy of crispy skin, so it's essential to thaw the turkey and pat it dry — both inside and out — with paper towels before dry-brining.
Using poultry shears, butterfly the turkey and coat its entire surface with your preferred salt-and-herb rub for your dry-brine. Place the raw turkey on a tray in the refrigerator, uncovered, for at least one day, but up to three days, to allow the salt to penetrate and the skin to dry out.
About four hours before you plan to eat, prepare the grill, maintaining a low temperature between 225 and 275 degrees Fahrenheit. Grill the turkey, covered, until the meat thermometer registers at least 150 degrees Fahrenheit in the breast and 165 degrees Fahrenheit in the legs — approximately 3½ hours for a 10- to 12-pound bird. If you're not using a gas grill, add fresh hickory wood and coals every 30 minutes. Allow the smoked turkey to rest for 15 minutes, tented under foil, before carving. After experiencing this method, you may never want to roast a turkey again.