Forget The Oven, Make Your Cookies In A Waffle Iron
You will either love or hate us for introducing you to waffle iron cookies. Yep, the waffle iron is more than a one-trick pony used on the weekends. We have a few reasons you should use a waffle iron more often, but let's discuss delicious waffle cookies first. 
The most significant benefit to preparing cookie dough in a waffle iron is how quickly the cookies bake. This method cuts the baking time to 90 seconds. Unlike the Dutch waffled wafer cookies, stroopwafel, which are thin, waffle iron cookies are thick with a soft interior and crispy outside. The cookies develop deep nooks and crannies that beg for a topping like ice cream, hot fudge, or caramel sauce. While the oven is still ideal for large batches of cookies, the waffle iron is perfect for a quick fix of warm, sugary goodness in a pinch. 
Depending on the size of your waffle iron, this method makes up to four cookies at a time, creating the best afterschool snack ever. You can use homemade dough; however, if you 'gotta have it now,' store-bought refrigerated cookie dough delivers freshly 'baked' cookies in under two minutes.  
How to make waffle iron cookies
The longest step in this "recipe" is waiting for the waffle iron to preheat, especially if using store-bought cookie dough. Even if yours is non-stick, we recommend coating both sides of the waffle iron grid with a non-stick spray or brushing it with a neutral oil, then setting it to high. Add roughly a tablespoon or small ice cream scoop of cookie dough into each quadrant, leaving room for the cookies to expand. Try to place the same amount in each section so the cookies bake in the same timeframe. For mini waffle irons, place one dollop of cookie dough in the center. 
Close the lid and bake the cookies for 90 to 120 seconds or until golden brown. Carefully remove the fluffy cookies from the iron and place them on a cooling rack. The cookies will be very soft initially but will firm up as they cool. 
Experiment with cookies loaded with chocolate chips, raisins, or toffee without fear that the cookies will stick. Or bake simple sugar cookies and dust them with powdered sugar once they cool. Before making another batch, give the waffle iron grid another spritz of non-stick spray.
If you need another reason to break out the waffle iron, we've got a few dishes that are amazing waffled.
Additional dishes to make in your waffle iron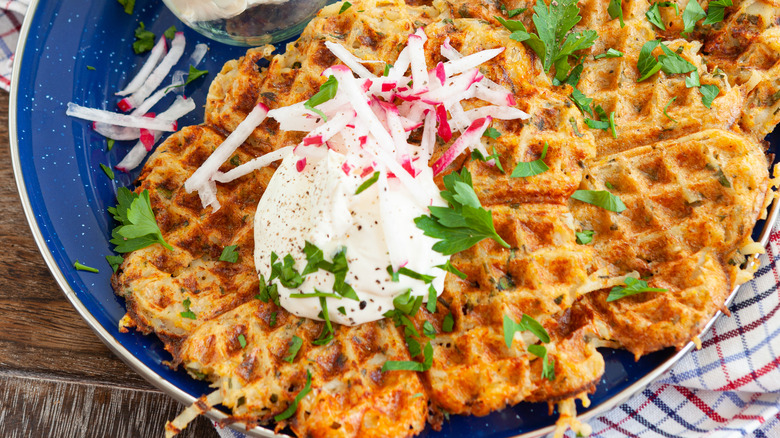 Barbara Neveu/Shutterstock
Keeping with sweets, try adding your favorite cake mix to the waffle iron. You can use a boxed mix or try our red velvet cake waffles recipe with cream cheese frosting. Depending on the model, cake waffles cook in about ten minutes.
For a sweet or savory treat with any meal of the day, try croffles – buttery croissants made in the waffle iron. TikToker Moribyan thaws frozen croissant dough dusted with cinnamon before baking them in the waffle iron. Once cooked, she serves the croffles for breakfast with whipped ricotta, fresh berries, and powdered sugar. Prepacked cinnamon rolls are delicious prepared this way, too, and come with icing. 
@moribyan

🥐 croissants in the waffle maker are my new favorite dessert – not too sweet!
Ina Garten likes to prepare hash browns in a waffle iron. Seasoned shredded potatoes (store-bought are fine) are waffled to create the crispiest hash browns you'll ever taste. In five to ten minutes, a golden brown waffled hash brown is made without having to tend to it. In fact, it's best to stay hands-off and let the appliance do the work. Serve the hash browns with eggs or a dollop of sour cream and apple sauce.
Want more ideas? Use your waffle iron to make waffled avocado quesadillas or a fawaffle, a waffled falafel that's crispy without needing to be deep-fried. Since the waffle iron crisps food simultaneously on both sides, top your waffled food with something creamy to create a perfectly balanced dish. Have fun experimenting!